LM7905 Pinout, Equivalent, Applications, Features, and Other Info
In this article we are going to discuss about LM7905 pinout, equivalent, applications, features, and other info about this -5V negative voltage regulator IC.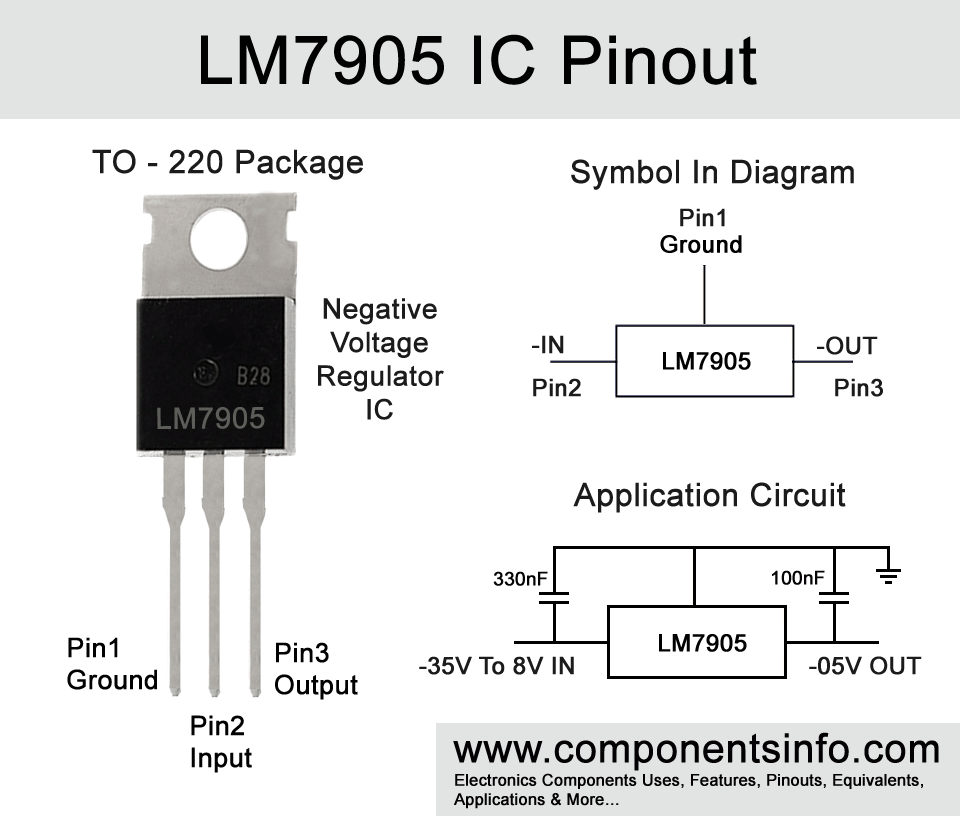 LM7905 IC Features / Technical Specifications
Manufactured in TO-220 and other Packages
Max 1.5A output current
Built in short circuit protection circuitry
Built in overheat shutdown circuitry
Accurate -05V output
Input voltage max 35V DC
Low quiescent or standby current
Low cost high reliability
Reliable to use in commercial applications
LM7905 Description
LM7905 is a 3 pin negative voltage regulator IC. It is the IC of LM79xx series, LM79xx is a series of fixed negative voltage regulator IC this series also contains other fixed voltage ICs such as LM7908, LM7912, LM7915 which can be selected as per the user application requirements. LM7905 provides fixed -5V output and the input voltage can be between 8V to 35V DC, one thing should be remembered when using this series regulators is that the input voltage must of 2V to 3V higher than the output voltage to get accurate and stable -5V at the output, and the input current should be 1.6A to 2A to get accurate 1.5A at the output. While operating the IC a suitable heatsink is a must to use or else the IC will continuously goes in the shutdown mode when the load will be connected.
The IC requires only one or two external capacitors for filtration purpose and other than that all the important circuitry is built inside the IC.
The internal circuit of the IC also contains many built in functions such as overheat protection function which immediately shutdown the IC when the inside or outside temperature goes above the set limit, over load protection, short circuit protection and many other protection circuitry which makes this IC robust, internally damage proof and reliable to use in commercial equipment.
Where & How to Use
LM7905 can be used in power supplies, chargers, voltage step down applications etc. Using the IC is not very difficult and the user can easily use it by checking its pinout.
Applications
Dual Power Supplies
Voltage converter circuits
Voltage step down circuits
Battery Chargers
Motor Drivers applications
Replacement and Equivalent / Other Part Numbers
UA7905, GL7905, KIA7905PI if you can't find these equivalent ICs then you can also use LM337 adjustable negative voltage regulator IC and set it to get fixed -5V output.
How to Safely Long Run in a Circuit
To get long term performance from this IC do not apply more than 35V voltage at the input, do not drive load of more than 1.5A, use a suitable heatsink with this IC and always store and operate this IC in temperature from -65 degree centigrade to +150 degree centigrade.
Datasheet
To Download the datasheet just copy and paste the below link in your browser.
https://cdn.datasheetspdf.com/pdf-down/L/M/7/LM7905_NationalSemiconductor.pdf