LM7810 Pinout, Features, Equivalent, Applications and Other Details
Today we are going to discuss about LM7810 pinout, features, equivalent, applications and other details about this positive voltage regulator IC.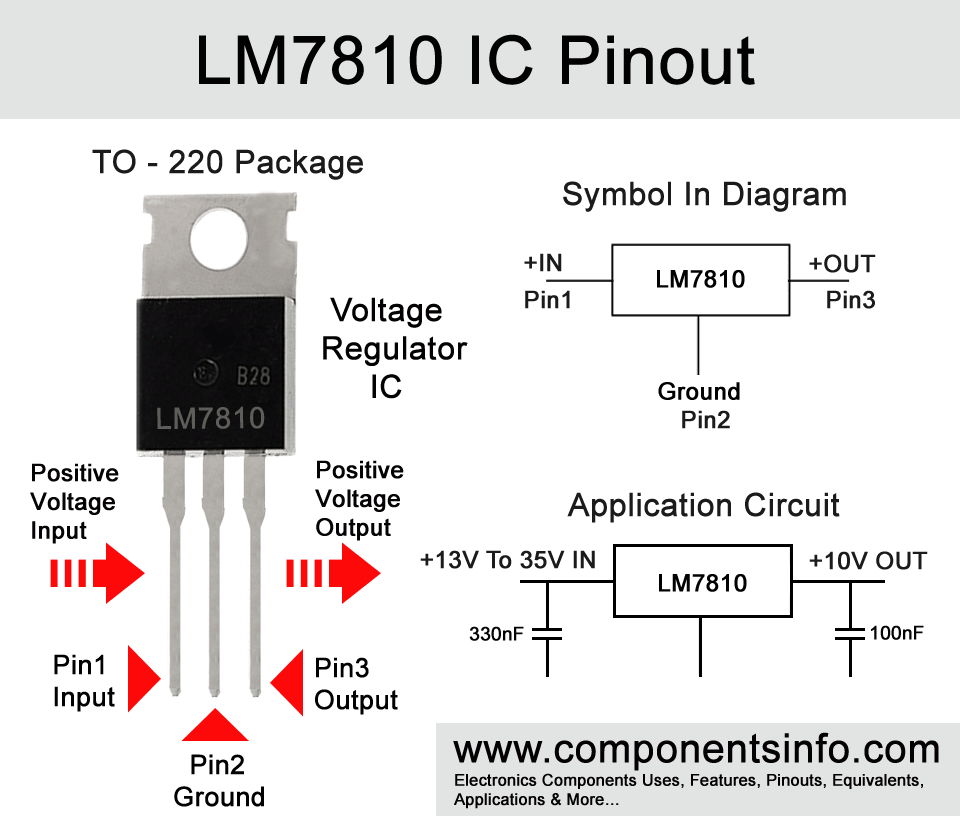 LM7810 IC Features / Technical Specifications:
TO-220 Package
Output current 1A to 1.5A
Short circuit shutdown function
Over heat shutdown function
Low cost and easily available
Reliable and long life
Can be used in commercial equipment
15V fixed output
Maximum input voltage is upto 35V DC
Current consumption in standby mode is only 8mA
LM7810 Description:
LM7810 is a positive voltage regulator IC, it is an IC of LM78xx series that is a series of positive voltage regulators. The IC provides accurate 10V at the output with 1A to 1.5A output current but a proper heatsink will be required to get 1A or 1.5A current from the IC. The IC can handle maximum input voltage of upto 35V.
One of a good feature of these voltage regulators is that whether the input voltage is constantly changing between 13V to 35V the output of the IC will be remain 10V. To get accurate 10V output with the IC the input voltage must be 3 to 4 volt higher than the output voltage.
LM7810 is also a reliable IC to use in commercial appliances and equipment its built in short circuit protection, overheat protection and safe area protection functions makes it internally damage proof so it can provide long term performance in circuits.
Applications:
Microcontroller Circuits & Applications
Solar applications
Voltage converter circuits
Power supply circuits
Battery chargers circuits
Computer and telecommunication circuits
Replacement and Equivalent / Other Part Numbers:
LM2940T-10, UA7810CKCS, L78S10CV, BA17810T, TS7810CZ, KA7810ETU. If somehow you can't find these substitute then you can also use an adjustable voltage regulator such as LM317 and adjust it on fixed 10V output.
LM7810 10V DC Power Supply Circuit:
The schematic below shows a simple 10V power supply using LM7810 IC.

How to Safely Long Run in a Circuit:
To get good and stable performance for long life with this IC it is suggested to not drive load of more than 1.5A with the IC, always use a suitable heatsink, do not apply input voltage more than 35V for more safety do not provide input voltage more than 25V to 30V. When in operation the temperature around the IC should be above 0 degree centigrade and below +125 degree centigrade, and the storing temperature should be maintained in between -65 degree Celsius to +150 degree Celsius.
Datasheet
To Download the datasheet just copy and paste the below link in your browser.
https://datasheetspdf.com/pdf-file/918903/FairchildSemiconductor/LM7810/1