LM337 Pinout, Description, Equivalent, Features & More
LM337 is an adjustable negative voltage regulator IC. This article describes LM337 pinout, description, equivalent, features and other important details about this IC.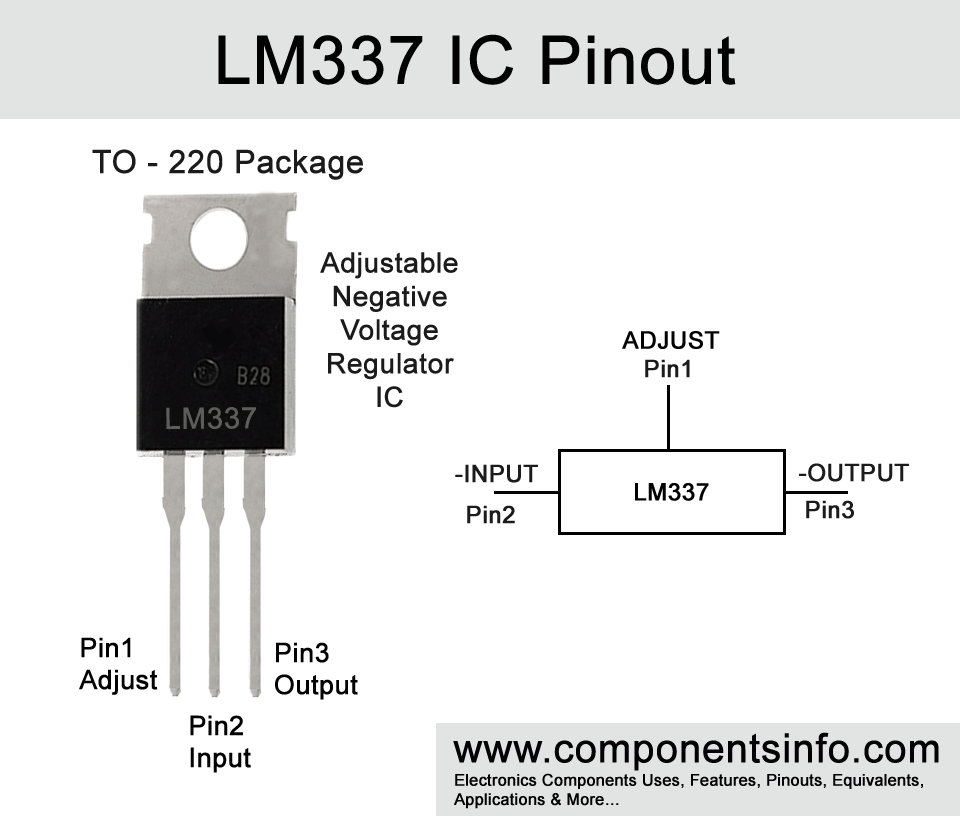 LM337 IC Features / Technical Specifications
Manufactured in TO-220 & Other Packages
Upto 1.5A output current
Short circuit protection function
Over heat shutdown function
Low price
Reliable to use in commercial equipment
-1.2V to -37V adjustable output
Maximum input voltage is from 10V to 35V DC
Low standby current
Upto 40V max input voltage
LM337 IC Explained / Description
LM337 is a negative voltage regulator IC which is complementary to LM317 positive voltage regulator as the LM317 is a quite popular IC among electronics engineers, students and tinkerers.
Its input voltage is from -3V DC to 40V DC and the good feature is that the output can be adjusted from -1.2V to -37V. The IC is capable to deliver output current of upto 1.5A that is quite enough to drive variety of electronic applications; the output current can also be adjusted on desired level according to the user requirements.
LM337 have many built in features like overheat shutdown, overcurrent shutdown, short circuit protection etc. which makes the IC damage proof in many situations.
The IC will dissipate heat during operation because all the voltage difference will convert to heat and a suitable heat sink is must to use with the IC.
Where & How to Use
LM337 can be used as an adjustable regulator or a fixed regulator depends on the requirement of the user, the output can be adjusted with the help of a resistor divider network that is connected with the adjustment pin of the IC. A variable resistor can also be used in the resistor divider network to easily adjust the output voltage on desired level. This IC can also be used as a fixed output negative voltage regulator for doing so just use a fixed value resistor according to the output voltage in the place of variable resistor. There are many online calculators available which can be used to calculate the resistor value of desired output voltage. The IC can be used in variety of power supply and battery charger applications.
To get stable output voltage from this IC the input voltage must be 2V to 3V high than the output voltage.
Applications
Voltage step down applications
Dual Power Supply Circuits
Motor Driver Applications
Battery Charger Circuits
Solar Applications
Replacement and Equivalent / Other Part Numbers
LM137, LM237, LT1033, L7915CV
LM337 Negative Voltage Adjustable Power Supply Circuit: 
The schematic here shows a negative adjustable power supply circuit using LM337 IC. The input voltage of the circuit is -3V to 40V DC and the ouput voltage can be adjustable from -1.25V to -37V.
How to Safely Long Run in a Circuit
To get long term stable performance with LM337 do not provide load of more than 1.5A and more than 37V. Do not provide input voltage more than 40V. Use a suitable heat sink with the IC and always operate the IC in temperature above -40 degrees Celsius and below +125 degrees Celsius. The storage temperature should be above -60 degrees Celsius and below +150 degrees Celsius.
Datasheet
To Download the datasheet just copy and paste the below link in your browser.
https://cdn.datasheetspdf.com/pdf-down/L/M/3/LM337_ONSemiconductor.pdf