LM7915 Pinout, Equivalent, Features, Uses, and Other Useful Information
LM7915 is a fixed -15V voltage regulator IC, in this article we are going to discuss LM7915 pinout, equivalent, features, uses, and other useful information about this IC.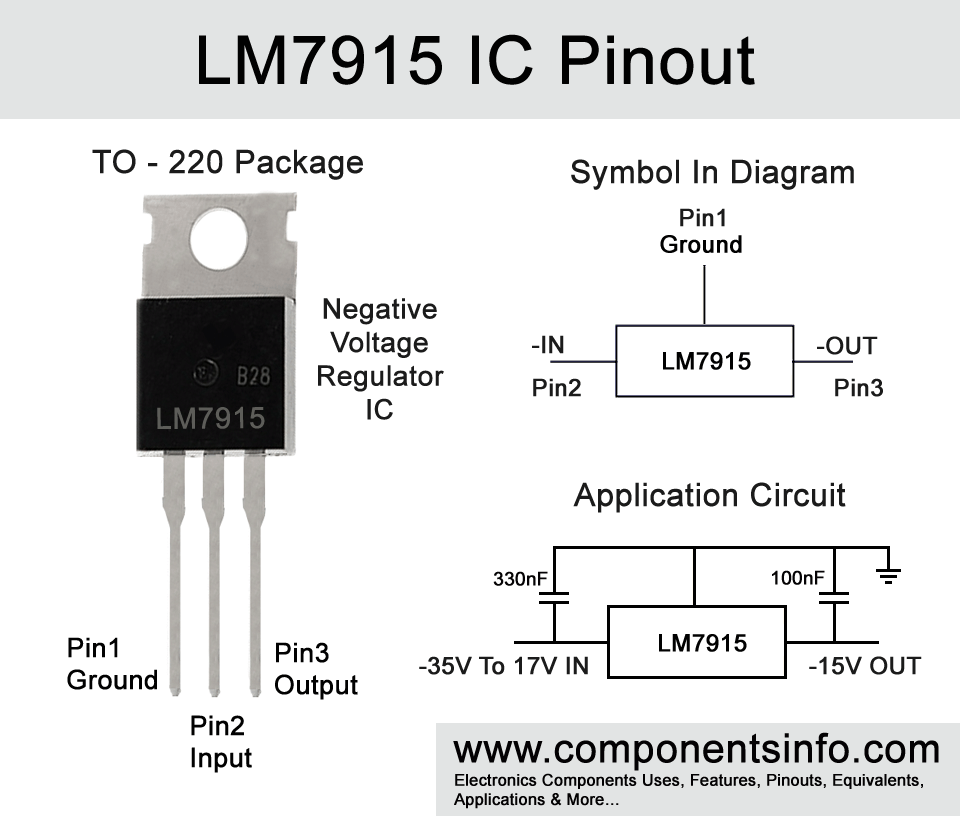 LM7915 IC Features / Technical Specifications
Package type: TO-220
Output current up to 1.5A
Internally short circuit protected.
Internally overload protection
Overheat protection circuitry
Reliable to use in commercial equipment
Accurate -15V output
Max input voltage is 35V DC
Low standby current
Low pricE
LM7915 Description
LM7915 is an IC of LM79xx series; this series contains a variety of different fixed output negative voltage regulators. All these regulators are built to provide a specific output voltage. The output voltage of the ICs in LM79xx series can be checked by looking at the last two digits of the IC after LM79. LM79xx series contains many different fixed output voltage regulator IC which are LM7905, LM7906, LM7908, LM7909, LM7910, LM7912, LM7918 and LM7924. The IC provides fixed -15V at the output with the output current of 1.5A, however for getting stable -15V output the input voltage should be 2V to 3V higher than -15V. Moreover for 1.5A output current, a suitable should be required with the IC, or else the IC will continuously go shutdown whenever the load is connected.
LM7915 is a reliable IC to use in commercial equipment, the built-in thermal protection, overcurrent protection, and safe area protection circuitry make the IC robust and foolproof in a variety of wrong and uncertain situations.
As shown in the above LM7915 pinout image the IC also requires input and output capacitors in some conditions such as the input capacitor required when the IC is more than 3 inches away from the input supply and the output capacitor is required for the stability of output.
Where & How to Use: 
LM7915 regulator can be used in a variety of applications such as power supplies, dual power supplies, etc. Using the IC is pretty much simple and straight forward as shown in the LM7915 pinout image above in which the IC is connected between the negative supply.
Applications
Dual power supply circuits
Motor driver circuits
Solar circuits
Battery charger circuits
Replacement and Equivalent / Other Part Numbers
UA7915, GL7915. If somehow you are unable to find LM7915 or the equivalent ICs then you can also use LM337 adjustable negative regulator and set -15V fixed output with the help of resistors.
How to Safely Long Run in a Circuit
For long life stability and performance of LM7912 it is important to not drive load of more than 1.5A, the max input voltage should not be more than 35V. Use a suitable heatsink with the IC and always operate or store the IC in temperature above -65 degree centigrade and below +150 centigrade.
Datasheet
To Download the datasheet just copy and paste the below link in your browser.
https://cdn.datasheetspdf.com/pdf-down/L/M/7/LM7915_NationalSemiconductor.pdf