SS9015 Transistor Pinout, Equivalent, Specs, Uses, Datasheet and Other Info
In this post you will find SS9015 transistor pinout, equivalent, specs, uses, datasheet and other info about where and how to use this transistor.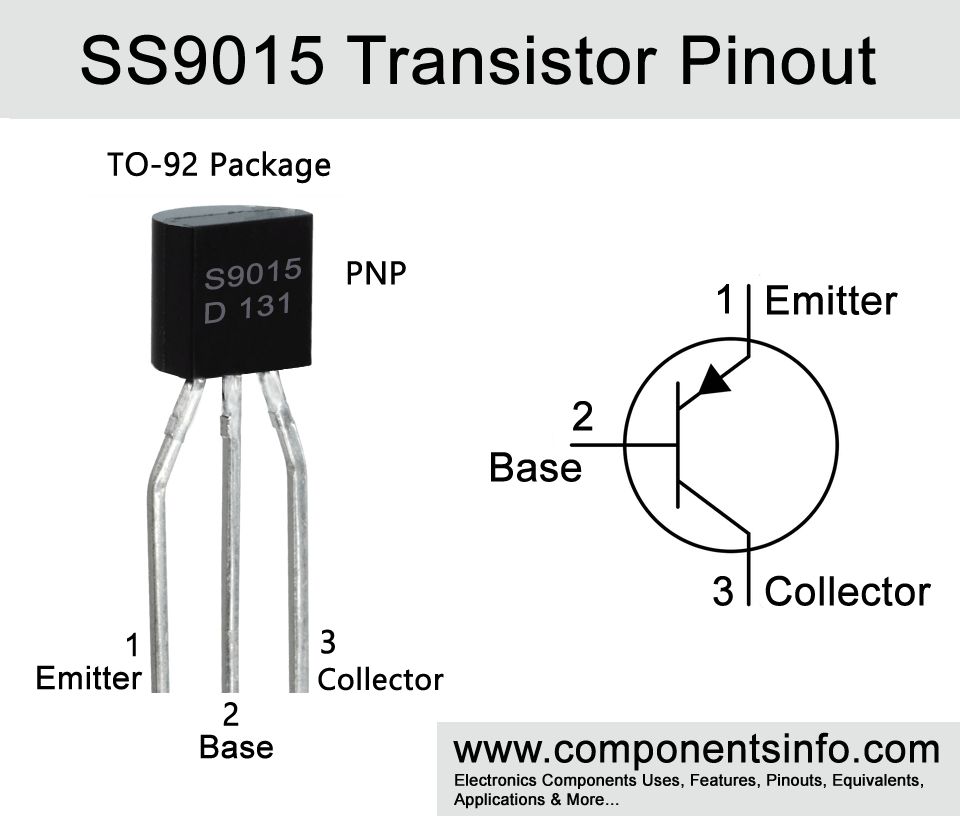 Features / technical specifications:
Package Type: TO-92
Transistor Type: PNP
Max Collector Current(IC):  –100mA
Max Collector-Emitter Voltage (VCE):  –45V
Max Collector-Base Voltage (VCB):  –50V
Max Emitter-Base Voltage (VEBO):  –5V
Max Collector Dissipation (Pc): 400 miliWatt
Max Transition Frequency (fT): 150 MHz
Minimum & Maximum DC Current Gain (hFE): 60 – 1000
Max Storage & Operating temperature Should Be: -55 to +150 Centigrade
PNP Complementary:
NPN Complementary of SS9015 is SS9014
Replacement and Equivalent:
BC557C, NTE2672, BC327−40, BC636, MPSA18,  2N2907, S8550, 2N4403, BC527, SS9012, (The replacement and equivalent transistor shown here are the nearest possible replacement for SS9015. But the pin configuration of these transistors may different from the SS9015 therefore check pinout of the transistor before replacing in a circuit.)
SS9015 Transistor Explained / Description:
SS9015 is a well-known PNP silicon BJT transistor. This transistor is mainly designed for low gain signals amplification. Normally when a low gain signal is amplified to high gain then the noise with the signal is also get amplified but this transistor possess low noise feature which filters noise from the amplified signal and hence you will get a low noise and high gain signal at the output. The max collector dissipation of the transistor is 400mW that is enough to drive a small 2 to 3 inch 4Ohms or 8Ohms speaker directly if any small few milliwatt input signal is provided. Other than these uses it can also be used as a switch to drive loads under -100mA. The transition frequency is 150MHz due which it can also be used in RF circuits under 150 MHz frequency spectrum.
Where We Can Use it & How to Use:
SS9015 can be used for variety of applications like audio preamplification, audio amplification, amplifying any low gain signals to high gain, etc. Moreover it can also be used as a switch to drive relays, LEDs, high power transistors etc. This transistor can be used or wired same like any other BJT transistor.
Applications:
Audio Preamplifiers
Audio Amplification Stages
Signal Amplifier
Hearing Aids
Sensor Circuits
Switching loads under 100mA
Darlington Pairs
How to Safely Long Run in a Circuit:
To get long term and good overall performance with SS9015 in your circuits it is recommended to not drive load of more than 100mA and the load voltage should be less than 45V. Use a suitable base resistor which provides the required input current to the transistor and always operate or store the transistor in temperature above -55 Celsius and below +150 Celsius.
Datasheet
To Download the datasheet just copy and paste the below link in your browser.
https://pdf1.alldatasheet.com/datasheet-pdf/view/609126/FAIRCHILD/SS9015/+408248VDvHSEIlOpf/1aHvCh+/datasheet.pdf