NE5532 Pinout, Applications, Equivalents, Features and More
NE5532 is a popular and widely used operational amplifier IC. This post explains NE5532 pinout, applications, equivalents, features, technical specs and where and how to use this 8 pin dual op amp IC.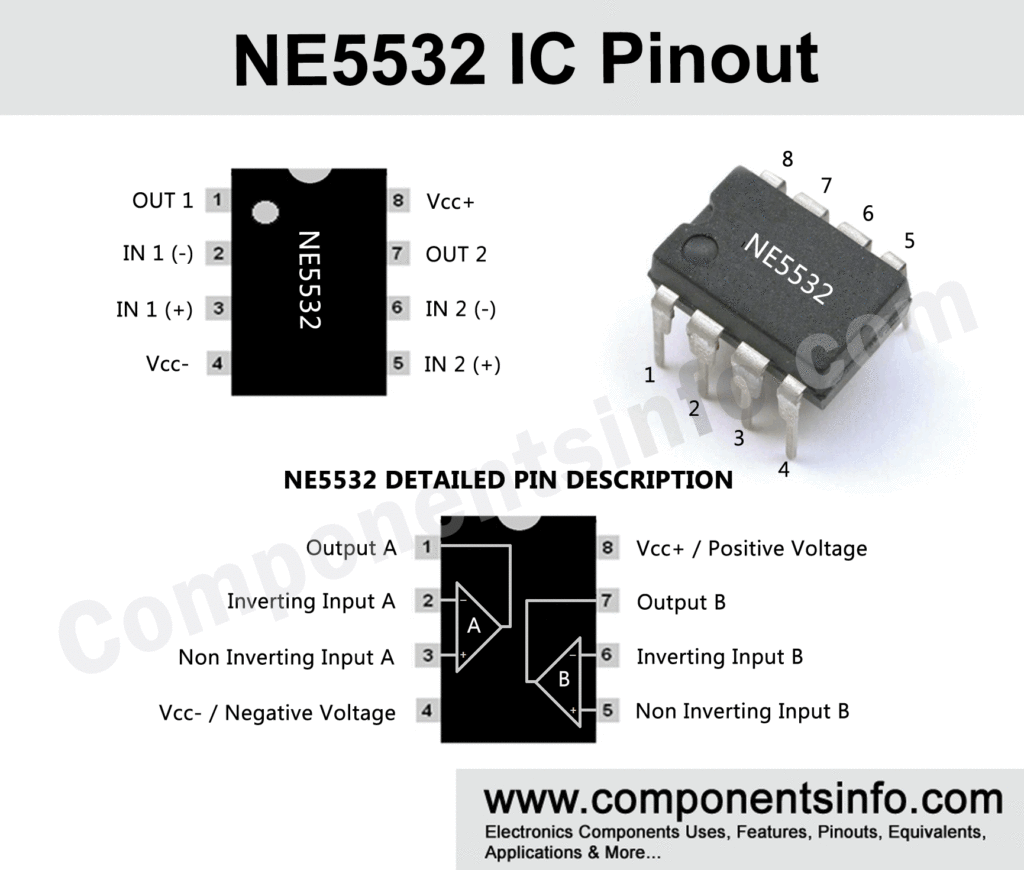 NE5532 IC Features / Technical Specifications:
Available in PDIP, SOIC and other packages
Very low noise circuitry
Low distortion
Fast slew rate
Protection diodes are used at the input
Short circuit protection at the output
High DC voltage gain
Free from latch-up
Contain dual op amps in a single package
Low cost and reliable
Performs best as audio preamplifier
Operated from single and dual supply
NE5532 Pin Configuration:
[table "15" not found /]
NE5532 Description: 
NE5532 is a widely used operational amplifier IC. The IC is available in 8 pin dip and other small packages. It is also available in other numbers like SE5532, SA5532 etc. but they are all same. The IC contains two separate internal operational amplifiers which are identical internally. The IC is mainly built for audio applications and both the internal op-amps are very low noise and low distortion type due to which it outperforms when used in audio circuitry. Moreover, due to its good audio pre-amplification capabilities, this IC is widely used in commercial tools, appliances and equipment.
It is also commonly used in the place of TL072 and performs same in most cases. Just as TL072 has a single version which is TL071 same as NE5532 has a single version that is NE5534 and can be used in the place of TL071. NE5534 is almost same as a single op-amp of NE5532 but when we look deeper we will find some minor differences, for example, the slew rate is different and some other minor differences but in most cases it will perform same as the single op-amp of NE5532.
Voltage and Current Requirements
According to the manufacturer the recommended operating voltage is minimum 5V to max 15V DC and the operating current the IC requires to perform its task is 8mA to 16mA.
Applications:
Audio preamplifiers
Mic preamplifiers
Wide variety of audio applications
Communication Circuits
Medical Equipment
Replacement, Equivalent, Or Alternative ICs / Part Numbers:
NE5532 can be replaced with TL072, TL1971, LM358, LM4558
Application Circuit :
The figure below shows an audio preamplifier circuit using NE5532 IC and few other components. As discussed above the NE5532 is a dual op amp IC and contains two similar op amps inside but in this circuit we have used only one op amp of the IC. The circuit can be operated from single 15V DC supply.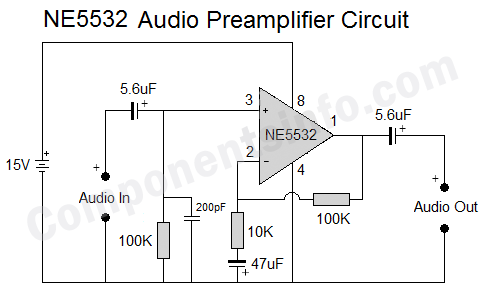 Guide to Safely Operate the IC
For getting long-term performance with NE5532 do not operate the IC more than ±20V, do not drive load of more than 20mA and always store or operate the IC at temperature above -65 degrees centigrade and +150 degrees centigrade.
Datasheet:
To download the datasheet just copy and paste the below link in your browser.
https://cdn.datasheetspdf.com/pdf-down/N/E/5/NE5532_ONSemiconductor.pdf