TL072 Pinout, Features, Applications and Other Useful Info
TL072 is a dual operational amplifier IC with many good features, in this article we are going to discuss about TL072 pinout, features, applications, and other useful information about this audio IC.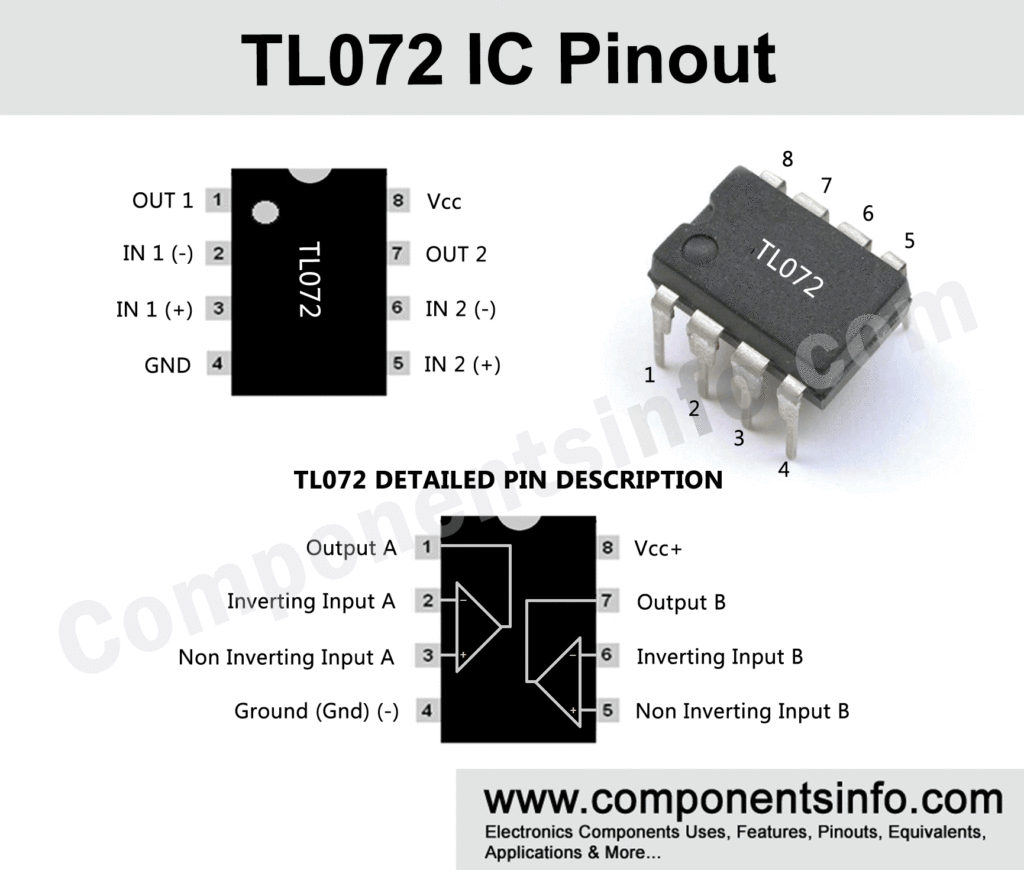 TL072 IC Features / Technical Specifications:
Low noise and low distortion circuitry
Low current consumption
Short circuit protection at the output
JFET input
Free from latch-up
Fast slew rate
Dual operational amplifiers in a single package
Wide operating voltage from 6V to 36V
Very low harmonic distortion
Quiescent current is only 1.4mA to 2.5mA
Low cost and reliable
10mA output current
TL072 Description: 
TL072 is a very popular operational amplifier IC available in 8 pin dip and other packages. The internal circuitry of IC contains two separate operational amplifiers that can be operated with single or dual supply. There are also single and quad version of this IC which are TL071 and TL074. The single version (TL071) contains one opamp while the quad version contains four separate operational amplifiers inside due to which the package is different and it contains 14 pins.
The input stage of the TL072 contains JFET transistors which insures lower noise as compare to the BJT transistors. Both the operational amplifiers of the IC have very low current consumption and each opamp only consume 1.4mA normally.
The IC is also THD (Total Harmonic Distortion) free which is also useful if you are making any type of audio preamplifier circuit with this IC. The low noise and low harmonic capabilities with other features makes this IC ideal to use in high accuracy applications.
Applications:
Audio preamplifiers
Inverters
Solar applications
UPS
Oscilloscopes
Replacement, Equivalent, Or Alternative ICs / Part Numbers:
The equivalent ICs we are mentioning here will not be the accurate alternative of TL072 in some cases but in some applications they will work good and in some applications they will not. So it requires some experimentation to find which equivalent IC is working well. The equivalent ICs are: Ne5532, TL1971, and LM358. However, the single and quad versions of this IC also work similarly to TL072 and can be used if TL072 is not available.
Application Circuit :
The figure below shows an audio preamplifier circuit using TL072 and few other components. As mentioned above TL072 contains two separate operational amplifiers but here we have used only one operational amplifier. The operating voltage of the circuit is 9V DC.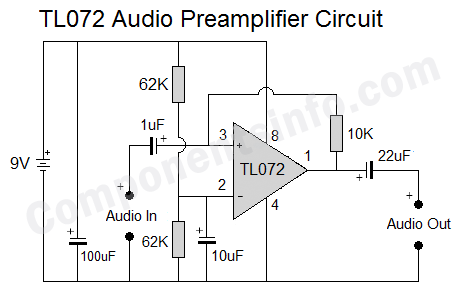 How to Safely Long Run in a Circuit:
To get long life performance with TL072 do not apply voltage more than 36V, do not drive load of more than 10mA, prevent the IC from short circuits, and always check connections before applying power to the IC. Always store in temperature above -65 degrees centigrade and below +150 degrees centigrade.
Datasheet:
To download the datasheet just copy and paste the below link in your browser.
https://cdn.datasheetspdf.com/pdf-down/T/L/0/TL072_STMicroelectronics.pdf