LM311 Pinout, Applications, Equivalent, Description, features
LM311 is a voltage comparator op amp IC with many good features; in this article we will discuss LM311 pinout, application, equivalent, description, features and other details about this IC.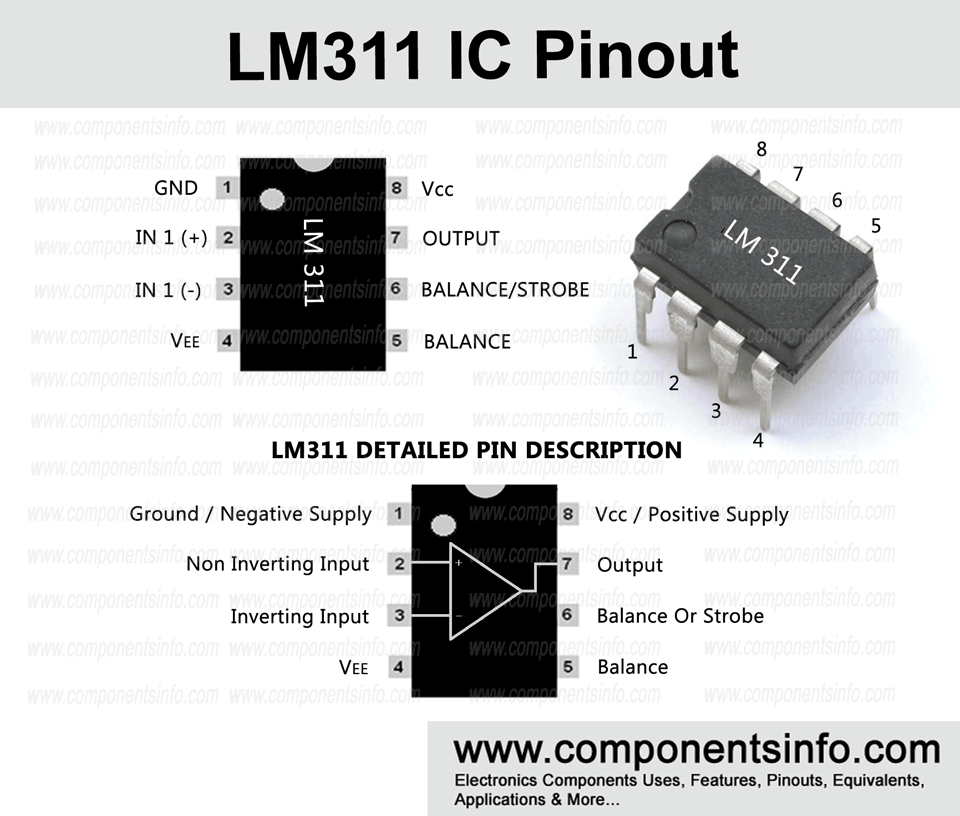 LM311 IC Features / Technical Specifications:
LM311 requires very low input current at bias and offset.
Can be operated with dual and single power supply
Can be operated with wide supply voltages.
It can drive load up to 50V with 50 miliampere.
The input and output of the IC can be isolated from circuit's ground.
The IC can easily be used with TTL and MOS circuits.
Low power consumption design.
Out is protected with short circuit for upto 10 seconds.
The IC can drive upto 50mA load.
Offset Balance Capability
Strobe functionality
LM311 Pin Configuration:
| Pin# | Pin Name | Pin Description |
| --- | --- | --- |
| 1 | Ground | Ground / Negative Supply Pin |
| 2 | Non Inverting Input | Non Inverting Input of the IC. |
| 3 | Inverting Input | Inverting Input of the IC's |
| 4 | VEE | Voltage at Common Emitter |
| 5 | Balance | This pin should be used to get rid of offset voltage |
| 6 | Balance / Strobe | Output stage can be controlled with this pin. |
| 7 | Output | Output pin of the IC. |
| 8 | Vcc+ | Positive supply pin of the IC. |
LM311 Description: 
LM311 is a voltage comparator op amp IC available in many packages. The internal circuitry is having some of very good features. It requires very low input current at its bias and offset. The IC has the capability to balance the offset and it has also strobe functionality. One of the main features of the IC is that it can be operated with a single power supply. The IC can be operated with wide power supply range of upto 36V. The IC can also be operated with dual supply as most of the opamp ICs operated. The maximum operating temperature of the IC is +70 centigrade and storage temperature range is from -65 centigrade to +150 centigrade. Moreover the IC circuitry also consist a transistor that makes this IC ideal for many applications.
Applications:
Computer Circuits
Automation Projects
Comparator Circuits
Driving Relay and Other Loads Under 50mA
Power Supplies
Domestically Used Electrical Goods / Electrical Appliances
Replacement / Equivalent / Other Part Numbers:
LM111, LM211, LT111A. If you want to alternate the IC with other 8 pin dip comparator ICs in case it is used in a general application then you can also use other comparator ICs like LM393, LM741, LM358 etc.
Application Circuits :
There are two circuits show below using the LM741 IC. This first circuit is a light sensor and the second is dark sensor circuit.
Heat Sensor Using LM311 IC
The schematic shown below is a circuit of a heat sensor.  LM311 IC is used here in comparator mode. The circuit is also using a 10K NTC thermistor as a heat sensor, and some other passive components. The 20K variable resistor is used to set a required level of heat. An LED is used at the output of the IC.  When the amount of heat will increase around the thermistor and reached to the preset level set by the 20K variable resistor the output of the LM311 IC will become high and the LED will light up.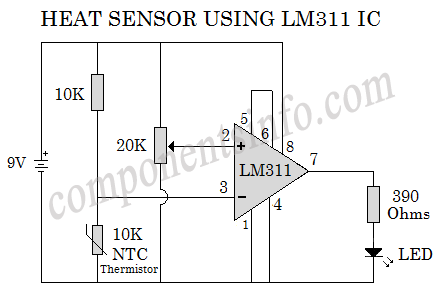 How to Safely Long Run in a Circuit:
To get long term performance from the IC it is important to not operate the IC from more than 30 volts. Always connect power supply with the IC in the right polarity. Do not operate the load more than 50mA therefore do not operate load more than 50mA. Always operate the IC under +70 centigrade, and always store the IC in above -65 centigrade and below +150 centigrade.