IRL540 MOSFET Pinout, Applications, Equivalents, Features, Specifications and More
IRL540 is a logic level MOSFET capable to drive load of upto 28A with VDSS of upto 100V and RDS(on) of 0.077 Ohms. This MOSFET can be used for wide variety of purposes. In this post, we are going to discuss the IRL540 MOSFET pinout, applications, equivalents, features, specifications and other useful information about this transistor.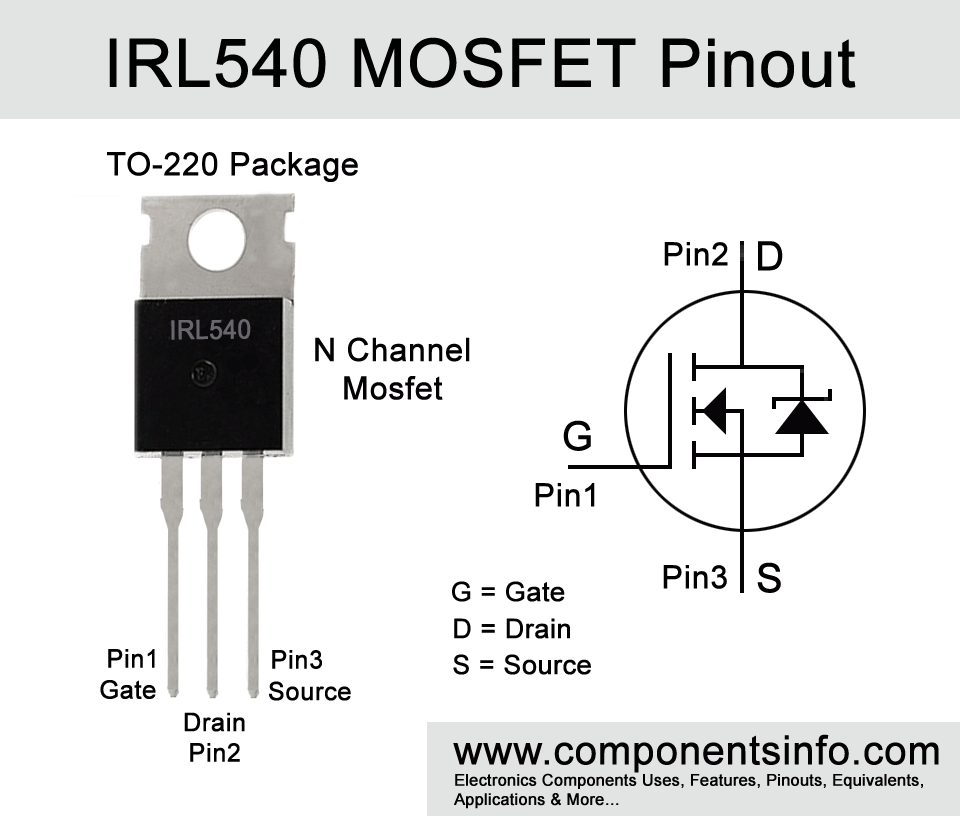 Features / Technical Specifications:
Package Type: TO-220AB
Transistor Type: N Channel
Max Voltage Applied From Drain to Source: 100V
Max Gate to Source Voltage Should Be: ±10V
Max Continues Drain Current is: 28A
Max Pulsed Drain Current is: 110A
Max Power Dissipation is: 150W
Max Drain to Source Resistance in ON State (RDS on): 0.077Ω
Max Storage & Operating temperature Should Be: -55°C to +175°C 
Replacement and Equivalent:
IRL540PBF, IRL540N, 2SK1301, RFP12N08L, BUK555-100B, IRC5405.
IRL540 MOSFET Explained / Description:
IRL540 is a low voltage drive N channel power MOSFET available in TO-220 Package. It is an N channel MOSFET designed to use in a wide variety of applications which we will discuss later in this post. The MOSFET also has many features such as an operating temperature of upto 175°C due to which it can service and provides good performance on high temperatures as compared to the 150°C max temperature MOSFETs. The low RDS(on) ensures low energy losses during operation and also generates less heat. The fully avalanche rated feature means it will perform stable even when its drain to source voltage reached above its limits. It is fully avalanche rated which means it will perform stable even when its drain to source voltage exceeds its limit. It has a logic level gate drive so it can be operated directly from ICs and microcontrollers and from other low voltage circuitry. The fast switching capability makes it an important component to use in applications where fast switching is crucial. Other features are dynamic dv/dt ratings, east of paralleling, etc.
Looking at the specs of the MOSFET the max continuous drain current is 28A, the max pulsed drain current is 110A, max drain to source voltage is 100V, minimum to maximum gate threshold voltage is from 1.0V to 2.0V, max drain to source resistance in on state is 0.077 and the max power dissipation is 150 Watt.
Where and How to Use:
IRL540 has wide variety of uses it can be used in industrial and commercial purposes but can also be used in DIY and educational circuits. The applications or circuits in which it can be used are solar circuits, automotive, battery operated, power supplies, battery backup, audio amplifiers etc. More detailed applications can be found below.
Applications:
Power Supply Circuits
Solar Power Supply Circuits
Solar Battery Chargers
Automotive Applications
Uninterruptible Power Supplies (UPS)
Battery Chargers Circuits
Battery Management Systems
Inverter Circuits
Motor Controllers
Portable and Battery Operated Circuits
Audio Amplifiers
And many more…
Safe Operating Guidelines / Absolute Maximum Ratings:
Here are the safety guidelines which is suggested to follow to get low term performance from IRL540.
Always stay 20% below from the absolute maximum ratings.
Max continuous drain current is 28A; therefore do not drive load of more than 22.4A.
The maximum drain to source voltage is 100V so do not drive load of more than 80V.
Use a proper heatsink with the transistor.
Always store or operate the MOSFET at temperatures above -55 °C and below +175 °C.
Datasheet:
To download the datasheet just copy and paste the below link into your browser.
https://cdn.datasheetspdf.com/pdf-down/I/R/L/IRL540-InternationalRectifier.pdf