IC LM386 Pinout, Equivalent, Applications & Other Info
LM386 is a widely used audio amplifier IC, here we will discuss about LM386 pinout, equivalent, applications, description, technical specs and other information about this IC.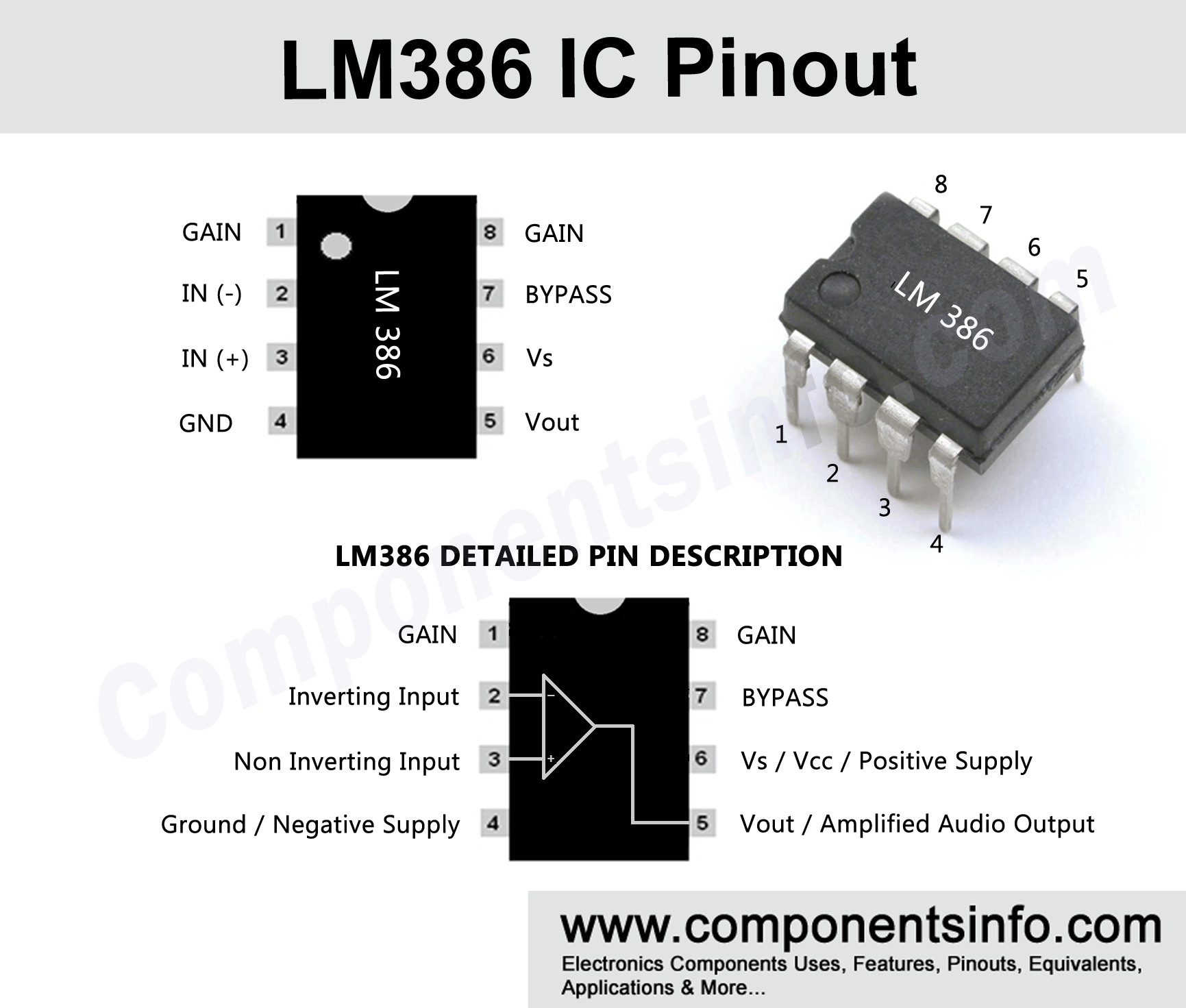 LM386 IC Features / Technical Specifications:
Low noise and low distortion circuitry
Small Size (8 pin dip package)
Quiescent power is only 24mW on a 6V supply
The Current consumption is only 4mA in standby mode
Operated with wide supply voltage from 4V to 18V
External circuitry required only few parts
Minimum to maximum voltage gain is from 20 to 200
Also manufactured in VSSOP & SOIC packages.
Max Output of LM386N-4 is 1000mW on 16V
LM358 Pin Configuration:
| Pin# | Pin Name | Pin Description |
| --- | --- | --- |
| 1 & 8 | Gain | These pins can be used to adjust the gain between 20 to 200 |
| 2 | Inverting Input | Pin2 is a Inverting Input of the IC connected to the ground. |
| 3 | Non Inverting Input | It is the non inverting pin which is used to fed the audio signal in to the IC's circuitry. |
| 4 | Ground | Pin4 is a Ground / Negative pin that is the ground of entire IC circuitry. |
| 5 | Vout | It is the output pin which provides the amplified output of the input signal. |
| 6 | Vss | This is the main positive supply or power of the IC or system. |
| 7 | Bypass | This pin is used to connect the decoupling capacitor to ground |
LM386 Description: 
LM386 is a widely used audio amplifier IC manufactured in 8 pin dip, VSSOP, SOIC and other packages. The IC is basically designed for low voltage commercial applications, apart from commercial applications it is also a famous IC among electronic hobbyists and experimenters. The internal gain of the IC is set to 20 but it can be adjusted by connecting a resistor and a capacitor in series between the pin number 1 and 8, by this procedure the user can adjust the gain between 20 to 200. Due to the small size, low quiescent current and low voltage requirements this IC is ideal to use in wide variety of portable battery operated applications and devices.
Applications:
Sensor
Audio amplifiers for radios
Amplifier for computers, mp3 players and other music playing devices
Toys
Sensor Circuits
Audio frequency signal Amplifications
Audio preamplifiers
Replacement / Equivalent / Other Part Numbers:
Some alternative ICs you can use are LM380, TDA2822M, NJM2073 and MC34119. The ICs mentioned here are not accurate replacement of LM386 because their internal and external circuitry is different, but if you are looking for 8 pin dip ICs which work on same voltage and require low external parts and also provide same output then you can look for these ICs.
Application Circuit :
The figure below shows an audio amplifier circuit built using the LM386 audio frequency amplifier IC. The circuit can be operated from a 9V battery or you can also use a 12V battery. The pin 1 and 8 is connected through the 10uF capacitor to increase gain of the circuit to 200, you can also replace this 10uF capacitor with a 1K variable resistor to get the required gain value between 20 to 200. The audio input points are also shown in the circuit from which you can connected the audio you want to amplify, the 10K variable resistor connected with the pin3, audio input and ground is used to adjust the audio of the circuit. An 8 ohms speaker is connected with the pin5 of the IC through a 220uF capacitor used as a filter.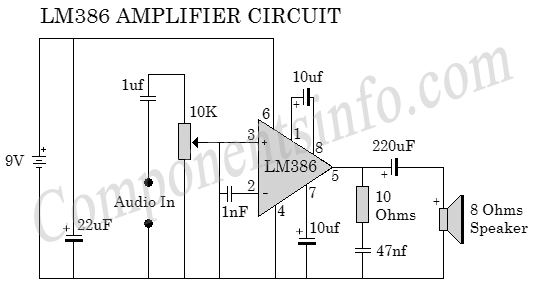 How to Safely Long Run in a Circuit:
To get long term and stable performance from LM386 it is recommended to not operate the IC with more than 18V DC. Always check twice the connection in the circuit to save from accidental short circuit, white soldering make sure that the IC will not get more than recommended soldering heat. Make sure to connect the IC's power connections in right polarity, do not operate the IC below 0 centigrade and above +70 centigrade and always store the IC above -65 centigrade and below +150 centigrade.