2N3439 Transistor Pinout, Specs, Equivalents, Features, Applications and Other Useful Info
2N3439 is an NPN metal case transistor manufactured in TO-39 metal package. The post describes 2N3439 transistor pinout, specs, equivalents, features, applications and other useful info.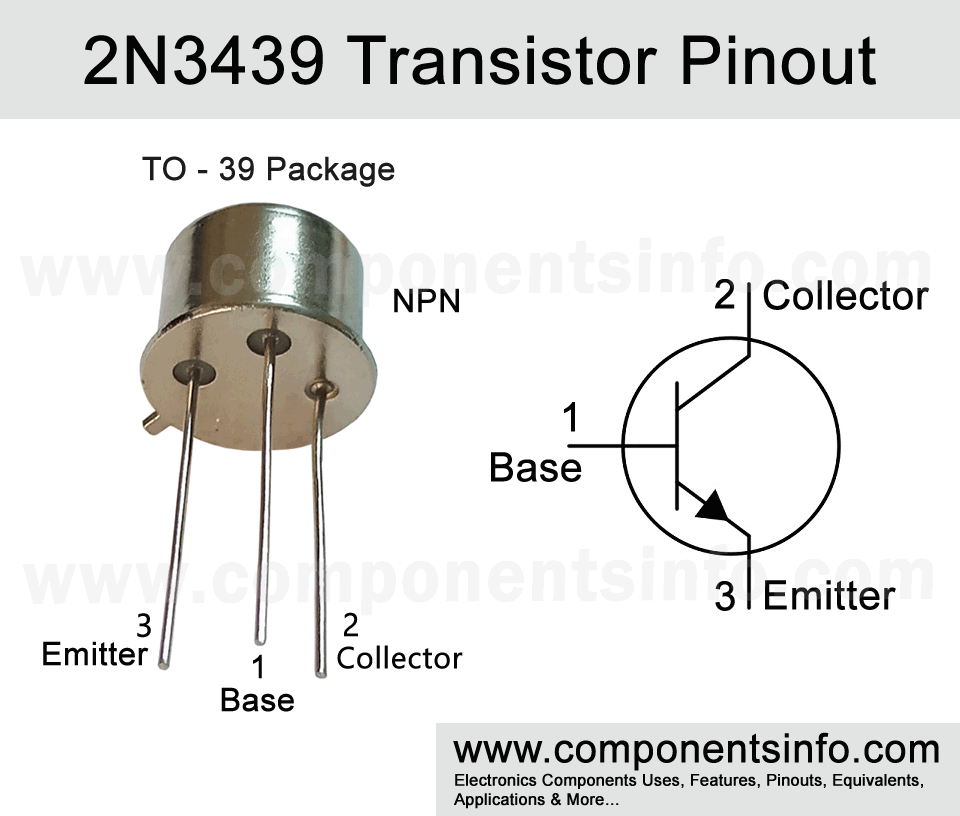 Features / Technical Specifications:
Package Type: TO-39
Transistor Type: NPN
Max Collector Current(IC): 1A or 1000mA
Max Collector-Emitter Voltage (VCE): 350V
Max Collector-Base Voltage (VCE): 450V
Max Emitter-Base Voltage (VEBO): 7V
Max Collector Dissipation (Pc): 10 Watt
Max Transition Frequency (fT):  15 MHz
Minimum & Maximum DC Current Gain (hFE): 30 to 160
Max Storage, Operating & Junction temperature range: -65 to +200 Centigrade
Replacement and Equivalent:
2N5279, 40390
2N3439 Transistor Explained / Description:
2N3439 is a TO-39 metal can package transistor that is built to use in commercial and home equipment and appliances. The transistor contains many features such as high collector to emitter voltage of upto 350V. This high collector to emitter voltage makes it suitable to be used in many applications such as inverters, regulators etc.
The transistor is having quite interesting specs such as collector to emitter voltage is 350V, collector to base voltage is 450V, max emitter to base voltage is 7V, max collector current is 1A, and total device dissipation is 5 Watts at 25°C.
The transistor is designed to use in many applications such as low current inverters with high voltage, switching regulators.
Where We Can Use it & How to Use:
2N3439 can be used in many applications. For example, it can be used in circuits that require high voltage. Other than that it can also be used in amplifier circuits. Moreover, it is not only limited to these uses and can also be used in other applications such as switching, etc.
Applications:
Audio Amplifiers such as guitars and other audio amplifiers
Power Supplies
Lighting Circuits
X-ray machines
Switch Mode Power Supply
Defibrillators
High Voltage Signal Handling Devices
Switching Loads under 1000mA
Safe Operating Guidelines / Absolute Maximum Ratings:
Here are the safe operating guidelines to get good stable and long term performance with this transistor.
Always use the transistor 20% below its absolute maximum ratings. Using the transistor to its absolute maximum rating may result in damaging the transistor or weakening its performance.
The max collector current is 1000mA so do not drive load of more than 800mA.
The max collector to emitter voltage is 350V therefore the driven load should be under 280V.
A proper and suitable heatsink is essential to use with the transistor.
Store or operate the transistor at temperatures between -65°C and +200 °C.
Datasheet:
To Download the datasheet just copy and paste the below link into your browser.
https://z3d9b7u8.stackpathcdn.com/pdf-down/2/N/3/2N3440_STMicroelectronics.pdf