D1047 Transistor Pinout, Features, Equivalent, Applications and Other Info
D1047 or 2SD1047 is a TO-3P package NPN transistor, it is designed to be used as audio and power amplification purposes. This post describes D1047 transistor pinout, features, equivalent, applications and other info.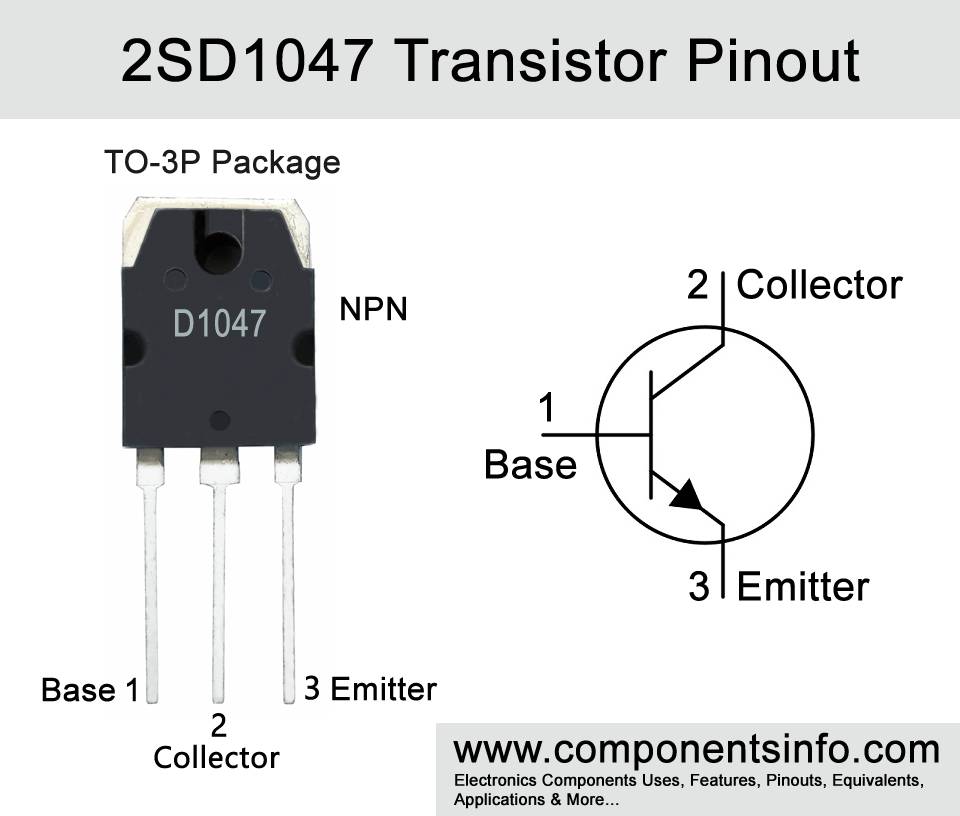 Features / Technical Specifications:
Package Type: TO-3P
Transistor Type: NPN
Max Collector Current(IC): 12A
Max Collector-Emitter Voltage (VCE): 140V
Max Collector-Base Voltage (VCB): 200V
Max Emitter-Base Voltage (VEBO): 6V
Max Collector Dissipation (Pc): 100 Watt
Minimum & Maximum DC Current Gain (hFE): 60 To 200
Max Storage & Operating temperature: -65 to +150 Centigrade
D1047 Transistor Explained / Description:
D1047 is a NPN transistor manufactured in TO-3P package. The transistor is mainly designed for audio amplification and power amplification purposes. The transistor is having good specs due to which it is not only limited to above mentioned purposes and can be used for variety of other applications. The maximum collector-emitter voltage is 140V due to which it can be used in many different high voltage applications under 140V. The maximum collector-emitter value of 140V doesn't mean that you cannot use this transistor in low power and battery operated circuits the maximum collector-emitter voltage value only describes the maximum voltage load this transistor can withstand.
Moreover the maximum collector current is 12A which makes it ideal to use as a switch in variety of applications, the total power dissipation is 100 Watts, the maximum transition frequency is 15MHz and the maximum DC current gain of the transistor is 200.
Where We Can Use it & How to Use:
D1047 can be used in wide variety of amplification and switching applications. It can be used in high power audio amplifiers, power supply circuits, low frequency circuits etc. The procedure of using this transistor is same as we use any other BJT transistor.
PNP Complementary:
PNP Complementary of 2SD1047 is 2SB817
Replacement and Equivalent:
2SC5948, 2SC4059, 2SC5358, 2SC5200, 2SC3907, 2SC6011, 2SD1717
Applications:
Motor Driver Applications
High power audio amplifier
Power Supply Circuits
Inverter circuits
Drive load of up to 12A
Safe Operating Guidelines / Absolute Maximum Ratings:
Using any component on its max ratings can damage or weak a component sudden or in the long run. To operate the transistor safely, it is always best not to use it at its maximum rating and always stay 20% below its maximum rating. So same applies to D1047 transistor. The maximum collector-emitter voltage is 140V therefore do not drive load of more than 112V. The maximum collector current is 12A so do not drive load of more than 9.6A and always use or store in temperature above -65°C and below +150 °C.
Datasheet:
To download the datasheet just copy and paste the below link in your browser.
https://cdn.datasheetspdf.com/pdf-down/D/1/0/D1047_SanyoSemiconDevice.pdf