1N34A diode Pinout, Features, Applications and Other Useful Info
This article contains all the information about 1N34A diode such as 1N34A pinout, features, applications and other useful info.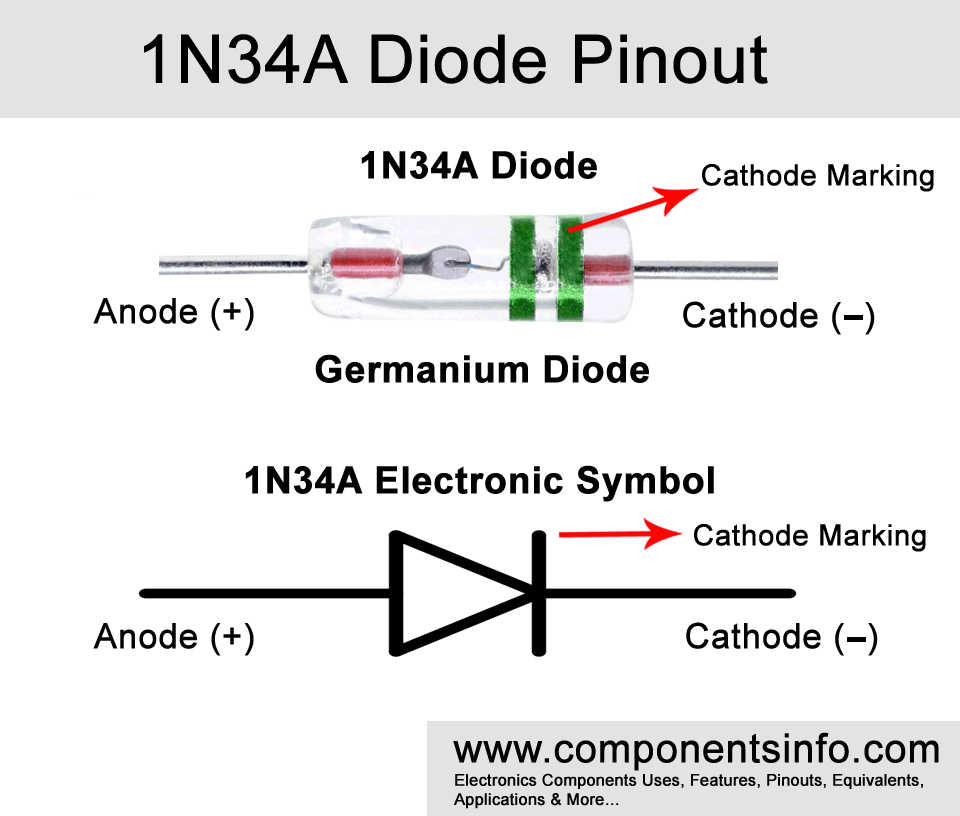 Features / Technical Specifications
Package Type: Available in DO7 Glass Packages
Diode Type: Germanium
Max Repetitive Reverse Voltage is: 65 Volts
Max Average Rectified Current is: 50mA
Max Forward Current is: 0.5W
Reverse Voltage is: 20V
Max Storage & Operating temperature Should Be: -55 to +75 Centigrade
1N34a Replacement and Equivalent
1N295, 1N60, 1N290, 1N270s, AA119, OA85, 1S188, AA143
1N34A Diode Explained / Description
If you see a glass body diode which is transparent in your RF electronic appliances such as radios and TVs etc. it is most likely a 1N34A diode. 1N34A is a famous germanium diode designed to be used in radio and RF circuits. Mostly is used in the detector circuits of these appliances to detect RF signal on the first stage and convert them in to a DC signal which is then preamplified and amplified by the circuitry.
The diode has many features such as its has high mechanical strength glass body due to which it can survive if it has to face a high physical force in any situation, it has lower leakage current, it can withstand on high voltage, it has lower leakage and small reverse current, extremely suitable for FM band region etc. So if you are using a germanium diode for signal detection purposes then 1N34A can be a good choice.
Where We Can Use It
The 1N34A has many uses. It can be used in wide variety of very low level signal detection purposes. Whether it is a radio, TV or any other similar appliance 1N34A can be a most important component of it.
Applications
TV video detection
FM detection and FM Radios
AM detection and AM Radios
Audio Detection in TV
Various RF circuits
Two way radios
Safe Operating Guidelines / Absolute Maximum Ratings
To get good and long term performance make sure to follow these safety guidelines when using 1N34A diodes.
Always check the pinout carefully to use in your circuit or design.
Do not drive it to its absolute maximum ratings and always stay atleast 20% below.
Do not drive load of more than 40mA.
Do not drive load of more than 50V
And always operate or store the diode at temperatures above -55 °C and below +75.
Datasheet :
To download the datasheet just copy and paste the below link in your browser.
https://cdn.datasheetspdf.com/pdf-down/1/N/3/1N34A-NTE.pdfw