1N5406 Diode Pinout, Uses, Features, Explanation, Equivalents and Other Important Info
1N5406 is a rectifier diode for general purpose use. It has many built in features. This article explains 1N5406 diode pinout, uses, features, explanation, equivalents and other important info.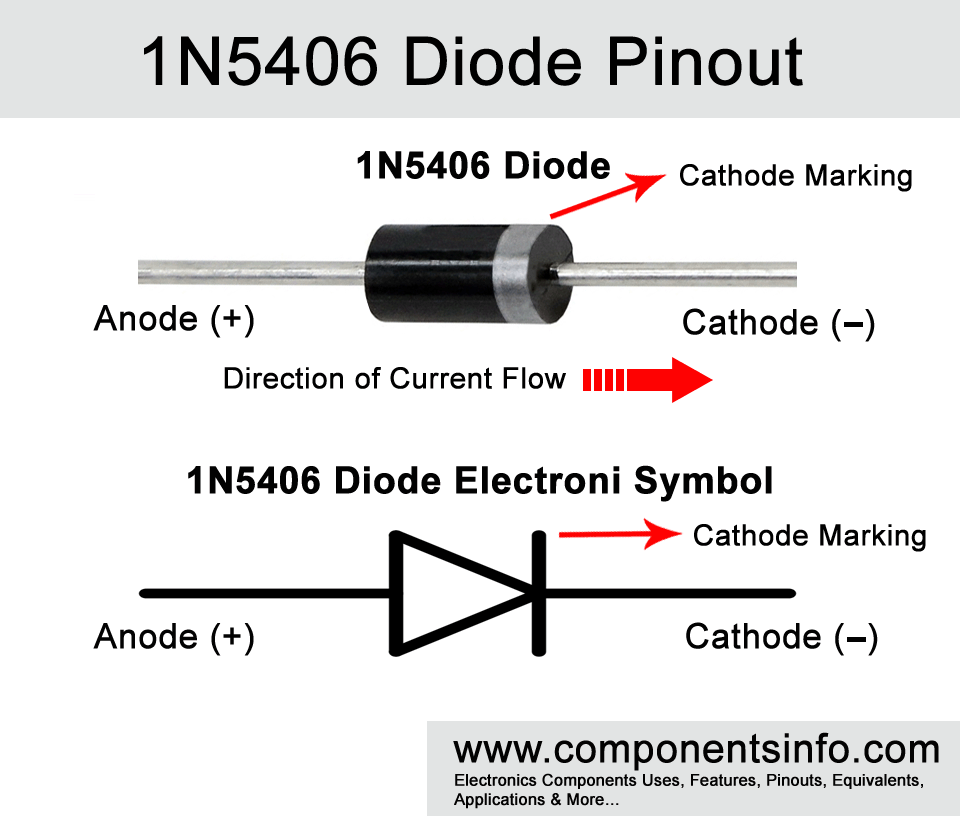 Features / Technical Specifications
Package Type: Available in DO-201
Diode Type: Rectifier Diode for General Purpose Applications
Max Repetitive Reverse Voltage is: 600 Volts
Average Rectified Fwd Current: 3000mA Or 3A
Non-repetitive Max Fwd Current: 200A
Max Reverse Current is: 10uA
Max Storage & Operating temperature Should Be: -65 to +175 Centigrade
1N5406 Replacement and Equivalent
P300M, CR3-100, CR3-120, G3M, FR307, FR607, HER508, and V3510.
1N5406 Diode Explained / Description
1N5406 is a high current diode available in DO-201 package. It has the maximum current 3A which is quite enough to drive a variety of loads and also a good feature to use in high current rectifier circuits.
It is a diode of 1N540X series which also contains other diodes such as 1N5400, 1N5401, 1N5402, 1N5403, 1N5404, 1N5405, 1N5407, 1N5408. All the diodes in this series have almost the same and can be used alternatively in some conditions. The important thing you should take into consideration when replacing with each other is their peak repetitive reverse voltage or (VRRM). You can replace a lower (VRRM) value diode only with the higher one but you cannot replace a higher (VRRM) diode with the lower one.
Looking at the technical specs of the diode the maximum peak repetitive reverse voltage is 600V, the maximum average rectified forward current is 3A, max non repetitive max forward voltage is upto 200A and max reverse current is 10uA.
The diode has many features such as peak surge overload 200A, low forward voltage drop, low leakage and high current capability of upto 3A due to which it can be used in variety of high current applications.
Where We Can Use It
1N5406 has variety of uses. First of all, it is a rectification diode so it can be used as a rectifier in many applications such as battery chargers, power supplies, inverters, etc. Additionally, it can also be used for protection purposes such as voltage blocking, spikes, and blocking voltage spikes.
Applications
Battery Chargers
Protection Purposes
Adapters
Power Supplies
Low to high voltage rectification
AC to DC converters
Step up and step down converters
Blocking voltage and current in any desired direction
Safe Operating Guidelines / Absolute Maximum Ratings
To safely operate this diode it is important to check the absolute maximum ratings and the diode should be used below 20% of the absolute maximum ratings. The max reverse repetitive voltage is 600V therefore do not drive load of more than 480V. The maximum average rectified forward current is 3A therefore the derived load should be under 2.4A. The storage and operating temperature should be maintained between -65°C and 150°C.
1N5406 Datasheet :
To download the datasheet just copy and paste the link below in your browser.
https://z3d9b7u8.stackpathcdn.com/pdf-down/1/N/5/1N5400-Diodes.pdf