TL431 Pinout, Equivalent, Uses, Applications and Other Details
TL431 is a three pin shunt regulator IC, today we are going to discuss TL431 pinout, equivalent, uses, applications and other details about how and where to use this IC.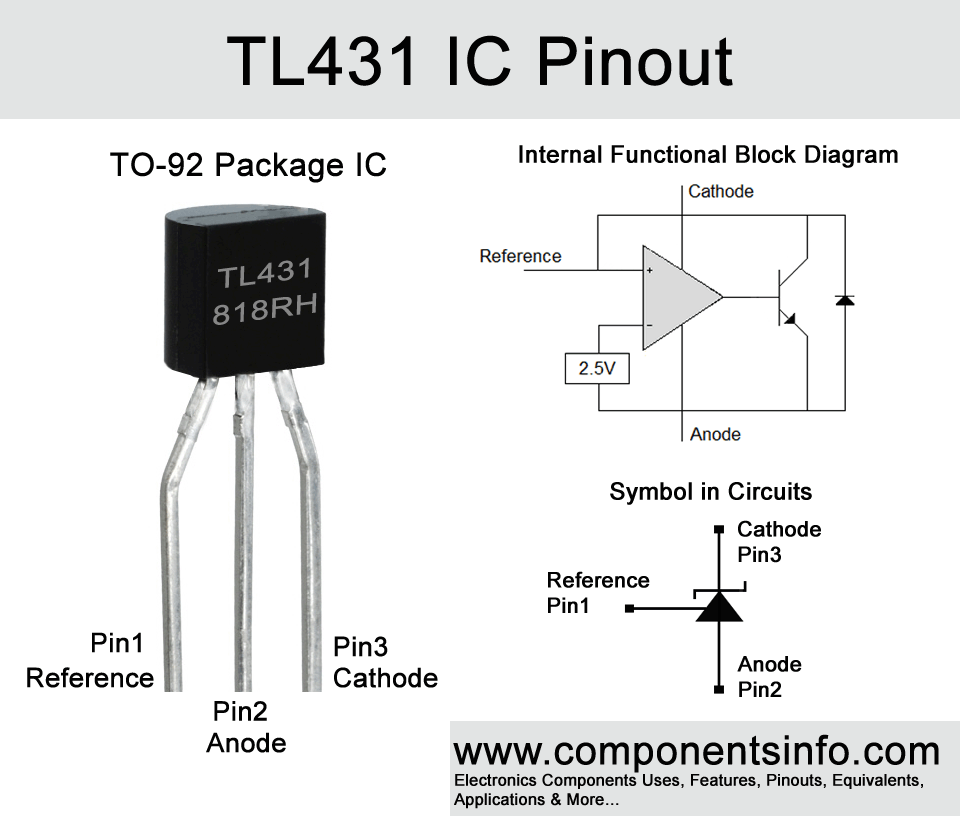 TL431 IC Features / Technical Specifications
Manufactured in TO-92 and other small packages
Output voltage adjustable from 2.5 to 36V
Output current adjusted from 1mA to 100mA
Temperature stability
Low price
Authentic to use in commercial devices
TL431 IC Explained
TL431 is a shunt regulator diode IC available in TO-92 and other packages. This is a three terminal IC. The output voltage can be adjusted from 2.5V to 36V with the help of a resistor divider connected with its reference pin or pin1. Moreover this IC can be operated from 1mA to 100mA current range with typical ouput impedance value of 0.22 Ohms. It is also capable to provide stable performance on its wide temperature range. It can be used as a replacement for the zener diode in wide variety of applications because it works just like a zener diode the only difference is that its output is adjustable.
TL431 has many uses in electronics, its most common uses are under voltage and over voltage monitoring, window voltage monitoring etc. and it can also be found in power supplies as a reference voltage source.
By looking at the internal block diagram circuit shown below we can see that the internal circuitry of the chip contains an NPN transistor at the output that is biasing from an opamp which has 2.5V precise voltage.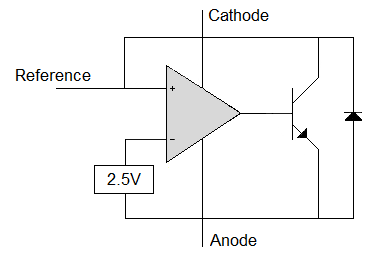 Applications
Voltage Comparator Circuits
Battery Charger & Monitor Circuits
Solar Applications
Switching Supply Circuits
Replacement and Equivalent / Other Part Numbers
KIA431, TL432, LM336Z5, TA76431S(TE6,F,M)
How to Safely Long Run in a Circuit
To get long term and stable performance with TL431 it is suggested to not drive more than 100mA load with the IC, do not apply more than 36V to the IC, always check pinout before placing in the circuit, wrongly placement of the IC may result in permanently damage internal circuitry of the IC and the always operate and store the IC in temperatures above -65 centigrade and below +150 centigrade.
Datasheet
To Download the datasheet just copy and paste the below link in your browser.
https://cdn.datasheetspdf.com/pdf-down/T/L/4/TL431_MotorolaInc.pdf