PF5102 Transistor Pinout, Equivalents, Features, Applications and Other Useful Info
PF5102 is an N Channel switch transistor available in TO-92 package. This article describes PF5102 transistor pinout, equivalents, features, applications and other useful technical information about this transistor.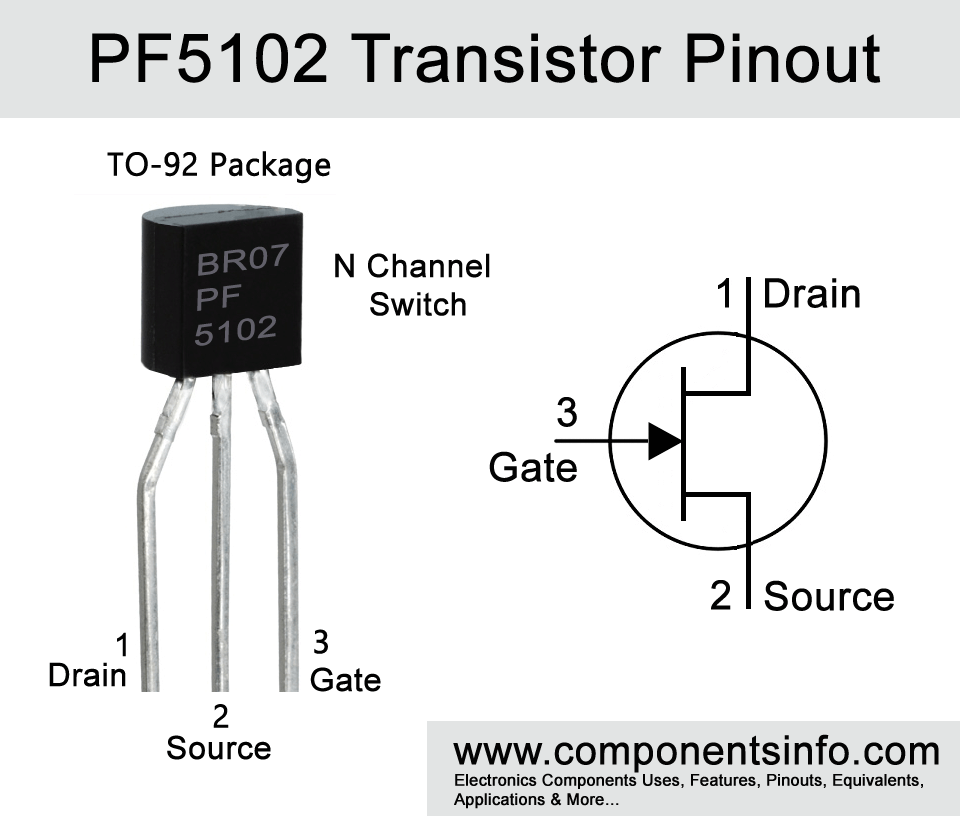 Features / Technical Specifications:
Package Type: TO-92
Transistor Type: N Channel Switch
Maximum Drain to Gate Voltage: 40V
Maximum Reverse Gate to Source Voltage: -40V
Maximum Continues Gate Current: 50mA
Minimum to Maximum Gate to Source Cutoff Voltage : -0.7 to -1.6V
Maximum Power Dissipation: 625mW
Max Storage & Operating temperature Should Be: -55 to +150 °C
Replacement and Equivalent:
J111, J112, J113, 2N4391, 2N4391, 2N5457
PF5102 Transistor Explained / Description:
PF5102 is a TO-92 package N Channel Switch Transistor. The primary applications for which this transistor is build are low level switch, chopper amplifiers, and sample and hold applications, but it is not limited to these applications and can also be used in many other general applications. For example this transistor can also be used in audio related applications. Moreover it can also be replaced with the transistors shown under the replacement and equivalent transistor list.
The drain to gate voltage of the transistor is 40V, gate to source voltage is -40, forward gate current is 50mA, the minimum to maximum gate to source cutoff voltage is -0.7 to -1.6V and total dissipation of the transistor is 625miliwatt.
Where We Can Use it & How to Use:
As mentioned above this transistor is actually built for chopper amplifiers, low level switching and sample and hold requirements but rather than that it can also be used in variety of general purpose applications. Moreover it can also be used in audio applications such as audio preamplifiers.
Applications:
Low Level switch
Chopper Amps
Sample and hold
Audio Preamplifier Circuits
Audio Amplifier Stages
Safe Operating Guidelines / Absolute Maximum Ratings:
For safe operating this device to get long term stable performance please read the below guide:
First of all do not use the transistor on its absolute max ratings and stay atleast 20% below. The maximum drain to gate voltage is 40V therefore do not drive load of more than 32V. The maximum continuous gate current is 50mA therefore do not drive load of more than 50mA and always store of operate in temperature above -55°C and below +150 °C.
Datasheet:
To Download the datasheet just copy and paste the below link in your browser.
https://www.mouser.com/datasheet/2/149/PF5102-99964.pdf