A1268 Transistor Pinout, Features, Equivalents, Applications and More
A1268 or KTA1268 is quite an interesting transistor available in the TO-92 package. It is a PNP transistor with some very good features that make it ideal to use in many applications. This page contains all the important information such as the A1268 transistor pinout, features, equivalents, applications, and other interesting details.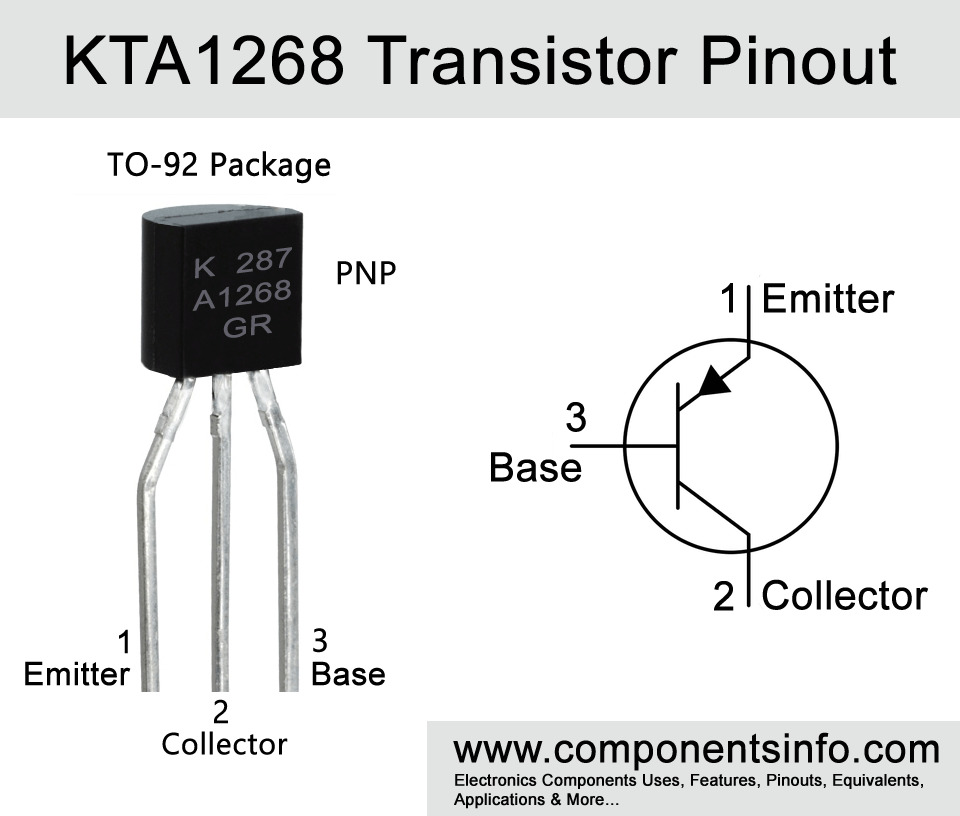 Features / Technical Specifications
Package Type: TO-92
Transistor Type: PNP
Max Collector Current (IC): -100mA
Max Collector-Emitter Voltage (VCE): -120V
Max Collector-Base Voltage (VCB): -120V
Max Emitter-Base Voltage (VBE): -5V
Total Device Dissipation (Ptot): 625 mW
DC Current Gain (hFE): 200 to 700
Max Storage, Operating & Junction temperature range: -55 to +150 Centigrade
Replacement and Equivalent
KTA2400, 2SB1131, 2SB976, 2SA1760, A1267, A1015, 2SA1529, KSA1015, 2SA1527, 2SA1525, 2SA1523, 2SA1267
2N3704 Transistor Explained / Description
A1268 or full part number KTA1268 is a PNP BJT transistor available in TO-92 package. The transistor possesses some very good features which makes it ideal to use in a wide variety of applications. Such as it is a low noise transistor and has very good noise reduction capabilities. Its typical noise figure is 3dB which is quite a good figure and cuts down much amount of noise from the signal making it clear and amplified. But it can even go further to 0.5dB which makes this transistor an effective low-noise device. Another good feature of this transistor is its high voltage handling ability which makes it ideal to use in different types of high-voltage applications.
The transistor has high DC current gain capabilities and its DC current gain ranges from 200 to 700 which ensures very good amplification of the applied signal.
The transistor's collector-emitter saturation voltage is only -0.3V which makes this transistor power efficient due to which it losses very low power in completely active mode. The feature is very useful in applications such as switching in which low power loss is important such as in portable or battery-operated & other power-efficient circuit designs. Moreover, the base-emitter saturation voltage is -1.0V which is also important to minimize power losses during the operation of the transistor.
The transition frequency of the transistor is 100MHz which makes it capable to use in radio frequency circuits, RF amplification circuits and also in fast switching speed circuits.
Now looking at the electrical characteristics of the transistor the maximum collector current is -100mA, max collector-emitter voltage is -120V, max collector-base voltage is -120V, maximum emitter-base voltage is -5V, DC current gain is from 200 to 700 and collector power dissipation is 625mW.
The transistor comes in two different versions according to its DC current gain or hFE. The gain of any KTA1268 transistor can be determined by the alphabetical code written after the part number. If that code is "GR" then its hFE will be 200 to 400 and if that code is "BL" then its hFE will be 350 to 700.
Where We Can Use it & How to Use
It is a versatile transistor and can be used in variety of applications such as audio, RF, switching, signal amplification and wide variety of general purpose tasks.
Applications
Audio amplifier circuits
Audio preamplifier circuits
Signal amplification and processing circuits
RF circuits around 100MHz
Switching circuits
Low noise amplifier circuits
Communication receiver circuits
And variety of other general purpose applications.
Safe Operating Guidelines
To safely operate this transistor use it 20% below from its absolute maximum ratings. So the maximum continuous collector current is 500mA therefore do not drive load of more than 400mA, the maximum collector to emitter voltage is 30V therefore the load voltage should be under 24V, use a proper base resistor to provide only the required current to the base of the transistor and always store of operate the transistor at temperatures above -55°C and below +150°C.
Datasheet
To Download the datasheet just copy and paste the below link in your browser.
https://z3d9b7u8.stackpathcdn.com/pdf-down/A/1/2/A1268_KEC.pdf