IRFP240 MOSFET Pinout, Equivalents, Applications, Explanation and More
If you are looking for an N-channel MOSFET that can drive loads up to 20A with 200V, the IRFP240 can be a good choice. In this post we are going to discuss IRFP240 pinout, equivalents, and applications and also briefly discuss its features and capabilities.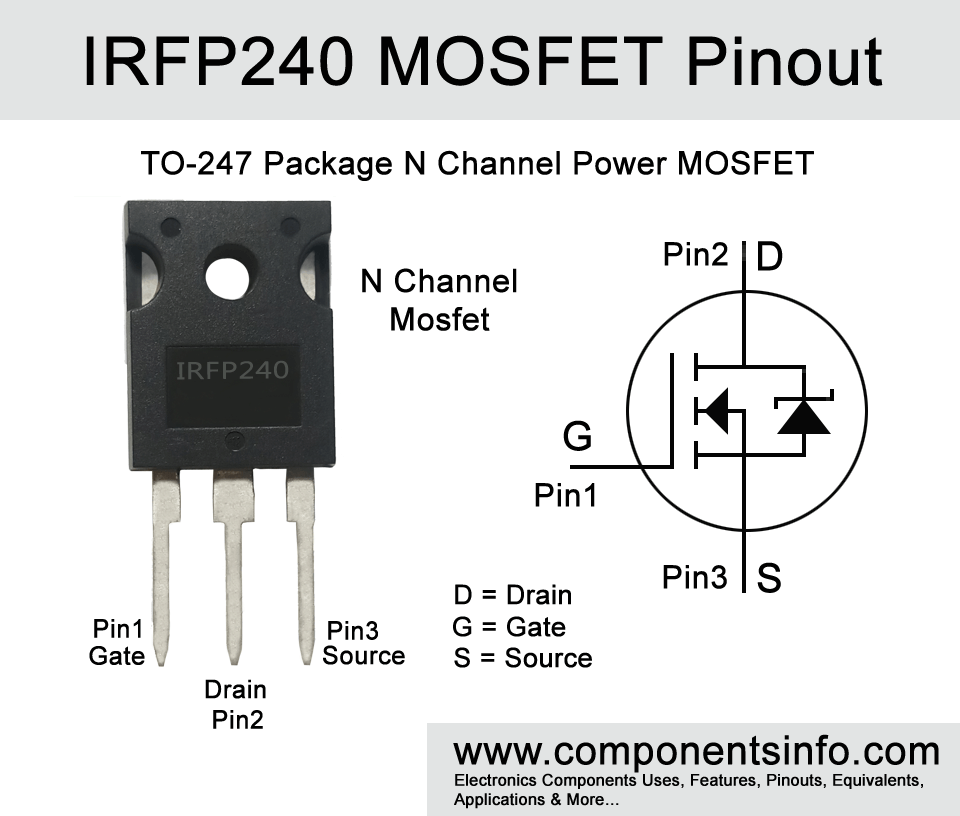 Features / Technical Specifications:
Package Type: TO-247
Transistor Type: N Channel
Max Voltage Applied From Drain to Source: 200V
Max Gate to Source Voltage Should Be: ±20V
Max Continues Drain Current is : 20A
Max Pulsed Drain Current is: 80A
Max Power Dissipation is: 150W
Max Drain to Source Resistance in ON State (RDS on): 0.180Ω
Max Storage & Operating temperature Should Be: -55 to +150 Centigrade
Replacement and Equivalent:
IRFP250, IRFP251, IRFP252, 2SK622, BUZ341, IRFP260, 2SK400, MTW32N20E, SSH40N15.
IRFP240 MOSFET Explained / Description:
IRFP240 is an N channel power MOSFET available in TO-247 package. The transistor has many built in features which are as follow:
It has Simple Drive Requirements:
The transistor has simple drive requirements due to which it can also be used in low voltage portable and battery operated applications which use 5V to 6V power.
High Drain to Source Voltage
The MOSFET has high drain to source voltage of upto 200V which makes it ideal to use in high voltage DC applications and also in AC applications.
Isolated Central Mounting Hole
The MOSFET also has isolated central mounting hole which isolate the transistor from the circuit.
High Switching Speed (Nanoseconds):
It has high switching speed of nanoseconds due to which this transistor can be used in applications where a very high speed switching is required. For example in circuits which you want to switch the load from on input power to another without delay or power off.
Low RDS(on):
The LOW RDS(on) or low drain to source resistance ensures low power wastage when the transistor is in ON condition.
Other features are ease of paralleling, repetitive avalanche rated, dynamic dV/dt rating etc.
Looking at other specs of the transistor the maximum continuous drain current is 20A, the max pulsed drain current is 80A, max RDS(on) is 0.180 ohms and maximum power dissipation is 150mW.
Where and How to Use:
The primary applications of IRFP240 are motor drivers, DC to DC converters, relay drivers, high power transistor drivers but it can also be used for many types of general applications that falls under it ratings. The narrow down list of applications can be found below under applications heading.
Before using this MOSFET in your circuits or design it is important to understand how much voltage is will require on its gate to become fully ON to drive load. As we have already mentioned this MOSFET has simple drive requirements therefore it requires less gate voltage to become fully on. On the performance curves graph it shows that to drive load of upto 10A it requires 5V to 6V on its gate this ensures it can be easily derived from low power circuits such as Arduino, raspberry pi, microcontrollers and ICs.
Applications:
Switch Mode Power Supplies
DC to DC converter applications
AC to DC converters applications
BMS Circuits
Motor Driver applications
UPS Circuits
Solar Chargers
Solar Power Supplies
Audio Amplification Applications
Battery Chargers Circuits
Automotive Applications
Safe Operating Guidelines / Absolute Maximum Ratings:
Here are the safe operating guidelines for this transistor.
Do not use the transistor on its absolute maximum ratings and stay atleast 20% below from its max ratings.
The maximum drain to source voltage is 200V therefore do not drive load of more than 160V.
The maximum continuous drain current is 20A so do not drive load of more than 16A.
Use a proper heatsink with the transistor.
Store or operate the MOSFET at temperature above -55°C and below +150 °C.
Datasheet:
To download the datasheet just copy and paste the below link into your browser.
https://cdn.datasheetspdf.com/pdf-down/I/R/F/IRFP240_IntersilCorporation.pdf