IRF630 Pinout, Equivalent, Features, Applications, Description and More
This article describes about IRF630 pinout, features, applications, description and more details on how and where to use this N channel MOSFET.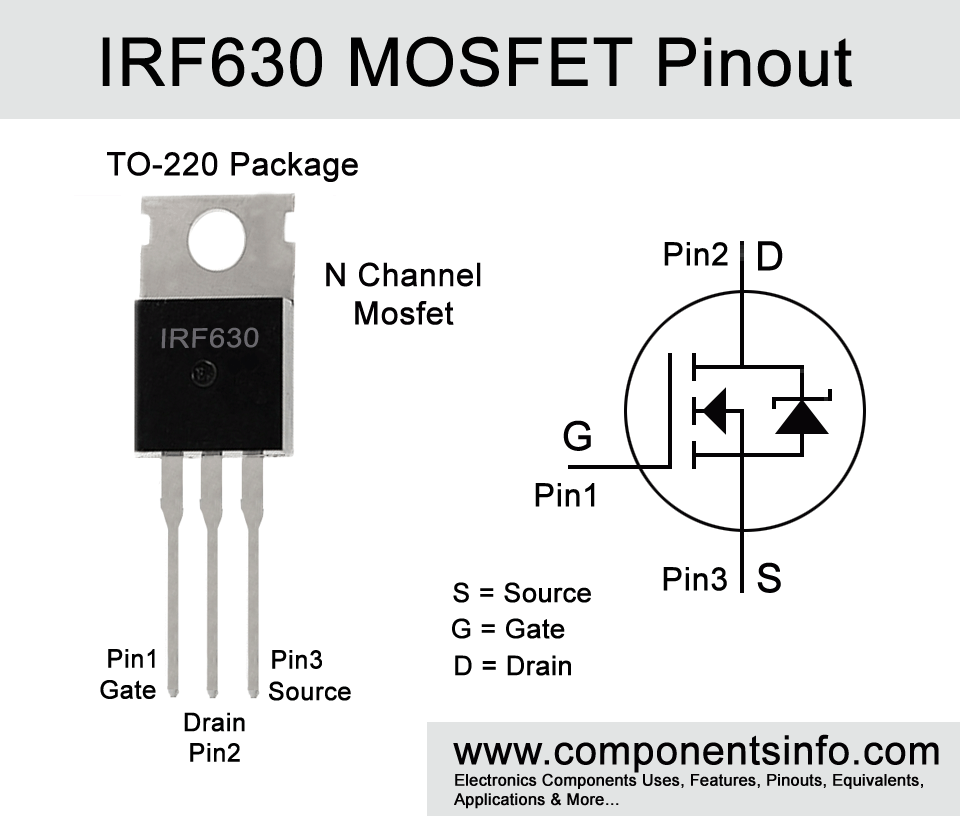 Features / Technical Specifications
Package Type: TO-220 And Other Packages
Transistor Type: N Channel
Max Voltage Applied From Drain to Source: 200V
Max Gate to Source Voltage Should Be: ±20V
Max Continues Drain Current is : 9A
Max Pulsed Drain Current is: 36A
Max Power Dissipation is: 75W
Minimum Gate Threshold Voltage is: 2V to 4V
Max Storage & Operating temperature Should Be: -55 to +150 Centigrade
Replacement and Equivalent
BUK454-200A, BUK454-200B, 2SK1957, 2SK2212, BUK444-200A, BUK444-200B, IRFI630G, IRFS630, IRFS631, RFP2N18, YTA630, 2SK1957.
IRF630 MOSFET Explained / Description
IRF630 is an N channel MOSFET manufactured in TO-220 and other packages. The transistor is designed for applications which require high speed switching and it is capable of delivering switching speed in nano seconds.
The transistor is also capable to drive load of upto 200V with upto 9A current and in pulse mode it can drive load of upto 36A for a time period of 300uS or 300 microseconds with duty cycle of 2%. Moreover the transistor also has low on state resistance between drain and source which result in low power loss.
Beside its uses as a switch it can also be used as an amplifier to build high power amplifiers.
Where We Can Use it & How to Use
IRF630 can be used in applications in which high switching speed is required. Other than that it can also be used in any general application that falls under its specifications. It is also suitable for audio amplification and can be used to build high power audio amplifiers. The procedure of using this transistor in circuit is same as you use any other MOSFET.
Applications
Battery Chargers
Solar power supply applications
Applications that require fast switching
Motor Drivers
UPS
Telecommunication Applications
Driving load at the output of Arduino and other platforms
High voltage switching under 200V
How to Get Long Life Performance
To get long term performance with this transistor it is suggested to always use it atleast 20% below from its maximum ratings. The max drain to source voltage is 200V therefore do not drive load of more than 160V. The max continuous drain current is 9A therefore do not drive load of more than 6.2A and always use a suitable heatsink with the transistor. Do not store and operate the transistor in temperature below -55 degree centigrade and above +150 degree centigrade.
Datasheet
To Download the datasheet just copy and paste the below link in your browser.
https://cdn.datasheetspdf.com/pdf-down/I/R/F/IRF630_IntersilCorporation.pdf