2SD313 Pinout, Equivalent, Features, Applications and More
2SD313 or D313 is a TO-220 package transistor mainly build for audio amplification and general purpose applications, in this article we are going to discuss 2SD313 pinout, equivalent, features, applications, and other details about this transistor.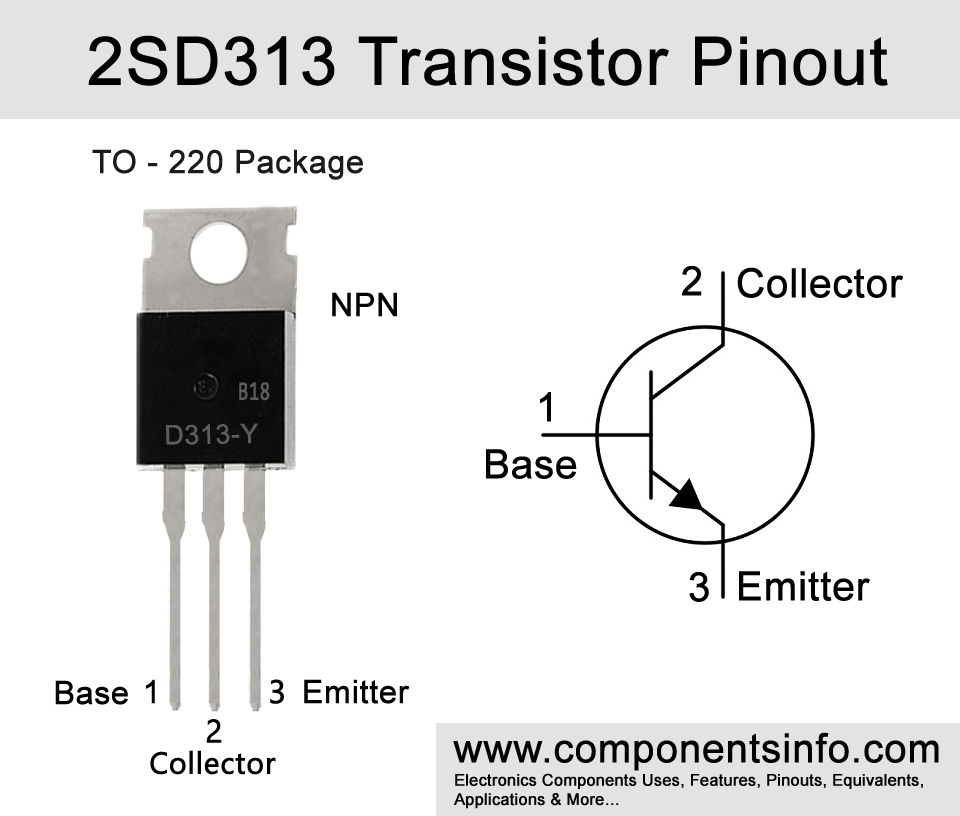 Features / Technical Specifications
Package Type: TO-220
Transistor Type: NPN
Max Collector Current(IC): 3A
Max Collector-Emitter Voltage (VCE): 60V
Max Collector-Base Voltage (VCB): 60V
Max Emitter-Base Voltage (VEBO): 5V
Max Collector Dissipation (Pc): 30 Watts
Max Transition Frequency (fT): 8 MHz
Minimum & Maximum DC Current Gain (hFE): 40 – 320
Max Storage & Operating temperature Should Be: -55 to +150 Centigrade
PNP Complementary
PNP Complementary 2SD313 is 2SB507.
Replacement and Equivalent
TIP31A, 2SC1060, 2SC1061, 2SC1173, 2SC1226, 2SC1226A, 2SC1418, 2SC1419, 2SC2236, 2SC2500, 2SD234, 2SD235, 2SD235, 2SD314, 2SD317, 2SD318, 2SD325, 2SD330, 2SD331, 2SD365, 2SD389, 2SD390, 2SD762, 2SD880, BDT31, BDT31A (Pin configuration of some transistors may different from D313 therefore it is suggested to check pin configuration before replacing in your design or circuit.)
2SD313 Transistor Explained / Description
D313 is a general purpose transistor and can be used for wide variety of general amplification and switching purposes. When used as an amplifier it can provide output of 15W to 25W. Moreover it can also be used as a separate amplifier at the output to drive a speaker. When used as a switch it can drive load of upto 3A therefore it can drive variety of different types of relays, motors, LEDs, Bulbs, high power transistors, parts of circuits etc. The transistor also features low saturation voltage which is only 1.0V which makes it ideal to use in applications where the user wants to control the transistor with low voltage than normal. The transistor requires 200mA to drive load of 2A.
Where We Can Use it & How to Use
2SD313 transistor can be used in variety of different application. It can be used in audio power amplifier circuits and in their stages, motor driver circuits, battery charger circuits. The low saturation voltage feature also makes it ideal to use at the output of ICs, microcontrollers and many electronic platforms like arduino and raspberry pi to drive loads.
Applications
High power audio amplifiers
Separate amplifier
Darlington Pairs
Switching loads under 3A
How to Get Long Term Performance in a Circuit
To get long term performance with D313 transistor it is suggested to use it atleat 20% below from its absolute maximum ratings. The max output current of the transistor is 3A therefore do not drive load of more than 2.4A, the max collector to emitter voltage is 60V therefore do not drive load of more than 48V. Use a suitable heatsink with the transistor and always store or operate the transistor in temperature above -55 degree centigrade and below +150 degree centigrade.
Datasheet
To Download the datasheet just copy and paste the below link in your browser.
https://datasheetspdf.com/pdf-down/2/S/D/2SD313-WEITRON.pdf