2N3019 Transistor Pinout, Characteristics, Equivalent, Applications, and Other Info
If you are looking for a metal case general-purpose transistor that can drive upto 1A load with the collector to emitter voltage of upto 80V and has a high transition frequency, the 2N3019 may be a good choice. In this post, we are going to discuss 2N3019 transistor pinout, characteristics, equivalent, applications, and other important details about this device.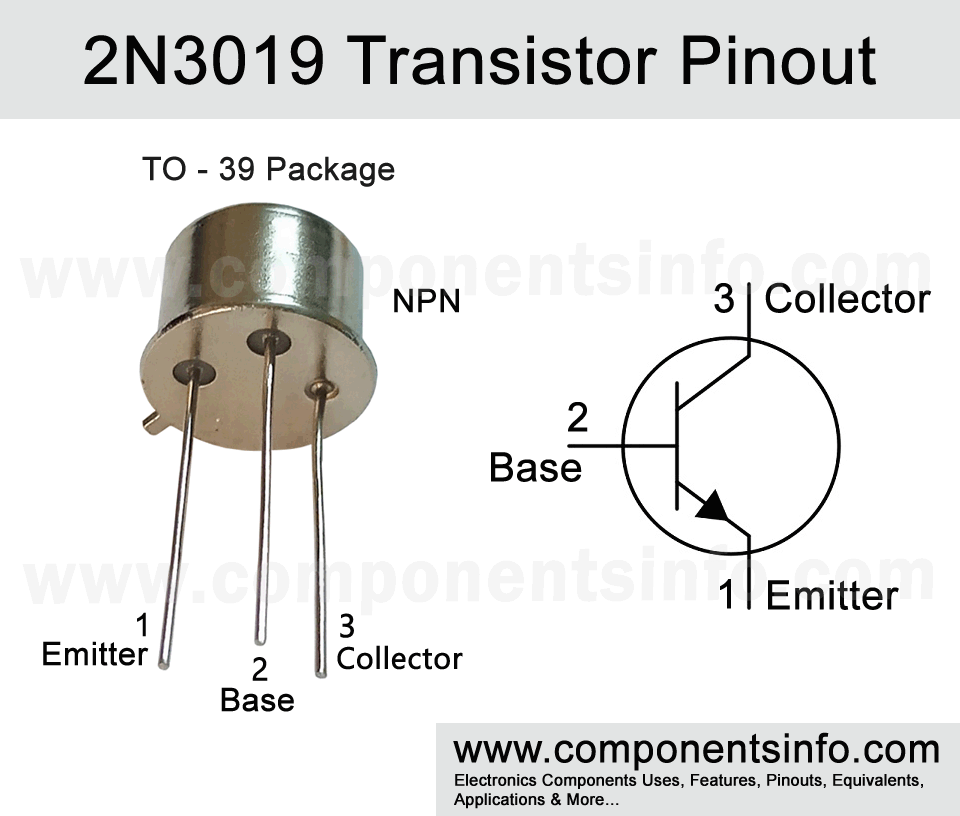 Features / Technical Specifications
Package Type: TO-38
Transistor Type: NPN
Max Collector Current(IC): 1A or 1000mA
Max Collector-Emitter Voltage (VCE): 80V
Max Collector-Base Voltage (VCB): 140V
Max Emitter-Base Voltage (VEBO): 7V
Max Collector Dissipation (Pc): 5 Watt
Max Transition Frequency (fT):  100 MHz
Minimum & Maximum DC Current Gain (hFE): 15 – 300
Max Storage & Operating temperature Should Be: -65 to +200 Centigrade
Replacement and Equivalent
2N5271, 2N4897X, 2N5152A , BC639 (TO-92 package)
2N2218 Transistor Explained / Description
2N3019 is an NPN metal case transistor manufactured in TO-39 package. This transistor is designed for general purpose switching and amplification purposes and also has similar specs as the 2N2219, 2N2222 or other similar general purpose transistors except the collector to emitter voltage so if you are looking for a high voltage alternative for 2N2219 or 2N2222 metal case transistors then you can use 2N3019.
Due to its good specs the transistor can be used in wide variety switching and amplification. Looking at the specs of the transistor the max collector current is 1000mA or 1A, the max collector to emitter voltage is upto 80V, the collector to base voltage is upto 140V, minimum and maximum DC current gain is 15 to 300 and max collector dissipation is 5 watt.
Where We Can Use it & How to Use
As discussed it is a general purpose transistor so you can use it in verity of general purpose applications that fall under its ratings. for example when used as a switch it can drive load of upto 1A in which you can drive motors, LEDs, bulbs, relays, high power transistors, part of circuits etc. You can also use it as a preamplifier or amplifier for amplifying audio and other signals. Moreover due to its high transition frequency of upto 100MHz it can also be used in radio and RF circuits. As mentioned it is a metal case transistor so the maximum operating temperature upto 200°C due to which it can also be a good choice in circuits which faces high temperatures.
Applications
Switching Loads under 800mA
Audio Amplification
Signal Amplification
RF & Radio Circuits
Darlington Pairs
Many Other General Purpose Applications
Safe Operating Guidelines / Absolute Maximum Ratings:
To get long term and stable performance the user must follow the safety guidelines to ensure better performance for long period of time in your circuit or design.
Do not use the transistor on its absolute maximum ratings, using it on its absolute maximum ratings can damage the device or reduce the performance, therefore always stay atleast 20% below from its absolute maximum ratings.
The collector current is 1000mA therefore do not drive load of more than 800mA.
The max collector to emitter voltage is 80V therefore the load voltage should be under 64V.
Use a proper heatsink with the transistor.
Always store or operate the transistor at temperature above -65°C and below +200 °C.
Datasheet
To Download the datasheet just copy and paste the below link in your browser.
https://cdn.datasheetspdf.com/pdf-down/2/N/3/2N3019_PhilipsSemiconductors.pdf