C3202 Transistor Pinout, Equivalent, Applications, Features and Other Details
C3202 is a TO-92 package NPN transistor built to use in amplifiers and switching applications. This post contains all the information about C3202 transistor pinout, equivalent, applications, features and other details of this device.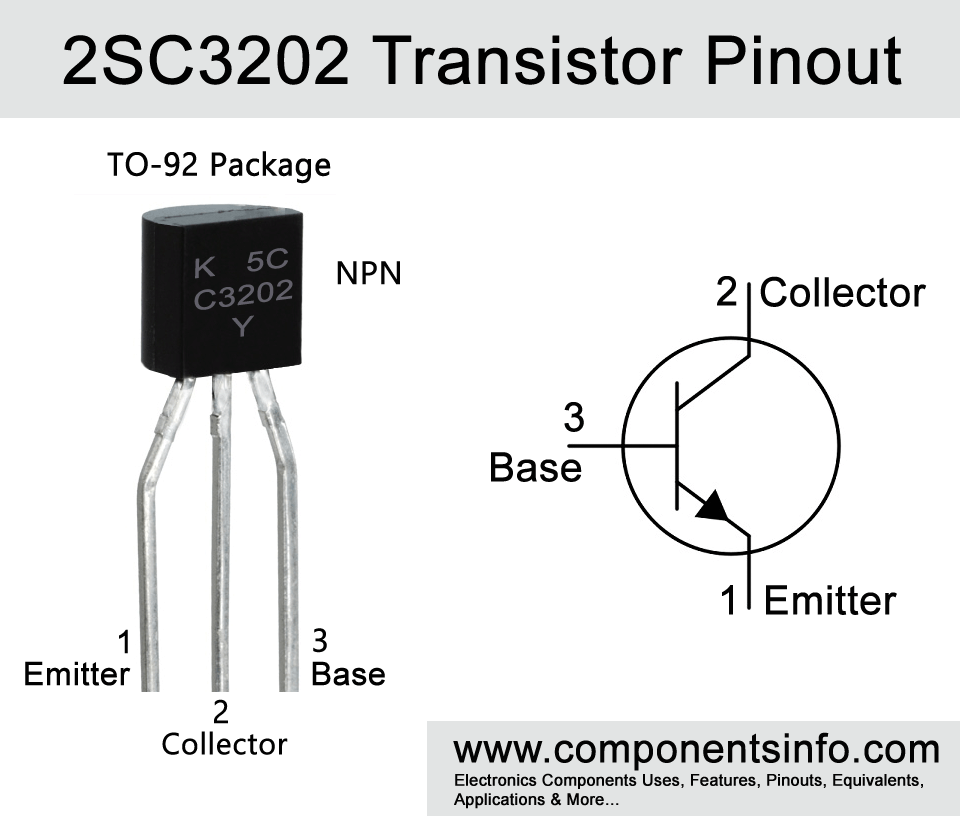 Features / Technical Specifications
Package Type: TO-92
Transistor Type: NPN
Max Collector Current (IC): 500mA
Max Collector-Emitter Voltage (VCEO): 30V
Max Collector-Base Voltage (VCBO): 35V
Max Emitter-Base Voltage (VEBO): 5V
Collector Power Dissipation (PC): 500 mW
DC Current Gain (hFE): 25 to 240
Max Storage, Operating & Junction temperature range: -55 to +150 Centigrade
PNP Complementary
PNP Complementary of 2SC3202 is 2SA1270
Replacement and Equivalent
2SC2655, NTE2341, 2SC3918, KTN2222, 2SC3920, KTC9013, 2SC3922, KTC3228, 2SA3203, KTC3203, 2SD863, KTC1006, KN4400, ECG123AP, KTC3202, 2SC3916.
C3202 Transistor Explained / Description
C3202 full part number 2SC3202 is an NPN BJT transistor manufactured in TO-92 transistor package. This transistor is designed to use in applications such as general driver stage of amplifiers, low power and low frequency amplifiers, and also in general purpose switching applications. But due to its versatile electrical characteristics, this transistor is not limited to the applications discussed above and can also be used in a variety of other applications which we will discuss later.
Looking at the maximum ratings of the transistor the collector-emitter voltage is 30V, collector-base voltage is 35V, emitter-base voltage is 5V, collector current is 500mA and collector power dissipations is 500mW.
Now taking a close look to its electrical characteristics the typical transition frequency of the transistor is 300MHz, the typical output capacitance is 7pF, DC current gain is from 25 to 240 and collector-emitter saturation voltage is typically 0.1 to max 0.25.
The transistor is available in two different versions according to its DC current gain or hFE and can be determined with the help of an alphabet written after the part number. So if that alphabet is "O" then that transistor's DC current gain will be 70 to 140 and if that alphabet is "Y" then the DC current gain will be 120-240.
Where We Can Use it & How to Use
This transistor has variety of uses although it is designed to use in general driver stage of amplifiers, low power and low frequency amplifiers and in general purpose switching applications but apart from that it has variety of other uses such as it can be used in RF circuits and its transition frequency of 300MHz makes it ideal to use in these applications. This transistor is a BJT type and can be used same as we use other general purpose BJT transistors for example 2N3094, 2N4401 etc.
Applications
Audio amplifier circuits
Audio preamplifier circuits
Audio amplifier driver stages
RF circuits around 300MHz
Switching circuits
And variety of other general purpose applications.
Safe Operating Guidelines
A safe operation of a transistor ensures its long term durability and good performance in an electronic circuit. First of all it is important to check its absolute maximum ratings and always use it at least 20% below from these ratings. So the maximum collector-emitter voltage is 30V therefore do not drive load of more than 24V, the maximum collector current is 500mA therefore do not drive load of more than 400mA, the maximum power dissipation should be under 500mW and storage and operating temperature of the transistor should be between -55°C to +150°C.
Datasheet
To Download the datasheet just copy and paste the below link in your browser.
https://z3d9b7u8.stackpathcdn.com/pdf-down/C/3/2/C3202_KEC.pdf