IRF610 Pinout, Equivalent, Applications and Other Important Information
In this article we are going to discuss about IRF610 pinout, equivalent, applications and other important information about this transistor.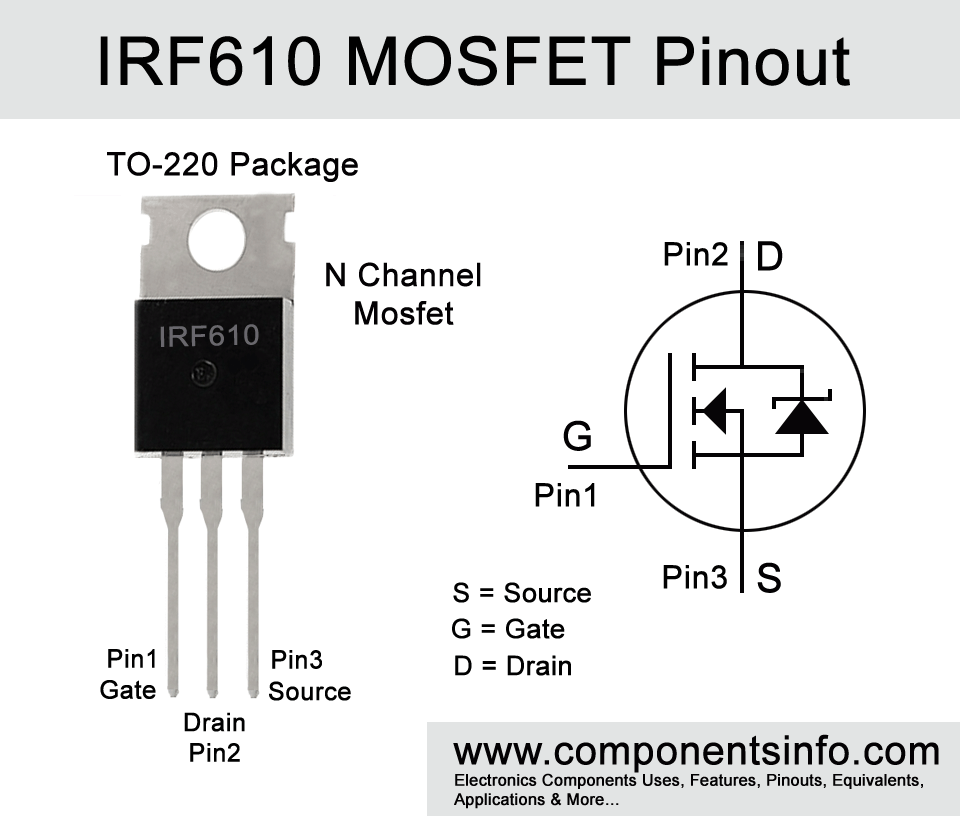 Features / Technical Specifications
Package Type: TO-220AB And TO-220
Transistor Type: N Channel
Max Voltage Applied From Drain to Source: 200V
Max Gate to Source Voltage Should Be: ±20V
Max Continues Drain Current is : 3A
Max Pulsed Drain Current is: 8A
Max Power Dissipation is: 43W
Minimum Voltage Required to Conduct: 2V to 4V
Max Storage & Operating temperature Should Be: -55 to +150 Centigrade
Replacement and Equivalent
STP4N20, 2SK2381,IRF611, IRF612, IRF613, MTP2N18, MTP2N20, IRF610A , IRF622 IRF620, IRF620A, IRF620FI, IRF621(R), IRF622(R), IRF623(R), IRFI620G, IRFS610A, IRFS620A, IRL620, IRLI620G, MTP2N20, MTP7N20, PHP3N20E, PHP5N20E, RFP2N12, RFP2N12L, RFP2N15, RFP2N15L, RFP2N18, RFP2N18L, RFP2N20, RFP2N20L
IRF610 MOSFET Explained / Description
IRF610 is an N Channel power transistor basically designed to be used in high speed applications like uninterrupted power supplies, switching supplies, motor controllers, converters etc. The maximum load this transistor can drive is 3.3A and the load voltage can be upto 200V. The maximum pulsed drain current this transistor can drive is 8A and the max power dissipation is 43 watts.
There are also other transistor are available in this series which are IRF611, IRF612, IRF613. These transistors are slightly different from each other but can be used as an equivalent if IRF610 is not available.
This MOSFET also has low drive requirement due to which it can be directly derived from the output of electronic chips and also derived from the output of many electronic platforms.
Other than that it can also be used as an audio amplifier and also in audio amplifier stages.
Where We Can Use it & How to Use
IRF610 can be used in any application which requires high speed switching other than that it can also be used in power supplies, motor drivers, solenoid drivers etc. As mentioned above this transistor has low gate drive requirements due to which it can be derived directly from ICs, microcontrollers and many electronic platforms such as arduino, raspberry pi etc.
Applications
Telecommunication applications
High voltage applications
Relay driving applications
UPS
DC to DC converters
How to Safely Long Run in a Circuit
To get better and long life performance with IRF610 use it atleast 20% below form its maximum ratings. The max continuous drain current is 3.3A therefore do not drive load of more than 2.64A. The max drain to source voltage is 200V therefore do not drive load of more than 160V. Use a suitable heatsink with the transistor and always store or operate this transistor in temperature above -55 degree centigrade and below +150 degree centigrade.
Datasheet
To Download the datasheet just copy and paste the below link in your browser.
https://cdn.datasheetspdf.com/pdf-down/I/R/F/IRF610_IntersilCorporation.pdf