C2073 Transistor Pinout, Equivalent, Features, Applications
In this article I am going to discuss about 2SC2073 or C2073 transistor pinout, equivalent, features, applications and other details about this NPN BJT transistor.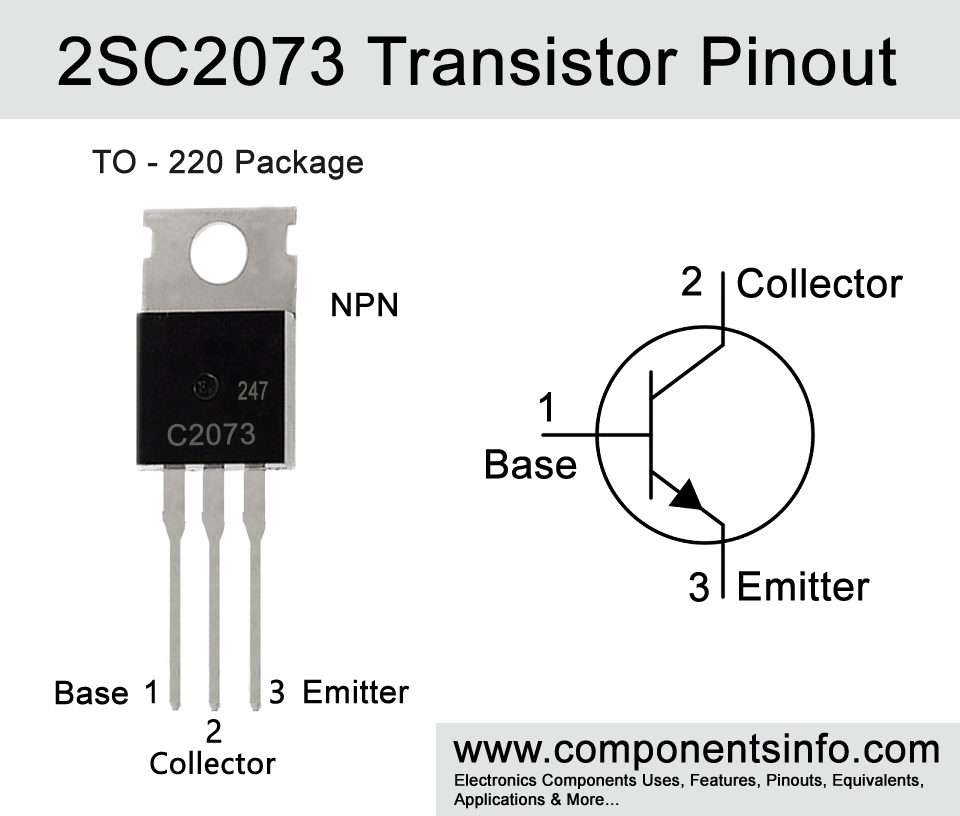 Features / Technical Specifications
Package Type: TO-220
Transistor Type: NPN
Max Collector Current(IC): 1.5A
Max Collector-Emitter Voltage (VCE): 150V
Max Collector-Base Voltage (VCB): 150V
Max Emitter-Base Voltage (VEBO): 5V
Max Collector Dissipation (Pc): 25 Watt
Max Transition Frequency (fT): 4 MHz
Minimum & Maximum DC Current Gain (hFE): 40 – 140
Max Storage & Operating temperature Should Be: -55 to +150 Centigrade
PNP Complementary
PNP Complementary of 2SC2073 is 2SA940
Replacement and Equivalent
2SC1410, 2SC1447, 2SC1448, 2SC1669, 2SC1683, 2SC2238, 2SC2238A,2SC2238B, 2SC2344, 2SC3421, 2SD401, 2SD404, 2SD478, 2SD603,2SD608, 2SD610, 2SD759, 2SD760, 2SD761, D44R1, D44R2, D44R5, MJE47, MJE3738, MJE5655, TIP63.
C2073 Transistor Explained / Description
C2073 is an NPN transistor available in TO-220 package. This transistor is mainly designed for vertical output circuitry and to use for power amplification purposes but rather than these uses it can also be used for wide variety of general purpose applications. It is capable to deliver fast switching speed due to which it can be used in circuits where high speed switching is important. Moreover it can be used for many type of different switching applications and can drive load of upto 1.5A and the load voltage can be upto 150V. The max DC current gain is 40 to 140 and the max collector dissipation is 25 Watt.
Where We Can Use it & How to Use
As mentioned above C2073 is mainly designed to use in high power audio amplifier circuitry and for vertical output circuitry but it can also be used in wide variety of other applications. The max output current of the transistor is 1.5A due to which it can drive many loads under 1.5A such as relays, high power LEDs, high power transistors and any other load that falls under its output current limit.
Applications
Power Audio Amplifier Circuitry
Switching Loads under 1.5A
Vertical Output Circuitry
Darlington Pair
Many general purpose applications
How to Get Long Term Performance in a Circuit
To let this device serve you for years it is suggested to not use it on its absolute maximum ratings and always use it 20% below from its max ratings. The maximum collector current of the transistor is 1.5A therefore do not drive load of more than 1.2A, the max load voltage is 150V therefore do not drive load of more than 120V. Not using a suitable heatsink also shorten the life of the transistor therefore always use a proper heatsink. The storage and operating temperature is also an important point to consider thus always use it in temperature above -55 degree centigrade and below +150 degree centigrade.
Datasheet
To Download the datasheet just copy and paste the below link in your browser.
https://cdn.datasheetspdf.com/pdf-down/2/S/C/2SC2073-INCHANGE.pdf