IRF5210 MOSFET Pinout, Explanation, Equivalents, Features and Applications
IRF5210 is a power MOSFET available in TO-220 package. This post describes IRF5210 MOSFET pinout, explanation, equivalents, features, applications and other useful information about this device.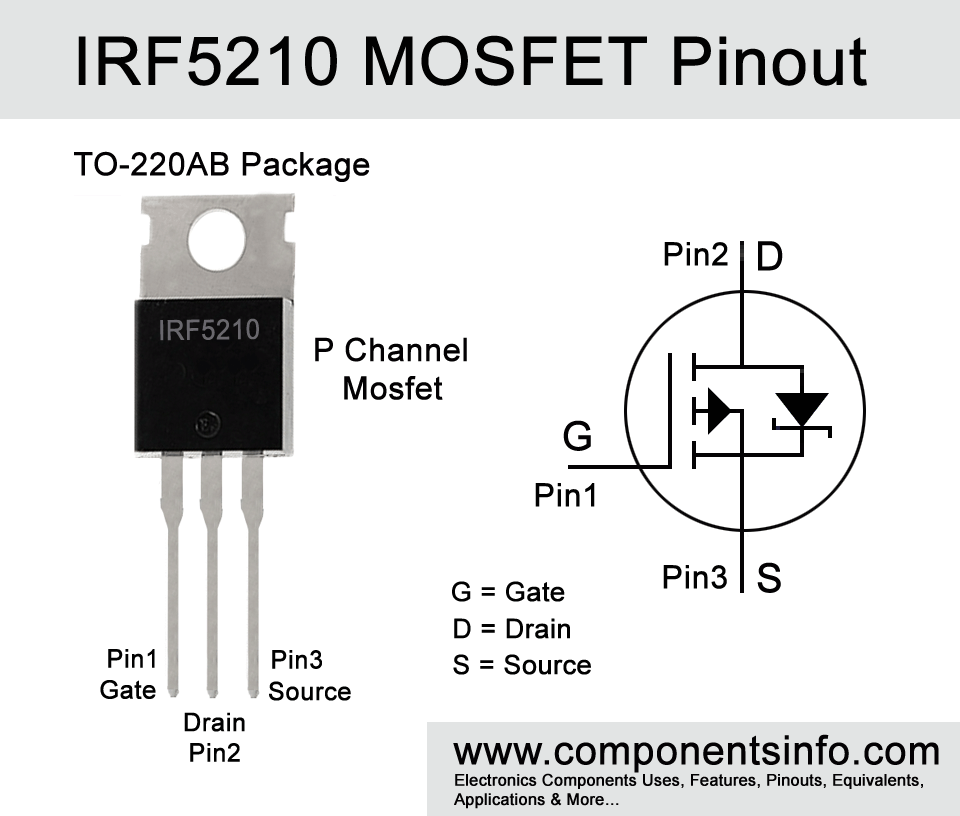 Features / Technical Specifications:
Package Type: TO-220
Transistor Type: P Channel
Max Voltage Applied From Drain to Source: -100V
Max Gate to Source Voltage Should Be: ±20V
Max Continues Drain Current is : -40A
Max Pulsed Drain Current is: -140A
Max Power Dissipation is: 200W
Max Drain to Source Resistance in ON State (RDS on): 0.06Ω
Max Storage & Operating temperature Should Be: -55 to +175 Centigrade
Replacement and Equivalent:
IRF5210PBF
IRF5210 MOSFET Explained / Description:
IRF5210 is a P channel power MOSFET available in TO-220 package. It is a good quality MOSFET designed to use in wide variety of applications. The maximum drain to source voltage or we can also say maximum load voltage this transistor can drive is -100V, maximum continuous drain current / the max load you can drive is -40 amperes, max pulsed drain current / max load you can drive in pulses is -140 amperes, max RDS(on) is only 0.06 Ohms and the max power dissipation is 200W.
The transistor has many features such as "fast switching" which makes it ideal to use in applications where fast switching is crucial, "Fully avalanche rated" means it will perform stably in conditions when its drain to source voltage exceeds from its limits, the max operating temperature is upto 175°C makes it capable to perform stable in these temperatures as compare to other MOSFETs which has max operating temperature of 150°C. The transistor has low RDS(on) / drain to source resistance which ensures low power wastage and low heat generation during operation. Other features are dynamic dv/dt ratings, advance process technology etc.
Where and How to Use:
IRF5210 can be used in wide variety of applications which falls under its ratings. For example it can be used in any type of switching and amplification purposes. The applications in which it can be used are power supplies, automotive, power backup, solar, switching loads etc. More deep information about which applications it can be used can be found under the applications heading below.
Applications:
Solar Chargers
Solar Charge Controllers / Solar Battery Chargers
Battery Management Systems (BMS)
Various Vehicle Applications
Uninterruptible Power Supplies
Battery Charger Circuits
Battery Backup Circuits
Switch Mode Power Supplies
Motor Driver Applications
DC to DC converters
High Power Audio Amplifiers
Safe Operating Guidelines / Absolute Maximum Ratings:
To get long term performance with this device in your applications it is suggested to follow the guidelines below:
Do not the MOSFET on its absolute maximum ratings and always stay 20% below from its max ratings.
The maximum continuous drain current is -40A hence do not drive load of more than 32A.
The maximum drain to source voltage is -100V therefore do not drive load or more than -80V.
Use a suitable heatsink with the MOSFET.
Always store or operate the transistor at temperatures above -55°C and below +150 °C.
Datasheet:
To download the datasheet just copy and paste the below link into your browser.
https://cdn.datasheetspdf.com/pdf-down/I/R/F/IRF5210_InternationalRectifier.pdf