B688 Transistor Pinout, Equivalent, Features, Uses and More
B688 or 2SB688 is a TO-3P package PNP transistor manufactured mainly for audio amplifier applications, today we are going to discuss about B688 transistor pinout, equivalent, features, uses and other important information.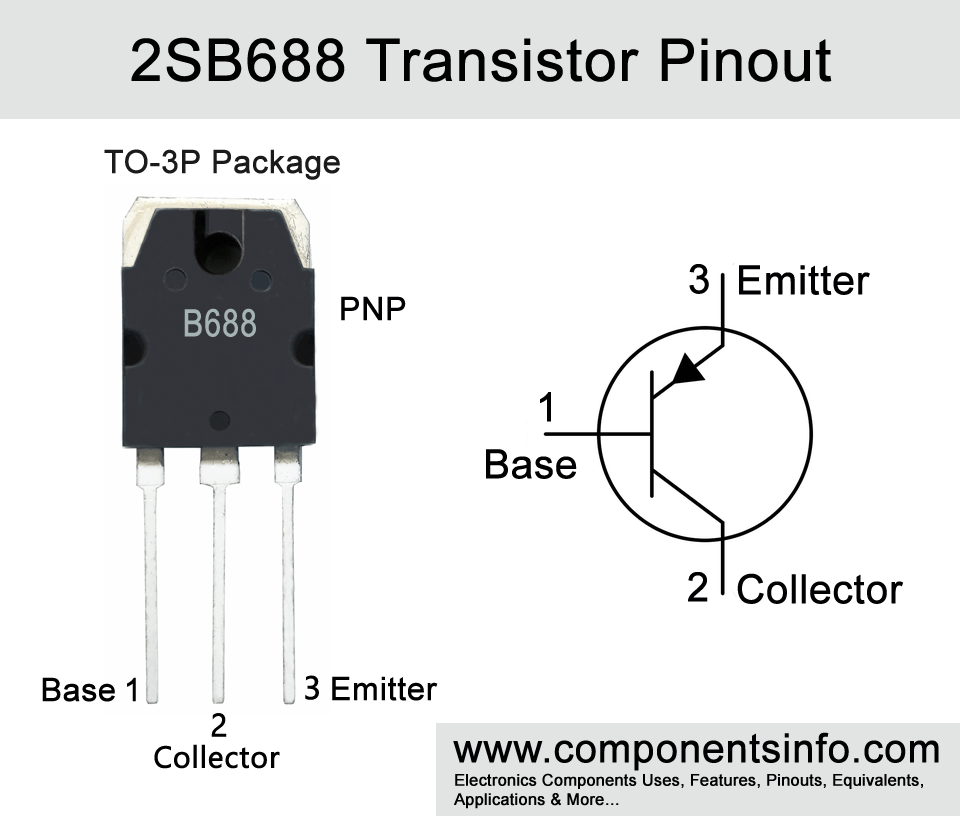 Features / Technical Specifications:
Package Type: TO-220
Transistor Type: PNP
Max Collector Current(IC): -8A
Max Collector-Emitter Voltage (VCE): -120V
Max Collector-Base Voltage (VCB): -120V
Max Emitter-Base Voltage (VEBO): -5V
Max Collector Dissipation (Pc): 80 Watt
Minimum & Maximum DC Current Gain (hFE): 55 To 160
Max Storage & Operating temperature: -55 to +150 Centigrade
NPN Complementary:
NPN Complementary of 2SB688 is 2SD718
Replacement and Equivalent:
2SA1986, 2SA2031, 2SA1942, 2SA1805, 2SA1695, 2SA1492, 2SB1317 2SA1386, 2SA1301, 2SA1941, 2SA1146, 2SA1105, 2SA1186, 2SA1943, 2SA1303, 2SA1093, 2SA1940, 2SA1804, 2SA1694, 2SA1104, 2SA1516, 2SA1106,2SA1491, 2SA1264, 2SA1490, 2SA1302, 2SA1265.
D718 Transistor Explained / Description:
B688 is a popular and widely used PNP BJT transistor manufactured in TO-3P package. This transistor is primarily designed for audio amplification purposes in high-power audio amplifier applications. 2SB688 performs very well over wide range of audible frequencies due to which it delivers quite good sound quality at the output with bass boost. It delivers an audio output of 45 to 50 Watts and it is usually used with its NPN complementary D718 to build high-power audio amplifiers. The max collector to emitter voltage of the transistor is -120V and the max output current of the transistor is 8 amperes. The maximum collector dissipation is 80 Watts.
The transistor is available in two different hFE values which can be determined by looking at the alphabet used right after the transistor number. If that alphabet is "R" then the transistor hFE value will be 55-110 and if it is "O" then the transistor hFE value will be 80-160.
B688 and its NPN complementary D718 are also very popular among electronics hobbyists and tinkerers.
Where We Can Use it & How to Use:
As described above B688 is primarily built for audio amplification purposes so it can be used to build high-power audio amplifiers with its NPN Complimentary D718 and requires very few passive components. Other than that it can also be used as a switch to drive load of up to -8A.
Applications:
High power audio amplifier
Stereo high power audio amplifier
Can be used as a motor driver
Inverter circuits
Voltage booster circuits
Drive load of up to 8A
Safe Operating Guidelines / Absolute Maximum Ratings:
For safe operating this component to get long life performance always use it 20% below from its absolute maximum ratings. The maximum collector to emitter voltage is -120V so do not drivel load of more than -96V. The Maximum collector current is -8A therefore do not drive load of more than -6.4A. Use a proper heatsink with the transistor and always store and operate in temperature above -55 °C and below +150 °C.
Datasheet:
To download the datasheet just copy and paste the below link in your browser.
https://cdn.datasheetspdf.com/pdf-down/2/S/B/2SB688-InchangeSemiconductor.pdf