2N3053 Transistor Pinout, Description, Equivalents, Applications and Other Useful Info
2N3053 is a metal can transistor available in the TO-39 package, having quite good characteristics. In this post, we will discuss 2N3053 transistor pinout, description, equivalents, applications, and other useful info.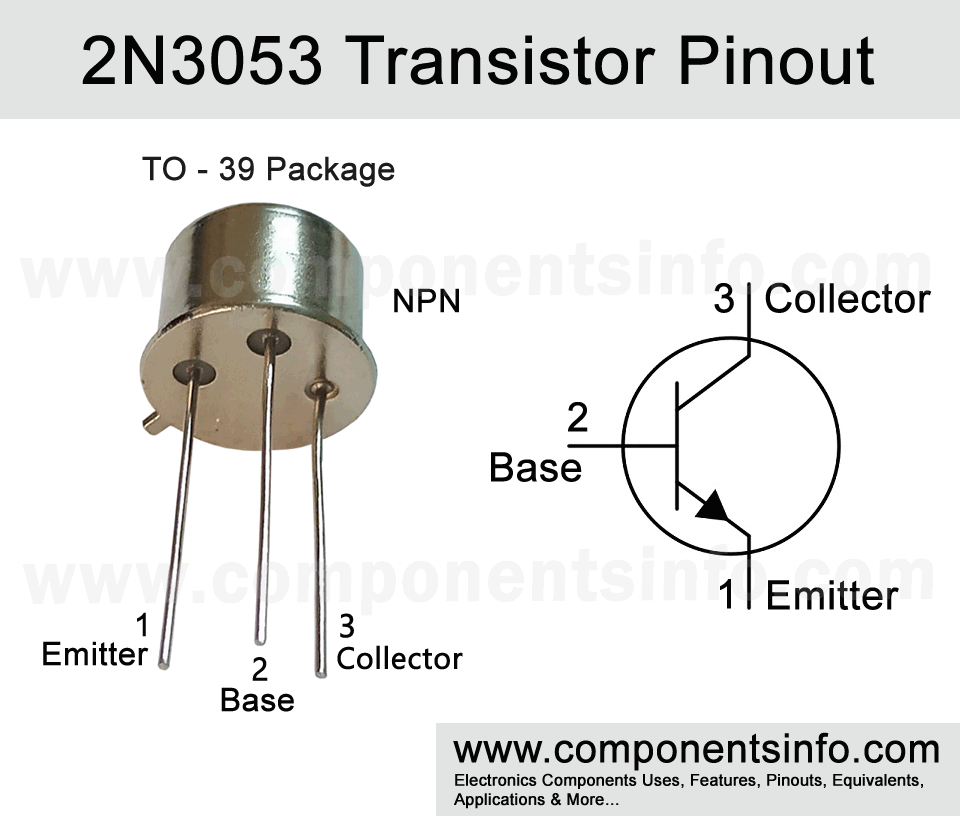 Features / Technical Specifications:
Package Type: TO-39
Transistor Type: NPN
Max Collector Current(IC): 700mA
Max Collector-Emitter Voltage (VCE): 40V
Max Emitter-Base Voltage (VEBO): 5V
Max Collector Dissipation (Pc): 5 Watt
Max Transition Frequency (fT):  100 MHz
Static Forward Current Transfer Ratio(h21E) : 50 to 250
Max Storage & Operating temperature range: -65 to +200 Centigrade
Replacement and Equivalent:
SL100, 2N5210, 2N3725, BC141, 2N5327
2N3053 Transistor Explained / Description:
You must have seen transistors which have completely metal bodies, they are manufactured for a quite long time and have many benefits of using them in electronic applications. The 2N3053 is also one of them which is quite a popular metal can transistor available in TO-39 transistor package which is bigger than the TO-18 package. The transistor is having quite interesting characteristics like 40V collector to emitter voltage, continuous collector current of 0.7A, it has the junction temperature of 200°C and also wide operating temperature range of -65 to 200°C which makes it capable to perform stably on extremely high and low temperature conditions. Moreover, the static forward current transfer radio (h21E) is 50 to 250, the (h21E) is the same as the (hFE). The transistor total dissipation is 5.0 watts and emitter base voltage is 5V.
2N3053 is an NPN transistor that is designed to use in applications such as audio amplifiers, power oscillators, and variety of general purpose applications. Moreover, the transistor's transition frequency is upto 100MHz which also makes it ideal to use in many applications which require high frequency transistors.
Where We Can Use it & How to Use:
2N3053 can be used for various purposes in different electronic applications such as in low power audio amplifiers, power supply circuits, and various other electronic applications. Due to its high transition frequency of upto 100MHz it can also be used in applications that require higher frequency and also Radio and RF applications. The detailed list of applications can be found below.
Applications:
Power Supplies
Low Power Audio Amplifiers
Signal Amplification
Switching Circuits
Low Current Motor Driver Circuits
FM Radio and Different RF Circuits
Safe Operating Guidelines / Absolute Maximum Ratings:
For safe operting of the transistor follow the below guidelines:
Do not use the transistor to its absolute max raings and always stay 20% below.
The max collector current is 700mA therefore do not drive load more than 560mA.
Max collector to emitter voltage of the transistor is 40V so the driven load should not exceed from 32V.
Always use a proper heatsink with the transistor.
Storage and operating temperature of the transistor should be between -65°C and +200 °C.
Datasheet:
To Download the datasheet just copy and paste the link below into your browser.
https://z3d9b7u8.stackpathcdn.com/pdf-down/2/N/3/2N3053-InchangeSemiconductor.pdf