2SK170 JFET Pinout, Applications, Equivalents, Features and Other Useful Information
2SK170 or K170 is a JFET device available in TO-92 package. The transistor is primarily designed to use in low noise audio applications. In this post we are going to discuss about 2SK170 JFET pinout, applications, equivalents, features and other useful information about this transistor.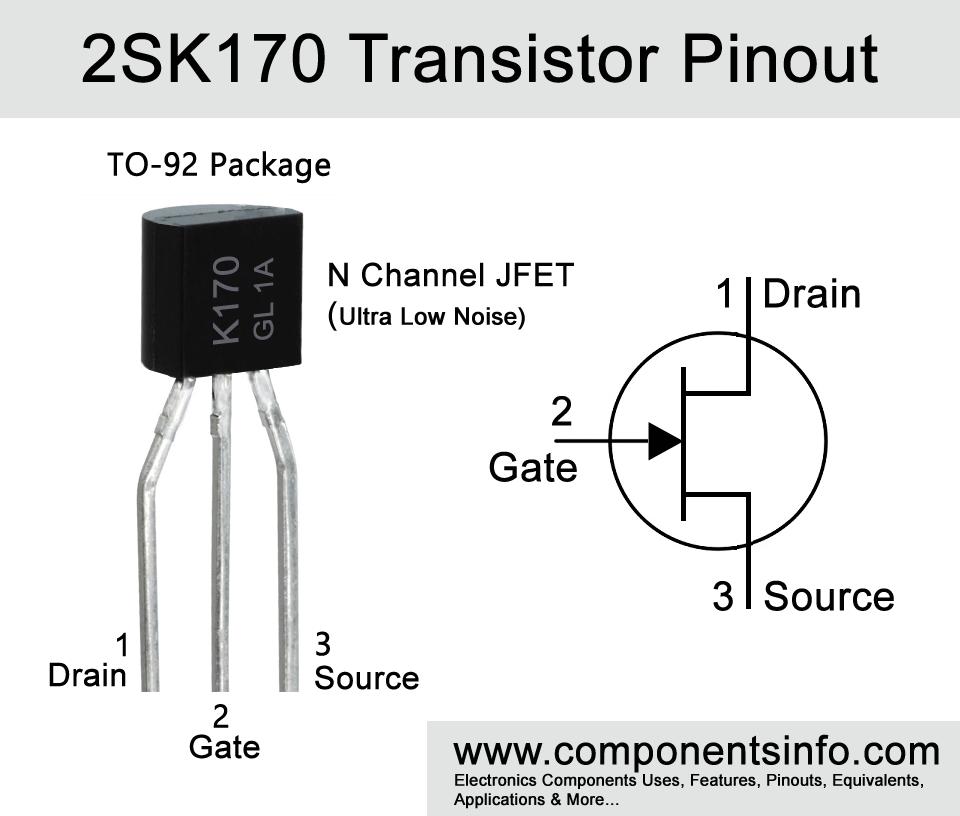 Features / Technical Specifications:
Package Type: TO-92
Transistor Type: N Channel JFET
Maximum Gate to Drain Voltage: -40V
Max Drain Current: 20mA
Maximum Gate Current: 10mA
Minimum to Maximum Gate to Source Cutoff Voltage : -1.0nA
Maximum Power Dissipation: 400mW
Max Storage & Operating temperature Should Be: -55°C to +125 °C
Low Noise Capabilities
Replacement and Equivalent:
LSK170, LSK170A, LSK170B, LSK170C, LSK170D, 2SK370, 2SJ108, 2SK369, 2SK363, 2SK187, PN4118, PN4091
2SK170 JFET Explained / Description:
2SK170 is an N channel low noise junction gate field effect transistor (JFET) manufactured in TO-92 package. The transistor is designed for low noise audio amplifier applications. The max gate to drain voltage is -40V, maximum continuous gate current is 10mA, min to max gate to source cutoff voltage is -1.0nA and maximum power dissipation is 400 miliwatts. The transistor manufactured in three different drain currents which can be determined by the alphabetical code, if the code is GR then its max drain current will be 6.5mA, if BL then 12mA and if V then the max drain current will be 20mA.
The transistor is not manufactured anymore but you can still find it with electronic components retailers who have old stocks. But if you don't get it then you can also use its replacement transistor named LSK170. LSK170 is a updated version of 2SK170 transistor manufactured by other electronic components maker. It is claimed to be ultra low noise due to which it can be used in applications which requires very low noise transistor.
Where and How to Use:
2SK170 can be used in any audio application where a low noise amplifier is required. Such as mic preamps, audio preamp etc.
Applications:
Audio Preamplifier Applications
Audio Amplifier Stages
Sensor & Detector Circuits
Audio mixers
Guitar Pickups
Input Stages of Oscilloscopes
CT Scanners
Vibration Detector Circuits
Safe Operating Guidelines / Absolute Maximum Ratings:
For getting long term performance with 2SK170 JFET it is suggested to not use the device to its absolute maximum ratings and always stay 20% below from these ratings. Moreover always store or operate the transistor at temperatures above -55°C to +125 °C.
Datasheet:
To download the datasheet just copy and paste the below link into your browser.
https://cdn.datasheetspdf.com/pdf-down/2/S/K/2SK170_ToshibaSemiconductor.pdf