1N5404 Diode Pinout, Features, Specs, Equivalents, Explanation and More
1N5404 is a general purpose rectifier diode with many good features. In this post we are going to discuss about 1n5404 diode pinout, features, specs, equivalents, explanation and other details about it.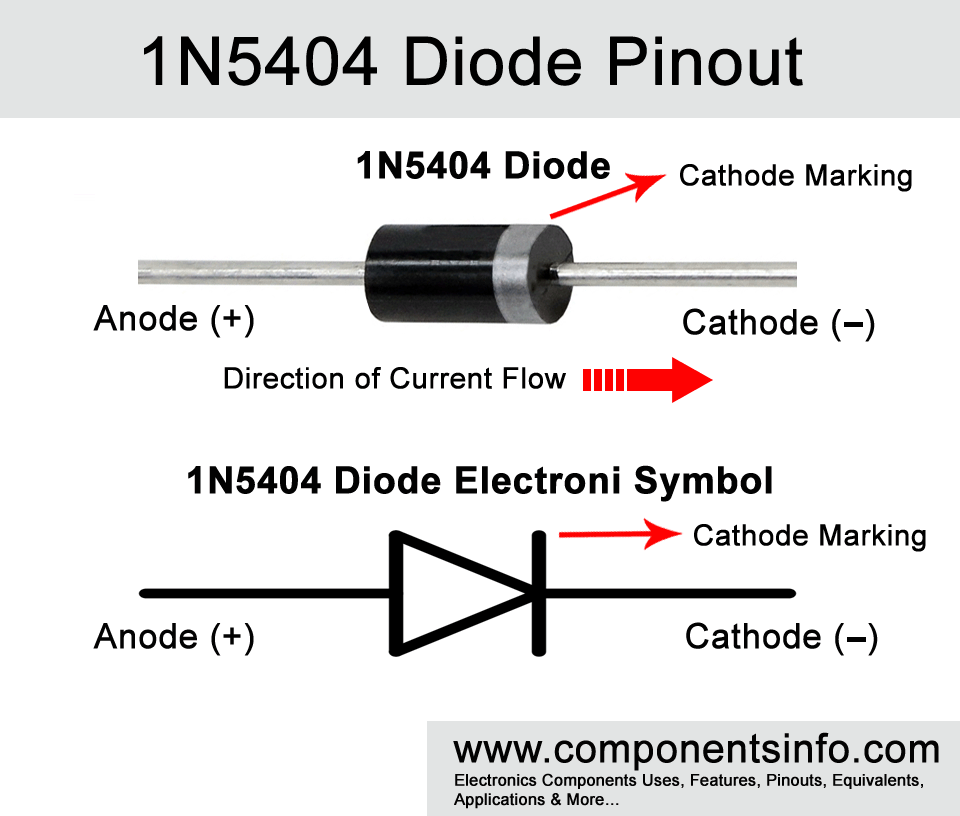 Features / Technical Specifications
Package Type: Available in DO-201
Diode Type: Rectifier Diode for General Purpose Applications
Max Repetitive Reverse Voltage is: 400 Volts
Average Rectified Fwd Current: 3000mA Or 3A
Non-repetitive Max Fwd Current: 200A
Max Reverse Current is: 10uA
Max Storage & Operating temperature Should Be: -65 to +150 Centigrade
1N5404 Replacement and Equivalent
P300M, CR3-100, CR3-120, G3M, FR307, FR607, HER508, and V3510.
1N5404 Diode Explained / Description
If you are looking for a diode that replaces the 1N4007 and has higher current capabilities, the 1N5404 may be a good choice. This diode can drive loads as high as 3A. The diode is available in the DO-201 package which is slightly larger than the DO-45 but if a little extra size doesn't matter you can take advantage of the additional 2 amp current driving capabilities.
The other features of this diode are low reverse current leakage, peak surge overload 200A, and low forward voltage drop.
The 1N5404 is a diode of the 1N540x series. Other diodes in this series are 1N5400, 1N5401, 1N5402, 1N5406, 1N5407 and 1N5408. All the diodes in this series are almost same but the only difference is "Pack Repetitive Reverse Voltage" and "Non Repetitive Reverse Voltage" but if you want to use these diodes in circuits under 50V or you want to drive loads below 50V then these are not important factors to consider. For example, if you are using it in portable battery-powered circuits or circuits that require operating voltages of 3V, 5V, 9V, 12V, 15V, 18V, 24V, etc. or if the load you want to drive with this diode requires any of these voltages then you can easily substitute any diode in series. But if your circuit or load needs higher voltage than 50V then you can select diode according to that voltage. For example 1N5401 has a peak repetitive reverse voltage of 100V, 1N5402 is 200V and so on, now you can just replace a lower peak repetitive diode with a higher one and it will work. The last diode in the series has a peak repetitive reverse voltage of up to 1000V so you can replace this diode with any in series.
Where We Can Use It
1N5404 diode can be used in wide variety of applications for example for rectification of high voltages under 1000V in power supplies, converters, and inverters. Moreover, it can also be used for variety of different protection purposes in electronic circuits, for example blocking votlage spikes, blocking current etc.
Applications
Adapters
Low to high voltage rectification
Battery Chargers
Power Supplies
Step up and step down converters
AC to DC converters
Protection Purposes
Blocking voltage and current in any desired direction
Safe Operating Guidelines / Absolute Maximum Ratings
For safety and long term performance the diode should not be used to its absolute maximum ratings. It is suggested to drive it at least 20% below from its max ratings. The maximum repetitive reverse voltage is 400V therefore do not drive load of more than 320V, the max average rectified forward current is 3A so do not drive load of more than 2.4A or 2400mA, check the anode and cathode pins before placing in the circuit and always store of operate at temperatures above -65°C and below 150°C.
1N5404 Datasheet :
To download the datasheet just copy and paste the below link in your browser.
https://z3d9b7u8.stackpathcdn.com/pdf-down/1/N/5/1N5400-Diodes.pdf