1N4007 Diode Pinout, Equivalent, Specs, Datasheet, Applications & Other Info
This post explains the 1N4007 diode pinout, equivalent, specs, datasheet, applications and other useful information about this diode.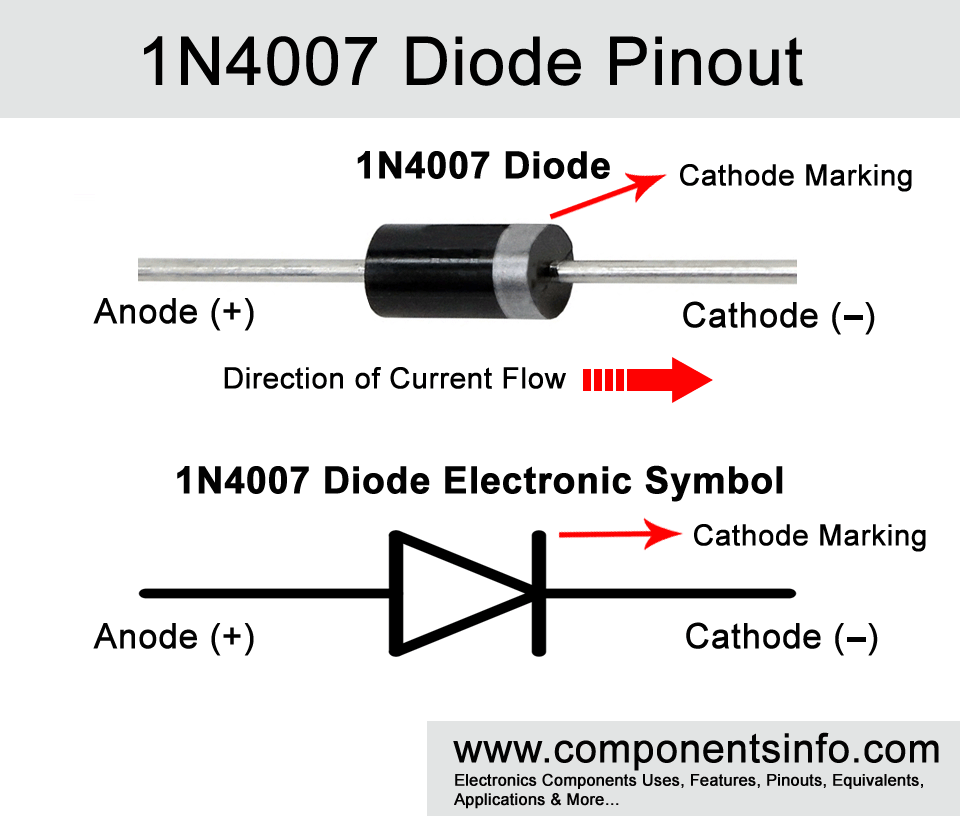 Features / Technical Specifications
Package Type: Available in DO-45 & SMD Packages
Diode Type: Silicon Rectifier General Usage Diode
Max Repetitive Reverse Voltage is: 1000 Volts
Average Fwd Current: 1000mA
Non-repetitive Max Fwd Current: 30A
Max Power Dissipation is: 3W
Max Storage & Operating temperature Should Be: -55 to +175 Centigrade
1N4007 Replacement and Equivalent
If you are working under 400V then you can use 1N4004, if under 600V use 1N4005, If 800V use 1N4006 they are exactly same in other values of 1N4007. But if you are working over 800V and below 1000V than you can use HER208, HER158, FR207, FR107 Diodes as equivalents. If you are working above 1000V than you can use EM520, EM513 & 1N5399 as replacement.
1N4007 Diode Explained / Description
A 1N4007 is a widely used general purpose diode. It is normally build to use as rectifier in the power supplies section of electronic appliances for converting AC voltage to DC with other filter capacitors. It is a diode of 1N400x series in which there are also other similar diodes from 1N4001 to 1N4007 and the only difference between them is the max repetitive reverse voltage.
Moreover it can also be used in any general purpose application where there is need of a general diode. The 1N4007 diode is built for working with high voltages and it can easily handle voltage below 1000V. The 1000mA or 1A average fwd current, 3W power dissipation with small size and lost cost also makes it ideal for wide variety of applications.
Where We Can Use It
1N4007 can be used in variety of circuits, it is normally built for general purpose rectification purpose but it can also be used in any circuit where there is need of voltage blocking, blocking voltage spikes etc. It can also be used in digital logic circuits.
Applications
Power Supplies
Battery Chargers
Voltage Doublers
Adapters
Rectification
Components protection
Blocking incoming voltage where not required
How to Safely Long Run in a Circuit
To get the maximum long run of the diode it is recommended to always stay 30V to 40V below from it max repetitive reverse voltage and other values. Always connect in right polarity, do not drive more than 1A load. Do not operate and store in temperature below -55 centigrade and above +175 centigrade.
1N4007 Datasheet :
To download the datasheet just copy and paste the below link in your browser.
https://www.mouser.com/datasheet/2/149/1N4007-888322.pdf