1N5399 Diode Pinout, Features, Equivalents, Uses, Explanation and Other Related Information
1N5399 is a standard 1.5A rectifier diode available in two different packages. In this post we are going to discuss 1N5399 diode pinout, features, equivalents, uses, explanation and other related information.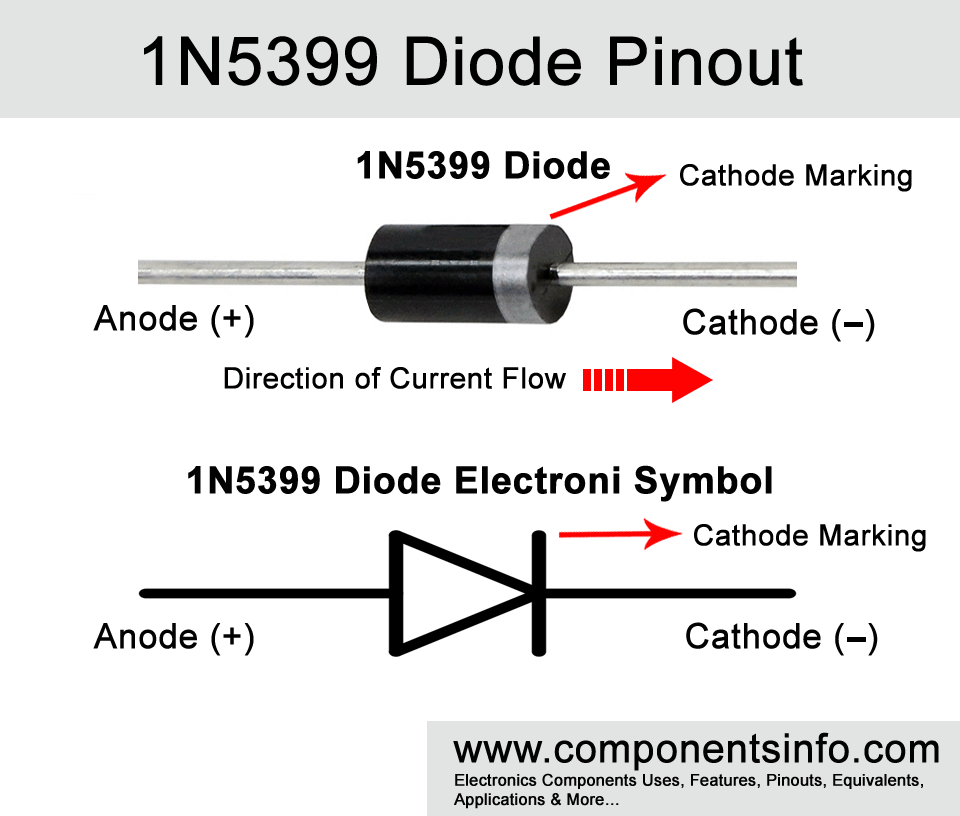 Features / Technical Specifications
Package Type: Available in DO-15 & DO-41
Diode Type: Standard Rectifier Diode
Max Repetitive Reverse Voltage is: 1000 Volts
Average Rectified Fwd Current is: 1.5A
Non-repetitive Max Fwd Surge Current: 50A
RMS Reverse Voltage is: 700V
Typical junction capacitance is: 15pF
Forward Voltage Drop is: 1.1V
Max Storage & Operating temperature Should Be: -50 to +150°C
1N5399 Replacement and Equivalent
1N5408, FR157, HER158, BY255, FR207, RL207, HER208, FR307, HER308.
1N5399 Diode Explained / Description
1N5399 is a standard diode or we can also say it a general purpose diode capable to drive the absolute maximum load of upto 1.5A and the absolute maximum load current can be upto 1000V. The diode is available in DO-15 package but some manufacturers also made it in DO-41 package. It cannot only replaced with the upper mentioned list of "Replacement and Equivalent" diodes but can be used as an equivalent of variety of general purpose diodes.
Moreover, 1N5399 is a diode of 1n539x series; the series contains diodes from 1N5391 to 1N5399. All the diodes in the series have almost same characteristics except the load voltage they can drive. 1N5391 has the lowest load voltage which is 50V and 1N5399 has the highest which is 1000V so you can select what load you are driving and how much voltage it can drive or in what rectification circuit you are using it how much output voltage it is providing to the circuit. But you are not limited to use the high voltage diodes in low voltage rectifier or load driving circuits for example you can easily use 1000V diode which is 1N5399 in a 12V rectifier circuit or drive a 12V load with it but you cannot drive load of 60V or use it in a rectification circuit which provides 60V at the output. For this purpose you have to use 1N5392 that has the Peak Repetitive Reverse Voltage of 100V.
Other characteristics of the diode are non-repetitive max FWD Surge Current 50A, RMS reverse voltage is 700, typical junction capacitance is: 15pF, forward voltage drop is: 1.1V and max storage & operating temperature is -50 to +150°C.
Where We Can Use It
It is mainly designed to use as a rectifier diode which means it can mostly use for converting AC current to DC in power supplies, battery chargers etc. But it is not limited to these uses and can also be used for various other purposes such as limiting voltage in a circuit, voltage blocking in reverse direction, for switching purposes, electronics components protection etc.
Applications
Adapters
Battery Chargers
Power Supplies
Step up and step down converters
AC to DC converters
Blocking voltage and current in the desired direction
Protection Purposes
Safe Operating Guidelines / Absolute Maximum Ratings
To safely operate this diode in circuits and design it is recommended to not use it on its absolute maximum ratings and stay 20% below from its absolute maximum ratings. So therefore the maximum load this diode can handle is 1.5A and the 20% low value will be 1.2A. The maximum load voltage this diode can handle is 1000V therefore the 20% low value will be 800V. Moreover, the storage and operating temperature should be between -50°C and below 150°C.
1N5399 Datasheet :
To download the datasheet just copy and paste the below link in your browser.
https://z3d9b7u8.stackpathcdn.com/pdf-down/1/N/5/1N5391-Vishay.pdf