1N4004 Diode Pinout, Equivalent, Specs, Features and Other Important Info
This article explains 1N4004 diode pinout, equivalent, specs, features, and other important information about this 1A diode.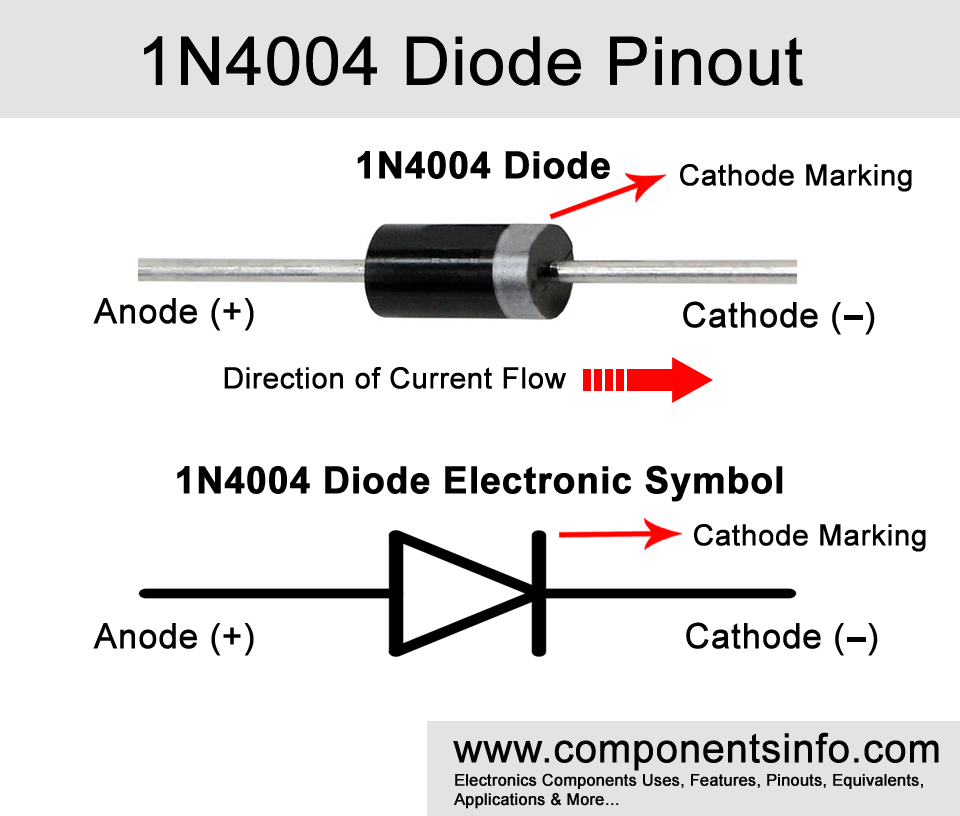 Features / Technical Specifications
Package Type: Available in DO-41 & SMD Packages
Diode Type: Silicon Rectifier General Usage Diode
Max Repetitive Reverse Voltage is: 400 Volts
Average Fwd Current: 1000mA
Non-repetitive Max Fwd Current: 30A
Max Power Dissipation is: 3W
Max Storage & Operating temperature Should Be: -55 to +175 Centigrade
1N4004 Replacement and Equivalent
1N4004 can easily be replaced by1N4004, 1N4005, 1N4006, 1N4007. Other possible equivalents are 1n4148, SF12, SF12, RL202, RL203 HER202, HER203, HER102, HER103, FR202, FR203, 1N4934, 1N4935.
1N4004 Diode Explained / Description
1N4004 is another diode of the famous 1N400x series of general purpose usage didoes. It is one of the diode from a diode series called 1N400x. It is a series of general purpose diodes. This series contains low cost and high performance didoes. 1N4004 can be used in wide variety of applications which falls under its specifications. The two main applications of this diode are voltage blocking and voltage rectification. The max repetitive reverse voltage of the diode is 400V which means that it can easily be used in circuits of under 400V. The average forward current or the max load current this transistor can handle is 1A and the non repetitive max forward current is 30A. The max power dissipation of the diode is 3 Watts.
Where We Can Use It
1N4004 can be used for variety of purposes for example it can be used to build diode rectifier that can be used in power supplies of electronic appliances, it can also be used to blocking voltages for different purposes in electronics design or circuits.
Applications
Power Supplies
Battery Chargers
Adapters
AC to DC Converters
Circuit protection
Voltage Blocking
How to Safely Long Run in a Circuit
If you want to increase the life of 1N4004 diode in your circuit it is recommended to not use the diode above 400V do not drive load of more than 1A. Always check pinout connections before using in the circuit and always store or use this diode in temperature above -55 degrees centigrade and below +175 degrees centigrade.
1N4004 Datasheet :
To download the datasheet just copy and paste the below link in your browser.
https://www.mouser.com/datasheet/2/149/1N4007-888322.pdf