1N4001 Diode Pinout, Equivalent, Datasheet, Specification & Other Useful Info
In this post we are going to discuss about 1N4001 diode pinout, equivalent, datasheet, specification, features & other useful information about this diode.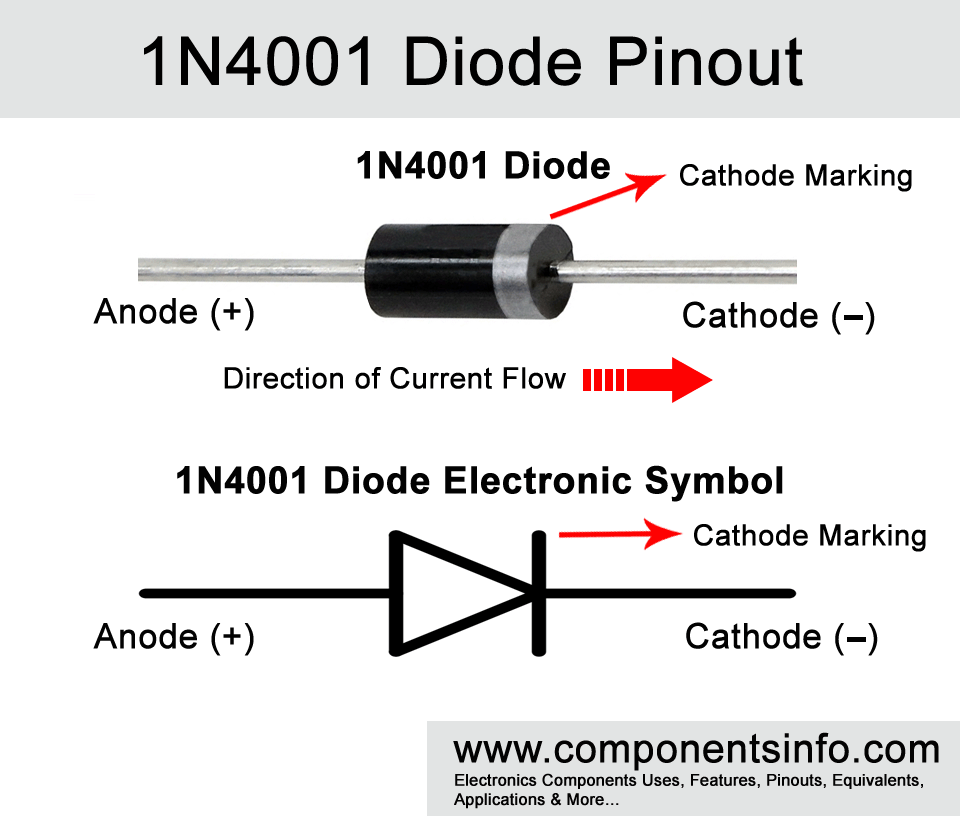 Features / technical specifications:
Package Type: Available in DO-41 & SMD Packages
Diode Type: Silicon Rectifier General Usage Diode
Max Repetitive Reverse Voltage is: 50 Volts
Average Fwd Current: 1000mA
Non-repetitive Max Fwd Current: 30A
Max Power Dissipation is: 3W
Max Storage & Operating temperature Should Be: -55 to +175 Centigrade
1N4001 Replacement and Equivalent:
1N4001 can easily be replaced with other diode numbers in 1N400x series. All the specs of the diodes in this series are same except the Max repetitive reserve voltage or voltage on which you are operating it. You can easily replace the diode with the other equivalent diode with a higher repetitive reverse voltage but you cannot replace a diode with a repetitive reverse voltage lower than you actual diode. Other possible equivalents are SF11, RL201, RL202, HER201, HER202, HER102, HER101, FR202, FR201, 1N5392, 1N5391.
1N4001 Diode Explained / Description:
A 1N4001 is a diode of 1N400x series, all the diodes of this series are widely used in electronic appliances. These diodes are built for rectification and other general purpose tasks in electronic circuits. Mostly it is used in the power supply section of electronic appliances to convert AC voltage to DC, blocking of voltages on desired places in the circuit etc. This diode is manufactured with quite good specification for example 1A fwd current, 3W power dissipation, small size and low price makes it ideal to use in wide variety of electronic applications.
Where We Can Use It:
As discussed above 1N4001 can be used in wide variety of electronic applications, it is mostly used for rectification purposes in power supplies, battery chargers and in many electronic appliances. But besides the above uses it can also be used for any general purpose requirement for example blocking current, blocking voltage spikes, voltage boost etc.
Applications:
Power Supplies Circuits
Battery Chargers Circuits
Voltage Doublers
Adapters Circuits
Rectification Purposes
Components protection
Blocking incoming voltage where not required
How to Safely Long Run in a Circuit:
To safely run of the diode it is recommended to no use it in circuits above 50V. Always connect anode and cathode of the diode in right polarity, do not drive load more than 1000mA and always store and use in temperature below -55 centigrade and above +175 centigrade.
1N4001 Datasheet :
To download the datasheet just copy and paste the below link in your browser.
http://pdf.datasheetcatalog.com/datasheet/fairchild/1N4001.pdf