TIP50 Transistor Pinout, equivalents, Features, Applications And Other Details
TIP50 is a high voltage transistor available in TO-220 package. In this post, we are going to discuss TIP50 transistor pinout, equivalents, features, applications, and other useful information about this device.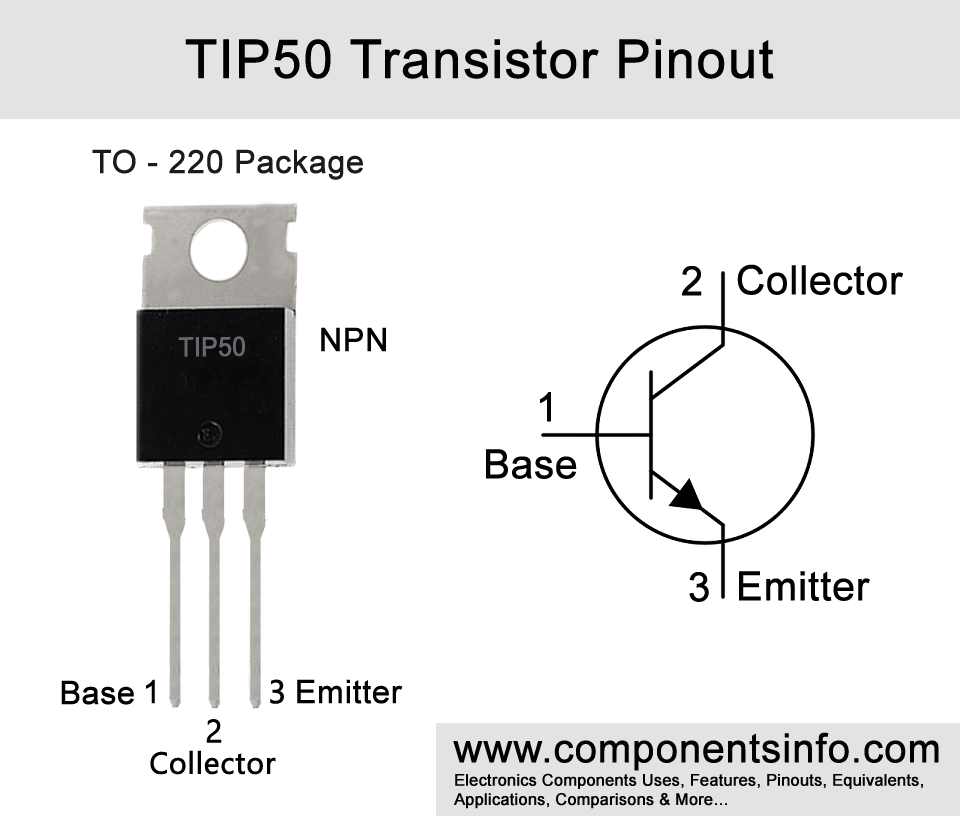 Features / Technical Specifications:
Package Type: TO-220
Transistor Type: NPN
Max Collector Current(IC): 1A or 1000mA
Max Collector-Emitter Voltage (VCE): 400V
Max Collector-Base Voltage (VCB): 500V
Max Emitter-Base Voltage (VBE): 5V
Max Collector Dissipation (Pc): 40W
Max Transition Frequency (fT): 10 MHz
Minimum & Maximum DC Current Gain (hFE): 30 to 150
Max Storage, Operating & Junction temperature range: -65 to +150 Centigrade
Replacement and Equivalent:
TIP48, TIP49 are the nearest possible equivalents the only difference is the collector to emitter voltage. So if your voltage requirements are around 300V then you can easily use these equivalents.
TIP50 Transistor Explained / Description:
If you are looking for a high voltage transistor that have up to 400V collector to emitter voltage then TIP50 might be a good choice. It is an NPN high voltage power transistor designed for line operated audio amplification, power supplies (Switch more type) and many other switching circuits or applications. But it is not limited to only these uses and can be used variety of other applications. Looking at the specs of the transistor the maximum collector to emitter voltage of the transistor is 400V, maximum collector current is 1A, max collector dissipation is 40 Watts, transition frequency is 10MHz, minimum to maximum DC current gain is 30 to 150 and max collector dissipation is 40 Watts.
Where We Can Use it & How to Use:
As discussed above TIP50 is primarily designed for audio amplification, power supplies such as switch mode and many other switching circuits or applications. But it can also be used in other application of AC and high voltage DC applications that falls under its ratings or specs.
Applications:
Line Operated Audio amplifiers
High Voltage DC Circuits
High voltage AC Circuits
Switching different types of load under 1A
Safe Operating Guidelines / Absolute Maximum Ratings:
Following are the guidelines which you must read to get better performance from you ad.
The transistor should be derived under its absolute maximum ratings. Using the transistor on its absolute maximum ratings can damage or weak the device.
The max collector to emitter voltage is 400V therefore do not drive load of more than 320V.
The maximum collector current is 1000mA, therefore do not drive load of more than 800mA.
Always store or operate the transistor at temperatures above -65°C and below +150 °C.
Datasheet:
To Download the datasheet just copy and paste the below link into your browser.
https://cdn.datasheetspdf.com/pdf-down/T/I/P/TIP50_FairchildSemiconductor.pdf