MPSA18 Transistor Pinout, Equivalent, Specs and Other Details
Today I am going to discuss about MPSA18 high gain and low noise transistor with quite interesting features. In this post you will find MPSA18 transistor pinout, equivalent, specs and other details on how and where to use this transistor.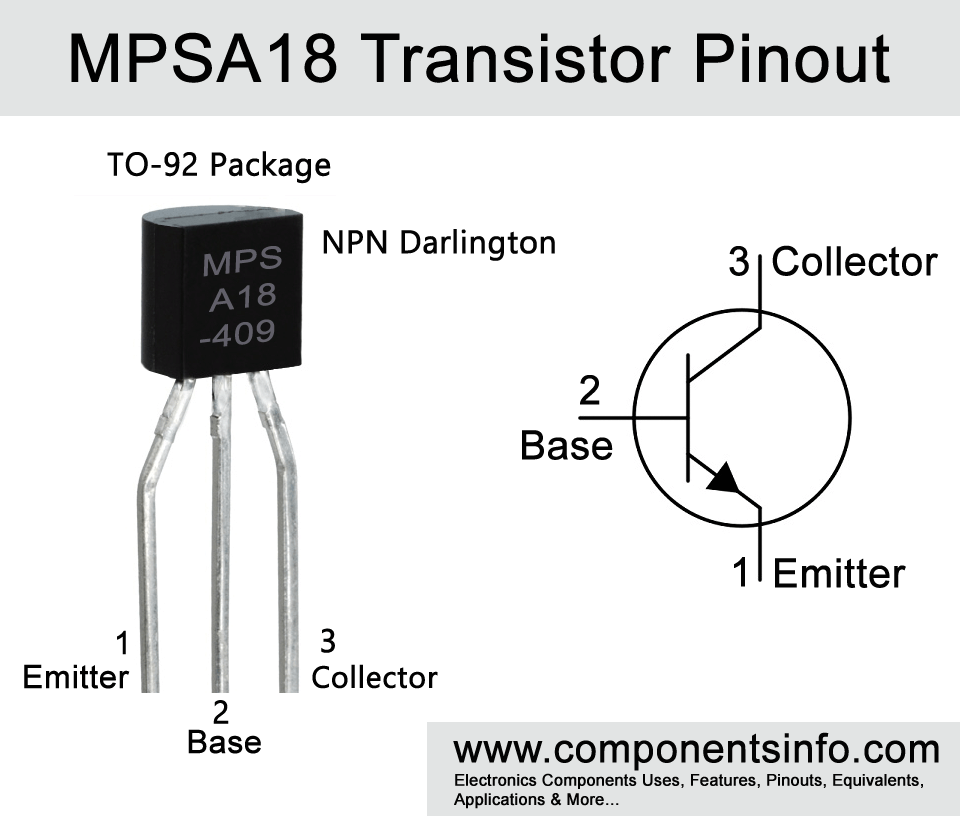 Features / Technical Specifications:
Package Type: TO-92
Transistor Type:  NPN
Max Collector Current(IC): 100mA
Max Collector-Emitter Voltage (VCE): 45V
Max Collector-Base Voltage (VCB): 45V
Max Emitter-Base Voltage (VEBO): 5V
Max Collector Dissipation (Pc): 625 mW
Max Transition Frequency (fT): 100 MHz
Minimum & Maximum DC Current Gain (hFE): 400– 1500
Max Storage & Operating temperature Should Be: -55 to +150 Centigrade
Replacement and Equivalent:
2N5089, 2N5088, FTSO&089, NTE47, 2N5962, 2N5961
Nearest Possible Replacement and Equivalent:
BC550, MPS650, SS9014, MPS6602, BC547, BC548, BC549, BC109, 2N5210
MPSA18 Transistor Explained / Description:
MPSA18 is a high gain and low noise transistor with quite interesting specifications. The maximum gain of the transistor is 1500 and the noise figure is only 1.5dB which makes it ideal to use in applications where the amplification of very small or low gain signal to high gain is an essential requirement. Moreover the low noise feature with 1.5dB noise figure cuts the noise from the signal that is amplified by the transistor. The 100MHz transition frequency also makes it ideal to use in RF circuits under 100MHz frequency. On the other hand this device can also be used as a switch to drive loads under 100mA.
Where We Can Use it & How to Use:
MPSA18 can be used in wide variety of applications where there is requirements of amplifying a small signal or low gain signal to high gain for example in radio receiver circuits, front end circuits of radio receivers, audio preamplifiers and any type of low level signals in electronics. Additionally it can also be used variety of RF applications under 100MHz.
Applications:
Sensor / Detector Applications
Radio & RF Applications Under 100MHz
Audio Recorders
Voice Recorders
Audio Preamplifiers & Amplifiers
Audio Amplifier Stages
Many Small Signal Amplification
Driving Loads Under 100mA
How to Safely Long Run in a Circuit:
The long life performance and reliability of any equipment or finished product depends on its component therefore the safety long term performance of components must be taken in to account. To get long life performance from any component it is suggested to always use a component atleast 20% below from its max ratings. Same rule will apply to MPSA18 transistor. The maximum this transistor can handle is 100mA and 45V, therefore drive max load of 80mA and 35V and always store and use this device in temperature above -55 centigrade and below +150 centigrade.
Datasheet:
To Download the datasheet just copy and paste the below link in your browser.
https://cdn.datasheetspdf.com/pdf-down/M/P/S/MPSA18_Fairchild.pdf