LM78L05 Pinout, Equivalent, Features, Uses And Other Details
LM78L05 is a 5V 100mA positive voltage regulator IC available in TO-92 and other small packages. In this post we are going to discuss about LM78L05 pinout, equivalent, features, uses and other details about this IC.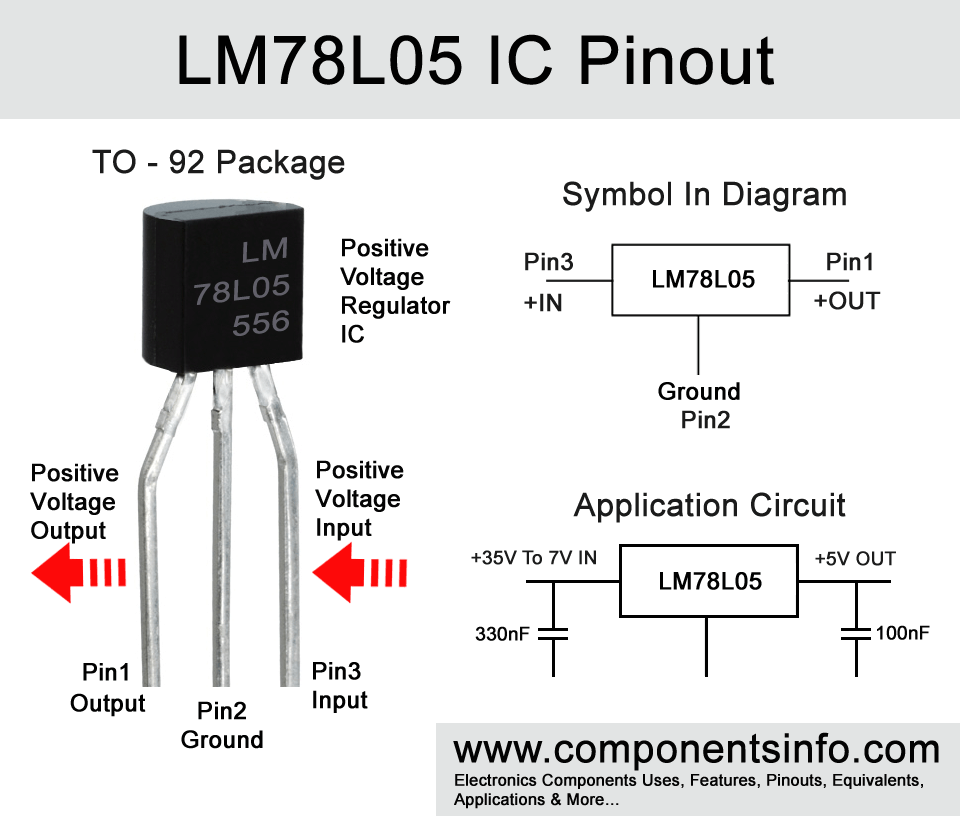 Features / Technical Specifications
TO-92 Package
Small size
Low Cost
100mA max output current
Short circuit protection capability
Over heat shutdown capability
Authentic to use in commercial devices
Accurate and stable 5V output
Max input voltage is 35V DC
Low standby current only 3mA to 5mA.
LM78L05 Description
If you are looking for a low current (upto 100mA) substitute for LM7805 for your design or circuit then LM78L05 might be a good choice for you. LM78L05 is an IC of LM78Lxx series of positive voltage regulators it provides a fixed output of 5V and 100mA DC. It is available in TO-92 and other small packages. It has many features like low quiescent current, short circuit protection, safe area, overheat protection etc.
The IC also has wide input supply range that is from 7V to 35V DC. The Input voltage should not be less than 7V because the IC requires minimum two volts above from its output voltage to provide stable 5V output.
In conclusion all the features discussed above makes LM78L05 a reliable IC to use in many commercial and educational applications. Therefore if you require a same substitute for LM7805 with small size and low current then you can use LM78L05 IC.
Applications
Voltage step down circuits
Power supply circuits
Battery charger circuits
Microcontroller related applications
Replacement and Equivalent ICs
L4931-5.0, LM2931-5.0, NTE977, LP2950 5.0. Always check pin configuration before replacing in your circuit or circuit design.
LM78L05 5V Power Supply Circuit
The schematic below shows a 5V power supply circuit using LM78L05 IC.

How to Safely Long Run in a Circuit
For getting long term performance from LM78L05 voltage regulator it is suggested to always use it 20% below from its maximum ratings. The maximum load the IC can handle is 100mA DC for long term and safety do not operate load of more than 80mA DC. The maximum input voltage is 35V DC for safety do not provide input voltage of more than 28 to 30V DC. Always operate the IC in temperature between 0 degree centigrade to 125 degree centigrade. The storage temperature range is from -65 centigrade to +150 centigrade.
Datasheet
To Download the datasheet just copy and paste the below link in your browser.
https://cdn.datasheetspdf.com/pdf-down/L/M/7/LM78L08A_FairchildSemiconductor.pdf