J310 JFET Pinout, Applications, Features, Equivalents, Specs and Other Details
J310 is an N Channel JFET that is designed for VHF and UHF amplification, in this post you will find J310 JFET pinout, applications, features, equivalents, specs and other details about this transistor.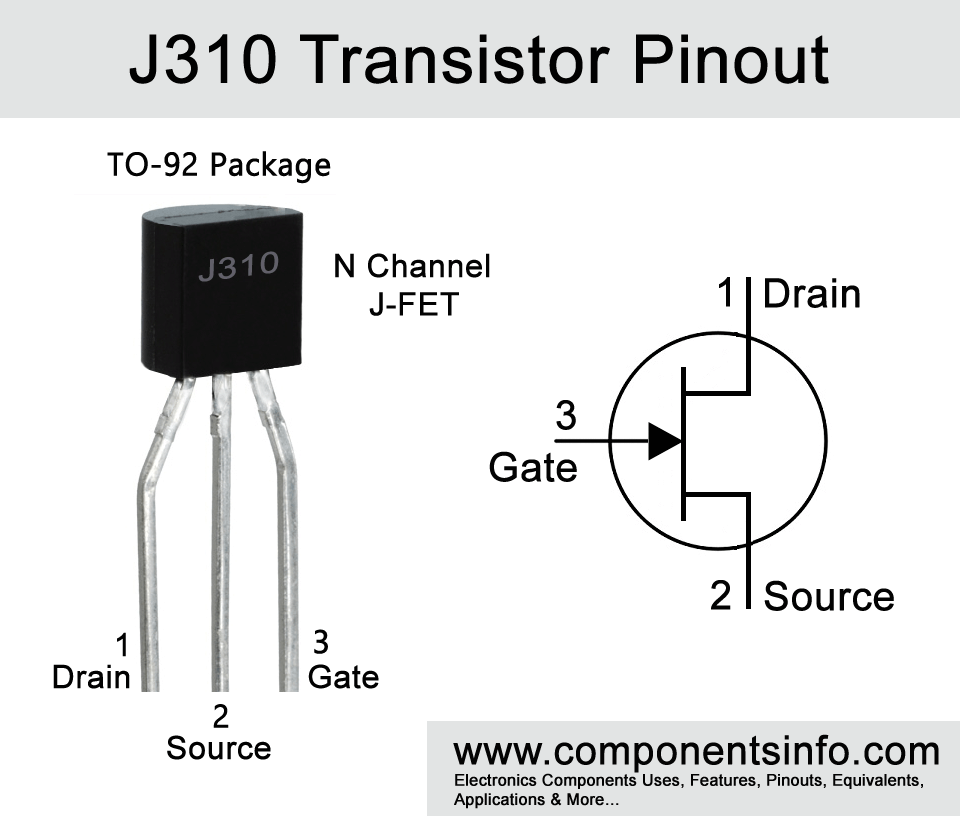 Features / Technical Specifications:
Package Type: TO-92
Transistor Type: N Channel Depletion
Max Gate To Drain Voltage Should Be: -25V
Max Gate To Source Voltage Should Be: -25V
Max Gate Current is: 10mA
Minimum to Maximum Gate to Source Cuttoff Voltage : -2.0 to -6.5V
Max Drain Power Dissipation is: 360mW
Low Noise Upto 2.7dB Typical Noise Figure
Max Storage & Operating temperature Should Be: -55 to +150 Centigrade
Replacement and Equivalent:
L310, J309, U310, U309, 2SK125-4
J310 JFET Explained / Description:
J310 is an N Channel depletion junction gate field effect transistor (JFET) primarily designed to use in VHF and UHF amplifiers. The transistor possesses many good features such as:
High Gain:
The transistor has high gain capabilities which means it can increase or amplify a low level signal to above levels.
Low Noise:
The transistor also possesses low noise capabilities. In electronics, whenever you try to amplify a small signal, the noise is amplified along with it, so using a high gain and low noise transistor not only amplifies the signal but also significantly reduces the noise along with that signal.
Very Low Distortion:
Distortion changes the original signal, the transistor also has very low distortion capabilities which also helps get most of the original signal at the output.
High Sensitivity:
The high sensitivity feature makes it amplify very low level or small signals to high level .
 High Amplification Quality:
The transistor also has high amplification quality mean that the output signal quality will be very good from every aspects.
The other features are upto 100dB or even greater dynamic range, wideband gain, high speed switching etc.
Looking at the specs of the transistor the maximum gate to drain voltage is -25V, max gate to source voltage is -25V, max gate current is 10mA, minimum to Maximum Gate to Source Cuttoff  Voltage is -2.0 to -6.5.
J310 is discontinued by many manufacturers but still be found at offline or online stores who have old stocks. You can also use the linear systems J310 or you can use the alternative transistors mentioned above.
Where and How to Use:
The transistor is designed for variety of VHF and UHF applications such as oscillators, mixers etc.
Applications:
VHF amplifiers
UHF amplifiers
Oscillators
Mixers
Signal amplification
Safe Operating Guidelines / Absolute Maximum Ratings:
To safely operate this transistor follow the guidelines below.
Do not use this JFET to its absolute maximum ratings. And always stay 20% below from the absolute maximum ratings.
Maximum gate current is 10mA therefore do not drive load of more than 8mA.
The maximum gate to source voltage is 25V therefore do not drive load of more than 20V.
Always store or operate the transistor at temperature above -55°C and below +150 °C.
Datasheet:
To download the datasheet just copy and paste the below link into your browser.
https://cdn.datasheetspdf.com/pdf-down/J/3/1/J310_ONSemiconductor.pdf