MN2488 Transistor Pinout, Equivalents, Features, Applications and Explanation
MN2488 is a NPN darlington power transistor (MOLD Type) available in TO-3P transistor package. This post contains MN2488 transistor pinout, equivalents, features, applications, explanation, and other details about this transistor.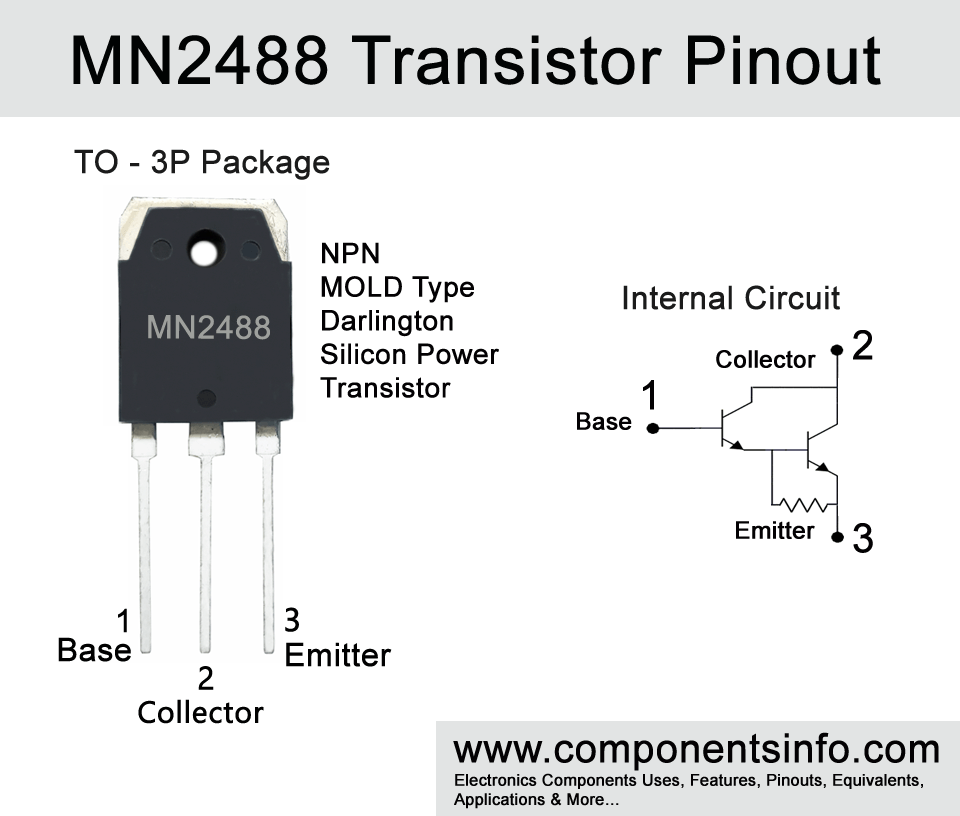 Features / Technical Specifications:
Package Type: TO-3P
Transistor Type: NPN MOLD Type Darlington Silicon Power Transistor
Max Collector Current(IC): 10A
Max Collector-Emitter Voltage (VCE): 150V
Max Collector-Base Voltage (VCB): 160V
Max Emitter-Base Voltage (VBE): 5V
Base Current: 1A
Max Collector Dissipation (Pc): 150W
Max Transition Frequency (fT): 55 MHz
Minimum & Maximum DC Current Gain (hFE): 5000 to 30000
Max Storage, Operating & Junction temperature range: -55 to +150 Centigrade
PNP Complementary:
PNP Complementary of MN2488 is MP1620
Replacement and Equivalent:
2SD1027, 2SD1123, 2SD1515, BDV67D
MN2488 Transistor Explained / Description:
MN2488 NPN MOLD type darlington silicon power transistor available in TO-3P package. The transistor is manufactured by a Japanese company but if you can't find one then you can also use its substitute or equivalent transistor mentioned above. As discussed it is a darlington transistor due to which it has very high gain that is from 5000 to 30000. Looking at the other specs of the transistor the maximum collector to emitter voltage is 150V, the maximum collector to base voltage is 160V, max emitter to base voltage is 5V, Max collector current is 10A, max base current is 1A, and max collector power dissipation is 150W.
The transistor is mostly used in audio amplifier circuits but it is not limited to these applications and can be used in variety of switching applications also. Moreover, it can also be used in battery chargers and power supply circuits etc. more detailed list of applications can be found under the applications heading.
The transistor is manufactured in three types according to its DC current gain or hFE which can be determined by the alphabet written at the end below. If that alphabet is "O" then the hFE of that transistor will be 5000 to 12000, if that alphabet is "P" then the hFE wil be 6500 to 20000 and if "Y" then the hFE will be 15000 to 30000.
Where We Can Use it & How to Use:
As mentioned above that this transistor is designed to use in or build audio amplifiers but it is not limited to this use and can also be used in variety of other applications such as switching. The using procedure of the transistor is same as we use any other darlington transistor.
Applications:
Battery Chargers
Battery Management Systems
Voltage Regulators
Power Supplies
High Power Audio Amplifiers
Motor Drivers
And many other general purpose applications
Safe Operating Guidelines / Absolute Maximum Ratings:
following are the safe operating guidelines to get long term performance with this transistor.
First of all it is recommended not to operate the transistor to its absolute maximum ratings. Using any component on its absolute maximum ratings may damage a component or weakens its performance therefore use it atleast 20% below from its absolute max ratings.
The maximum collector to emitter voltage is 150V so do not drive load of more than 120V.
Maximum continuous collector current is 10A, so do not drive load of more than 8A.
And always store or operate the transistor at temperatures below -55°C and above +150 °C.
The performance or reliability of the transistor can also effect by improper storage so it is suggested to store it at temperatures between 5°C to 35°C.
Datasheet:
To Download the datasheet just copy and paste the below link into your browser.
https://cdn.datasheetspdf.com/pdf-down/M/N/2/MN2488_Sanken.pdf