IRFZ44N Pinout, Equivalent, Features, Uses and Other Info
In this post we are going to discuss about a widely used IRFZ44N pinout, equivalent, features, uses and other info about where and how to use this MOSFET transistor in your applications.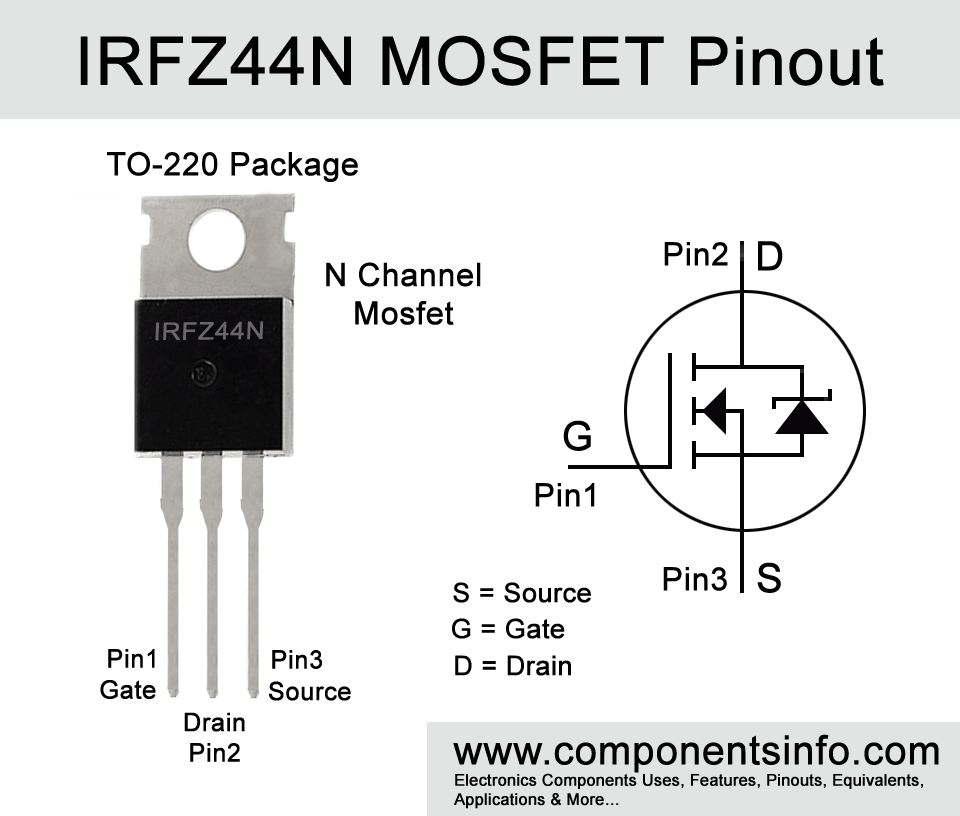 Features / Technical Specifications:
Package Type: TO-220
Transistor Type: N Channel
Max Voltage Applied From Drain to Source: 55V
Max Gate to Source Voltage Should Be: ±20V
Max Continues Drain Current is : 49A
Max Pulsed Drain Current is: 160A
Max Power Dissipation is: 94W
Minimum Voltage Required to Conduct: 2V to 4V
Max Storage & Operating temperature Should Be: -55 to +170 Centigrade
Replacement and Equivalent:
IRFZ46N, STP55N06, 2SK2376, BUK456-60H, STP50N06, 2SK2312, 2SK2376, BUZ 102S, IRF1010A
IRFZ44N MOSFET Explained / Description:
IRFZ44N is a widely used MOSFET transistor designed to use in variety of general purpose applications. The transistor possesses high speed switching capability which makes it ideal to use in applications where high speed switching is a crucial requirement. The transistor is capable to drive load of upto 49A and the max load voltage can be 55V. However the peak pulse current can be upto 160A. The minimum threshold voltage required for this transistor to make it in fully open state is 2V to 4V. This transistor can also be used as an audio amplifier or in audio amplifier stages; it is capable to deliver maximum audio output of 94W.
Where We Can Use it & How to Use:
IRFZ44N can be used in variety of different applications for example if you require a high speed switching between two inputs like in UPS when you want to shift the Input power immediately without delay to battery backup power. Moreover it can also be used in different kinds of power supplies and battery management applications. Additionally this transistor can also be used at the output of ICs, microcontrollers and electronics platforms like Arduino and Raspberry Pi etc. to drive load of upto 49A. On the other hand it can also be used to build verity of different high power audio amplifiers.
Applications:
Battery Chargers
Battery Management Systems
Solar Battery Chargers & Applications
Fast Switching Applications
Uninterruptible Power Supplies
Motor Driver Circuits
Solar Uninterruptible Power Supplies
How to Safely Long Run in a Circuit:
To get long term performance with IRFZ44N it is suggested to not use this transistor on its maximum ratings. Using any components on its maximum rating can cause stress on the component and may damage or weak it's inside circuitry which result in weaker performance. We always suggest use any component atleat 20% below from maximum capacity or specifications. The same rule will be applied for IRFZ44N. The maximum drain current is 49 amperes therefore do not drive load of more than 39 amperes. The maximum load voltage is 55V and for safety do not drive load of more than 44V. The Gate to source voltage should be under ±20V and always store or operate the transistor in temperature above -55 centigrade and below +175 centigrade.
Datasheet:
To Download the datasheet just copy and paste the below link in your browser.
https://cdn.datasheetspdf.com/pdf-down/I/R/F/IRFZ44N_InternationalRectifier.pdf