IRFB4227 Pinout, Equivalent, Features, Applications and Other Info
IRFB4227 is an N channel MOSFET capable to drive load of upto 65A with 200V. In this article we are going to discuss IRFB4227 pinout, equivalent, features, applications and also discuss about how and where you can use this MOSFET.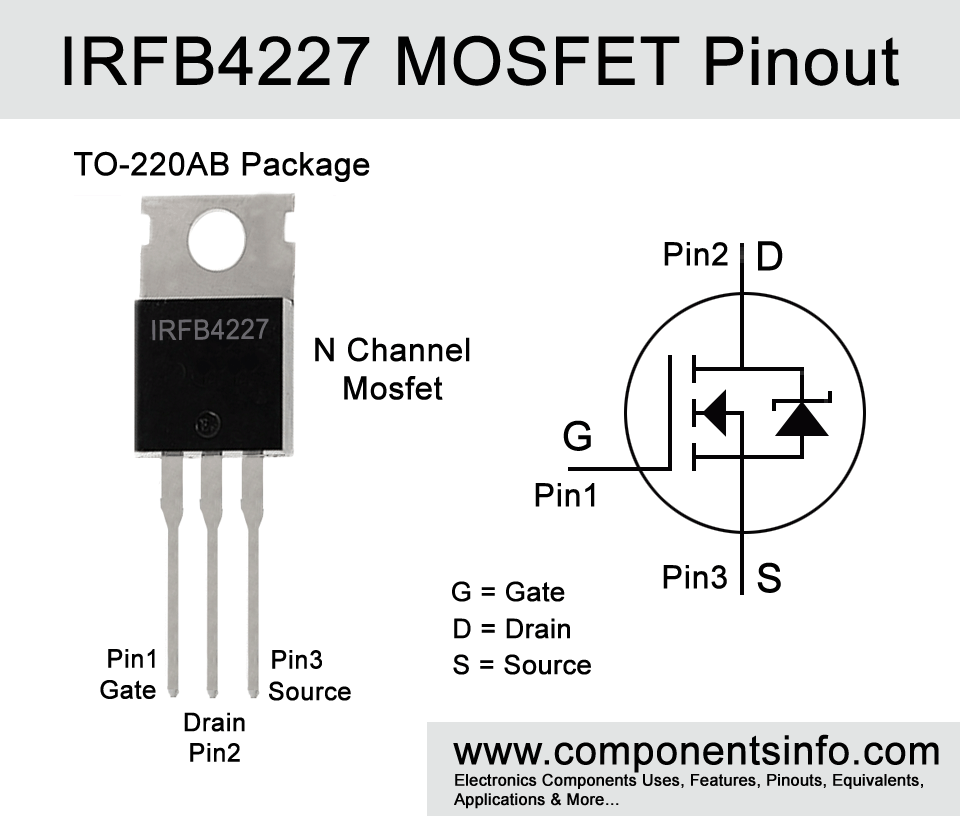 Features / Technical Specifications:
Package Type: TO-220AB
Transistor Type: N Channel
Max Voltage Applied From Drain to Source: 200V
Max Gate to Source Voltage Should Be: ±30V
Max Continues Drain Current is : 65A
Max Pulsed Drain Current is: 130A
Max Power Dissipation is: 330W
Max Drain to Source Resistance in ON State (RDS on): 19.7mΩ
Max Storage & Operating temperature Should Be: -40 to +175 Centigrade
Replacement and Equivalent:
IRFB4227PBF, SUP90142E
IRFB4227 MOSFET Explained / Description:
IRFB4227 is an N Channel MOSFET manufactured in TO-220 package. It has many features which are as follow:
High Drain to Source Voltage
It has high drain to source voltage of upto 200V due to which it can easily be used in high voltage AC and DC applications under 200V.
High Switching Speed
The MOSFET also has high switching speed which makes it ideal to use in applications which requires high speed switching or shifting the load from one voltage source to another without delay or in nanoseconds.
Upto 175°C Operating Junction Temperature
Upto 175°C operating junction temperature makes it capable to perform stable in high temperatures. Moreover it lowest peak max temperature is -40°C which is also plus point.
100% Avalanche Tested
It is 100% avalanche tested which makes it perform stable when its drain to source voltage reached above its limits.
Other features are high repetitive peak current capability, Enhancement mode etc.
Looking at the specs of the MOSFET the max continuous drain current is 65A, peak pulsed drain current is 130A, max power dissipation is 330W and max  RDS(on) is 19.7mΩ.
Where and How to Use:
This MOSFET can be used in wide variety of general applications such as motor driving, power supplies, UPS, and other application that falls under its ratings. The narrow down list of its applications can be found under applications heading below.
Before purchasing a MOSFET or making a decision to use any MOSFET in your design or circuit it is important to understand how much voltage it requires to become in fully ON condition. Its performance curves graph shows that it requires atleast 6.5V to 7V at its gate if you want to drive a load of 50A (The max load this MOSFET can drive is 65A but we cannot use any transistor or MOSFET to its absolute maximum ratings because using any component to its absolute maximum ratings may damage it or weakens its performance so as a rule of thumb we will use it atleast 20% below from its max ratings that is equal to 50A to 52A). But if your load requirements are under 10A and also you want to use it within the 5V range then you can still use it in 4V to 5V circuits by providing 4V to 5V at its gate.
Applications:
BMS Circuits
UPS Circuits
Motor Driver applications
Audio Amplification Applications
Battery Chargers Circuits
Solar Chargers
Solar Power Supplies
Safe Operating Guidelines / Absolute Maximum Ratings:
Below are the guidelines to safely operate this MOSFET.
Do not use the transistor on its absolute maximum ratings and stay atleast 20% below from its max ratings.
The maximum continuous drain current is 65A therefore do not drive load of more than 52A.
The maximum drain to source voltage is 200V therefore do not drive load of more than 160V.
Always Use a suitable heatsink with the transistor.
Store or operate the MOSFET at temperatures above -40°C and below +175 °C.
Datasheet:
To download the datasheet just copy and paste the below link into your browser.
https://cdn.datasheetspdf.com/pdf-down/I/R/F/IRFB4227PBF_InternationalRectifier.pdf