IRFB4115 MOSFET Pinout, Features, Equivalent, Applications and Other Important Info
IRFB4115 and IRFB4115PbF both are equivalent MOSFETs and all the specifications and electrical parameters of both the MOSFETs are identical. In this article, we are going to explore IRFB4115 MOSFET pinout, features, equivalent, applications, and other important info.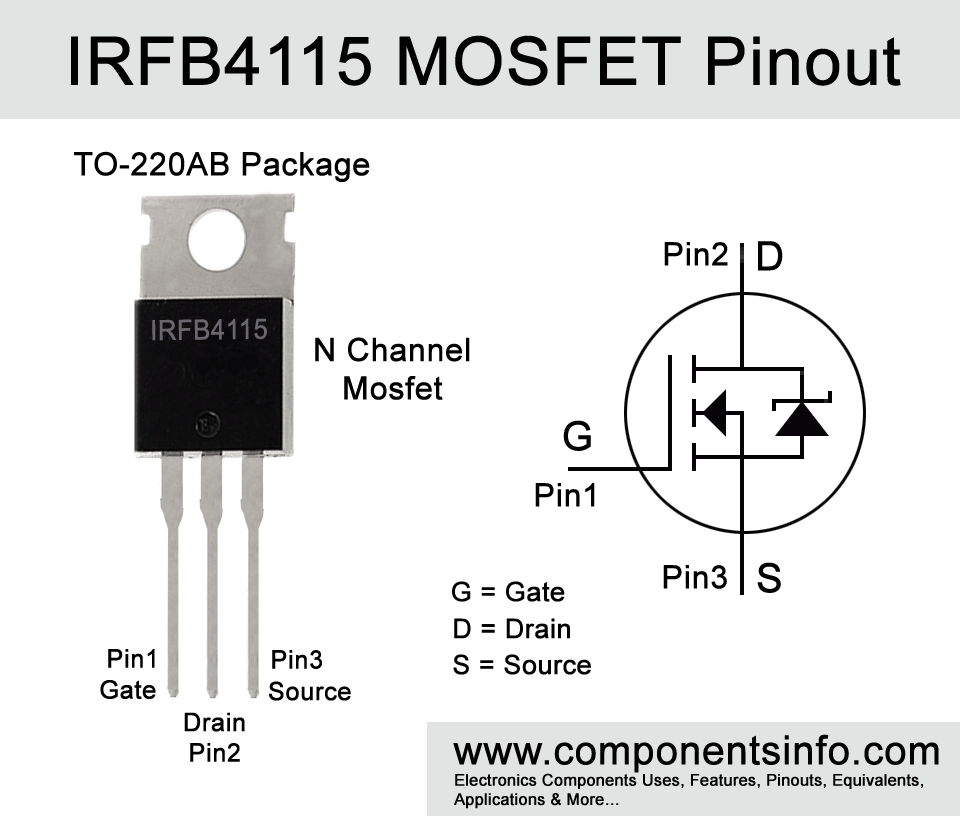 Features / Technical Specifications:
Package Type: TO-220AB
Transistor Type: N Channel
Max Voltage Applied From Drain to Source: 150V
Max Gate to Source Voltage Should Be: ±20V
Max Continues Drain Current is : 104A
Max Pulsed Drain Current is: 420A
Max Power Dissipation is: 380W
Max Drain to Source Resistance in ON State (RDS on): 11mΩ
Max Storage & Operating temperature Should Be: -55 to +175 Centigrade
Replacement and Equivalent:
IRFB4115PBF, IRFB4115G
IRFB4115 Transistors Explained / Description:
IRFB4115 is a TO-220 package N channel MOSFET designed to use in SMPS, UPS, high frequency circuits, and hard switch circuits but it is not limited to these uses and can be used in variety of other applications. Below we will discuss some essential features of IRFB4115 MOSFET.
High Drain to Source Voltage
The transistor has a high drain to source voltage of 150V which makes it ideal to use in applications that requires under 150V.
High Switching Speed
It is a quite high speed MOSFET due to which it can be used in applications where very high speed switching is required.
Upto 175°C Operating Junction Temperature 
The maximum operating and junction temperature is 175°C which makes it reliable to use in high temperature applications under 175°C.
Improved and Ruggedized Design
The MOSFET is an improved design and it has capabilities such as can withstand high spikes of voltages. Moreover, it has also improved gate control (ON-OFF Control) and it also has improved dv/dt which insures voltage handling of the drain to source voltage and prevents damage.
The specs of the transistor are also very good and reliable. The maximum drain to source voltage is 150V, max continuous drain current is 104A, max pulsed drain current is 420A, max power dissipation is 380W, max (RDS on) is 11mΩ and storage and operating temperature ranges -55°C to +175°C.
Where We Can Use it & How to Use
IRF4115 MOSFET is designed to use in applications such as SMPS, hard switches, high frequency, UPS etc. but it is not limited to these applications and can be used for other applications such as motor control, DC to DC conversion, solar etc. the narrow down list of its applications can be found below under applications heading.
When using in your design or circuit it is important to keep in mind how much load or how many ampere you want to drive with this MOSFET and what gate voltage you can provide. Each MOSFET is different so the amount of voltage it requires on its gate to become fully ON is also different. According to its specs this MOSFET requires atleast 6.5 to 7 volts at its gate to become fully ON.
Applications:
BMS Circuits
Switch Mode Power Supplies
Motor Driver applications
UPS Circuits
Audio Amplification Applications
Battery Chargers Circuits
Solar Power Supplies
Solar Inverters
DC to DC Converters
High Frequency and Hard Switch Circuits
Safe Operating Guidelines / Absolute Maximum Ratings:
It is always important to check the transistor's absolute maximum ratings and other specs to insure safe operating and long term performance.
To safely operate the transistor first and most important thing is to use it below from its absolute maximum rating atleast 20% below.
The max drain to source voltage is 150V so for safe operating do not drive load of more than 120V.
The max continuous drain current is 104A so do not drive load of more than 83A.
Do not use the transistor without heatsink it can damage the transistor immediately. So always use a suitable heatsink with it.
Always store or operate it at temperatures above -55°C and below +175 °C.
Datasheet:
To Download the datasheet just copy and paste the below link in your browser.
https://z3d9b7u8.stackpathcdn.com/pdf-down/I/R/F/IRFB4115PBF-InternationalRectifier.pdf