BD136 Transistor Pinout, Equivalent, Uses, Applications, Datasheet
This article explains BD136 transistor pinout, equivalent, uses, applications, datasheet, features, specs and other useful information about this transistor.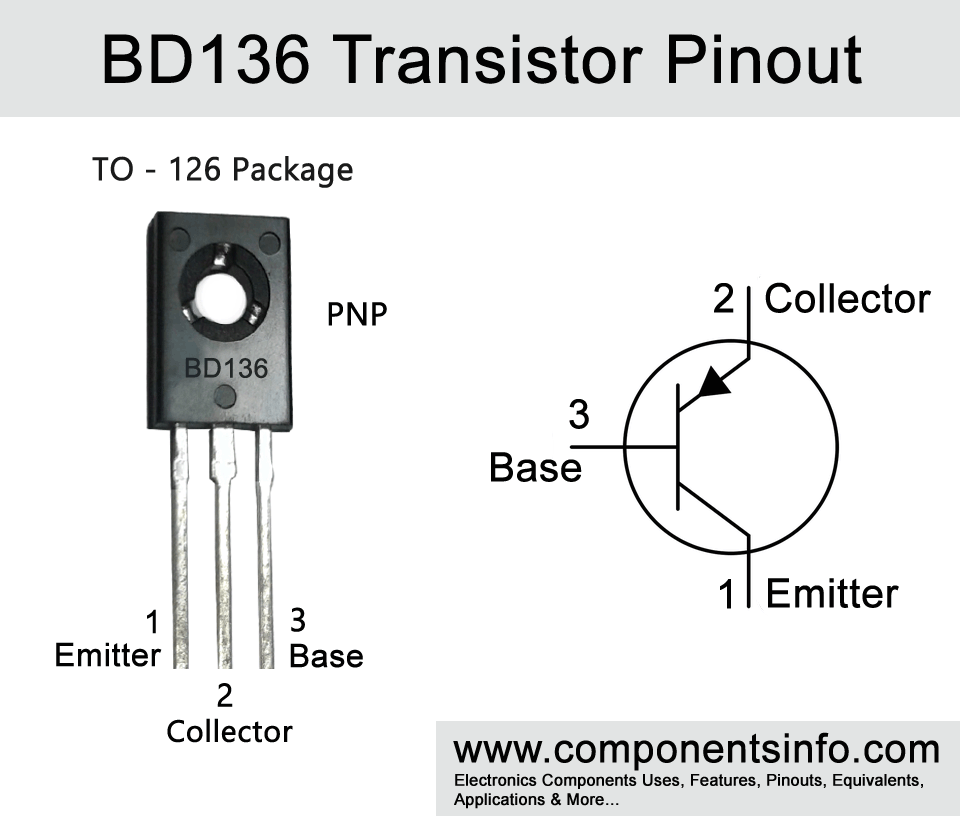 Features / technical specifications:
Package Type: TO-126
Transistor Type: PNP
Max Collector Current(IC): –5A
Max Collector-Emitter Voltage (VCE): –45V
Max Collector-Base Voltage (VCB): –45V
Max Emitter-Base Voltage (VEBO): –5V
Max Collector Dissipation (Pc): 5 Watt
Max Transition Frequency (fT): 190 MHz
Minimum & Maximum DC Current Gain (hFE): 25 – 250
Max Storage & Operating temperature Should Be: -55 to +150 Centigrade
NPN Complementary:
NPN Complementary of BD136 is BD135
Replacement and Equivalent:
BD138, BD140, BD238G, MJE235, MJE171, BD792, BD168, BD180, MHE253, 2SB1354, BD190, BD236, BD378-16, MJE702, 2SB1355. (Check pin configuration of any transistor you are using before replacing in your circuit).
BD136 Transistor Explained / Description:
BD136 is another transistor from the BD13x series of PNP and NPN transistors. This transistor is manufactured in TO-126 package. It can handle or drive maximum collector current of -1.5A and the maximum pulse current is 2A but a good and suitable heatsink must be required with the transistor to operate it without an problem. This transistor can perform well as a switch and amplifier. As a switch it can handle or drive maximum load of -1.5A continuously with -45V load voltage. It can also perform well as an amplifier thus it can be used in many audio and other type of signal amplification circuits.
Where We Can Use it & How to Use:
This transistor can be used in many general purpose applications for example if one is using it as a switch it can drive many loads at a time under -1.5A the loads can be high power LEDs, high power transistors, high power relays, devices etc. It can also be used at the output of arduino, raspberry pi and these type of other platforms and microcontroller to drive loads. On the other hand it can also be used in audio amplifier stages and as a separate amplifier to drive a 2 to 3 inch speaker directly. The audio source can be any few miliwatt output from any audio device.
Applications:
Audio Amplifier
Audio Amplifier Stages
Signal Amplifier Circuits
Switching Loads under -1.5A
Power Supply Circuits
Battery Charger Circuits
Motor Driver
Darlington Pair
How to Safely Long Run in a Circuit:
Using components under their maximum ratings can make their life longer and also make them perform stable in electronic circuits. To get long term performance from BD136 it is suggested to not drive load more than -1.5A and 45V through this transistor. Use a suitable base resistor to provide it required current at its base, always use a suitable heatsink with the transistor and the storage and operating temperature should be between -55 centigrade and +150 centigrade.
Datasheet
To Download the datasheet just copy and paste the below link in your browser.
https://pdf1.alldatasheet.com/datasheet-pdf/view/16170/PHILIPS/BD136/+0WQJ2UL.hKpRudGptzE+/datasheet.pdf