IRF2807 Transistor, Its pinouts, Features, Equivalents, Applications and Other Useful Info
IRF2807 is a TO-220 package N channel MOSFET designed to be used in a variety of different applications. In this article, we are going to explain the IRF2807 transistor, its pinouts, features, equivalents, applications, and other useful info.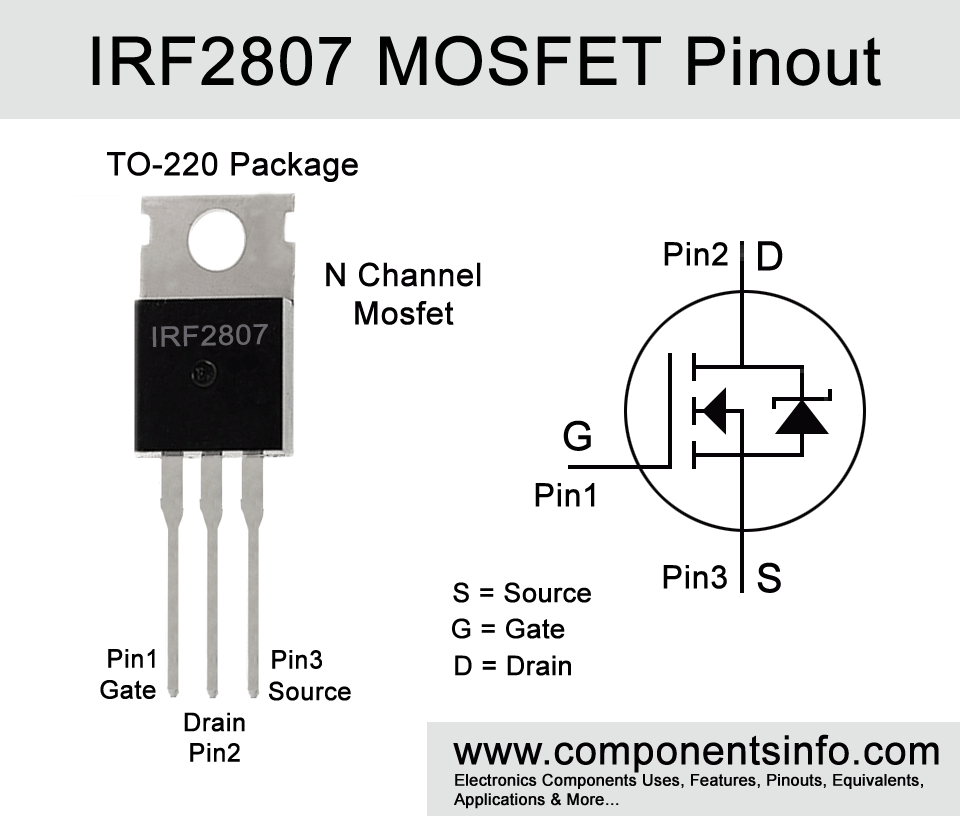 Features / Technical Specifications:
Package Type: TO-220AB
Transistor Type: N Channel
Max Voltage Applied From Drain to Source: 75V
Max Gate to Source Voltage Should Be: ±20V
Max Continues Drain Current is : 82A
Max Pulsed Drain Current is: 280A
Max Power Dissipation is: 230W
Max Drain to Source Resistance in ON State (RDS on): 13mΩ
Max Storage & Operating temperature Should Be: -55 to +175 Centigrade
Replacement and Equivalent:
IRF1407, IRF2807PBF, IRFB4410, IRFB4410Z/G, IRFB4310, IRFB4310G/Z, IRFB4115, IRFB4110, IRFB3307, IRFB3207, IRFB3808
2SJ162 Transistors Explained / Description:
IRF2807 is an N channel MOSFET manufactured in TO-220AB transistor package.
This MOSFET is designed to use in a wide variety of applications which we will discuss later in this article. This MOSFET can also work on low gate voltage which makes it ideal to drive directly from the output of 5V devices such as ICs, microcontrollers, Arduino boards, raspberry pi etc. Although you will not get its maximum output current which is 82A but when driving with 5 volts but you can still get 68A which is a good output and enough to drive variety of high current devices.
Moreover it has many good features such as ultra low on resistance which means it has very low resistance in ON condition which means low power loss and more flow of current. It is fully avalanche rated means it can handle sudden voltage spikes without getting damage. It has advance process technology means it is manufactured with advance methods due to which it provides better performance. It has fast switching capability which means it can switch ON and OFF in very high speed which makes it suitable to use in applications where fast switching is crucial. It has upto 175°C operating temperature due to which it can easily be operated in high temperature surroundings without effecting its performance. Additionally it also has dynamic dv/dt ratings which makes it capable to handle rapid voltage up downs or voltage fluctuations. All these features makes this MOSFET a robust and reliable device to use in variety of commercial and industrial applications.
Where We Can Use it & How to Use:
IRF2807 can be used in many commercial and industrial applications which are power electronics, controller circuits, power supplies, industrial automation, switching, amplification, automotive, lighting etc. These are the broader applications of this transistor and the detailed list of its applications can be found below.
For using this transistor it is important to know that it requires at least 4.5V at its gate to become ON but you will only get the output current of only 20A to 22A. But if you will supply 5V then you will get 68A of output current, and on 5.5V it will provide its full continuous output which is 82A. But we do not suggest to use it on its max ratings and stay atleast 20% below which is 65A.
Applications:
Voltage Regulators
Inverters
Switching Power Supplies (Telecommunications Supplies, LED Drivers etc.)
Light Control Systems
DC to DC Converters
Motor Control (Fans, Pumps, compressors etc.)
Audio Amplifiers
Safe Operating Guidelines 
To get good and long term performance it is crucial to understand the safe operating guidelines for the MOSFET. Below are some important guidelines to operate it safely.
Do not drive the MOSFET to its absolute maximum ratings and always stay at least 20% below.
So according to the operating 20% below rule, do not drive load of more than 65.6A.
The max drain to source voltage is 75V so do not drive load of more than 60V.
Always use a suitable heatsink with the MOSFET.
Store or operate it at temperatures above -55°C and below +175 °C.
Datasheet:
To Download the datasheet just copy and paste the below link into your browser.
https://z3d9b7u8.stackpathcdn.com/pdf-down/I/R/F/IRF2807_InternationalRectifier.pdf