K3569 MOSFET Pinout, Equivalent, Features, Characteristics, Applications and Other Info
This post explains 2SK3569 or K3569 MOSFET pinout, equivalent, features, characteristics, applications, and other important and useful information about this transistor.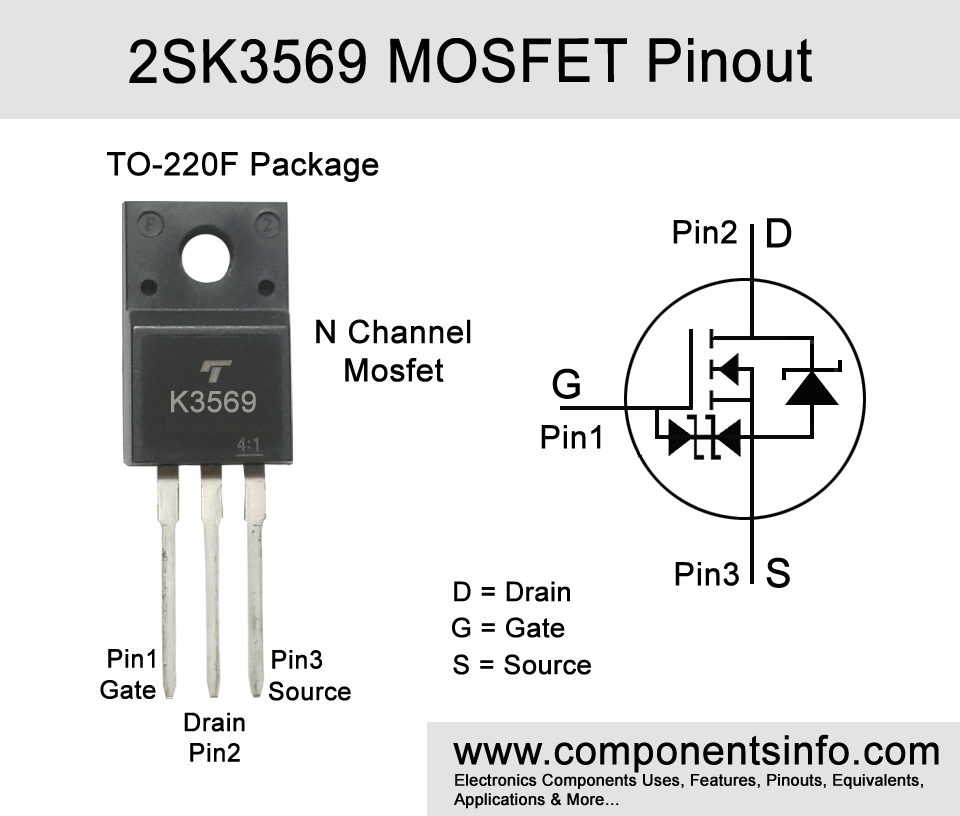 Features / Technical Specifications:
Package Type: TO-220F
Transistor Type: N Channel
Max Voltage Applied From Drain to Source: 600V
Max Gate to Source Voltage Should Be: ±30V
Max Continues Drain Current is : 10A
Max Pulsed Drain Current is: 40A
Max Power Dissipation is: 45W
Max Drain to Source Resistance in ON State (RDS on): 75mΩ
Max Storage & Operating temperature Should Be: -40 to +175 Centigrade
Replacement and Equivalent:
K2543, FDP15N65, HMS17N65, NTP150N65S3HF, SM6F26NSF
2SB595 Transistors Explained / Description:
K3569 is an N Channel MOSFET available in TO-220F package. The transistor is having many good features such as low RDS(ON), enhancement mode, low leakage current etc. Moreover it also has good absolute maximum ratings such as drain to source voltage of 600V, max drain current is 10A, max pulsed drain current is 40A, max RDS(ON) is 0.75 Ohms, output capacitance is 180pF and maximum drain power dissipation is 45W.
The electrical characteristics of the transistor are ±10 uA gate leakage current, ±30V, V (BR) GSS / Gate to source break down voltage, 100uA IDSS / Drain cutoff current, Gate threshold voltage / Vth of 2.0V to 4.0V, 1500pF Ciss / input capacitance, 15pF Crss / reverse transfer capacitance and 180 Coss / output capacitance.
The switching time of the transistor is also quite acceptable, the turn on time is 50 nano second. Turn on time is the time the transistor takes to change its state from off to ON and the turn off time is 180 nanoseconds, the turn off time is the time the transistor takes to change its state from ON to off. Looking at the rise time and fall time of the transistor, the rise time of the transistor is 22 nanoseconds and the fall time is 36 nanoseconds. The rise time of a MOSFET is the time between getting the signal and switching the output ON and the fall time is the time a MOSFET takes place between switching off the output when it gets a signal to switch off the output.
Where We Can Use it & How to Use:
By looking at the specs of the transistor we can say that it can be used in switching regulator applications, due to its high drain to source voltage it can also be used in variety of high voltage circuits. Moreover, due to its fast switching capability and low capacitance, it is also ideal to use in high frequency switching circuits.
Applications:
Power Supplies
UPS Circuits
Motor Driver applications
Battery Chargers Circuits
Audio Amplification Applications
Solar Chargers
Solar Power Supplies
DC to DC Converter Applications
Electronic Ballasts Circuits
Safe Operating Guidelines / Absolute Maximum Ratings:
To safely operate the transistor and get long term good performance follow the guidelines below:
Do not use the transistor to its absolute maximum ratings and always stay 20% below from these ratings.
The maximum drain to source voltage is 600V therefore do not drive load of more than 480V.
The maximum continuous drain current is 10A therefore do not drive load of more than 8A.
Always store or operate the MOSFET at temperature above -55°C and below +150 °C.
Datasheet:
To Download the datasheet just copy and paste the below link in your browser.
https://z3d9b7u8.stackpathcdn.com/pdf-down/2/S/K/2SK3569-INCHANGE.pdf