BD243/A/B/C Transistor Pinout, Equivalents, Applications, Explanation And More
BD243 is an NPN power transistor; this post describes pinout, equivalents, applications, explanation and other details of BD243, BD234A, BD243B and BD243C transistors.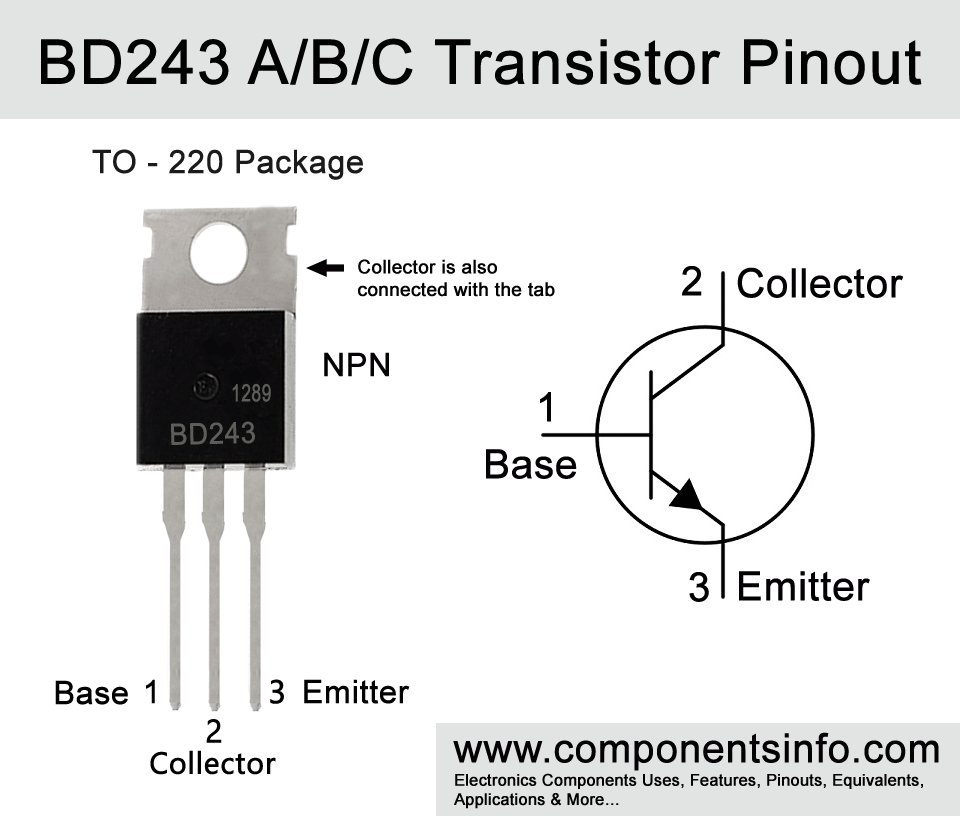 Features / Technical Specifications:
Package Type: TO-126
Transistor Type: NPN
Max Collector Current(IC): 6A
Max Peak Collector Current: 10A
Max Collector-Emitter Voltage (VCE): BD243=45V, BD243A=60V, BD243B=80, BD243C=100
Max Collector-Base Voltage (VCB): BD243=45V, BD243A=60V, BD243B=80, BD243C=100
Max Emitter-Base Voltage (VEBO): 5V
Max Collector Dissipation (Pc): 65 Watt
Minimum DC Current Gain (hFE): 15 TO 30
Max Storage & Operating temperature: -65 to +150 Centigrade
PNP Complementary:
PNP Complementary of BD243/A/B/C is BD244/A/B/C
Replacement and Equivalent:
Replacement for BD243A:
BD537

Replacement for BD243, BD243A, BD243B:
2N5497, 2N6121, 2N6123, 2N6288, 2N6289, 2N6290, 2N6291, 2N6292, 2N6293, 2SC1107, 2SC1109, 2SD476, 2SD1412, BD291, BD293, BD295, RCA1C10, RCA1C14
Replacement for BD243C:
2SC1108, 2SC1110,
BD243 A/B/C Transistor Explained / Description:
BD243 and other transistor in this series such as BD243A, BD243B and BD243C are NPN power transistors available in TO-220 package. These transistors are designed for general purpose switching and amplification purposes. The collector current of all these transistors is 6A but the maximum collector to emitter voltage is different in all, collector to base voltage for BD243 is 45V, BD243A is 60V, BD243B is 80V and BD243C is 100V. Although if you are using it in a design in which you are driving load under 45V then you can use any transistor from BD243/A/B/C. But if you are driving load above 45V then you can use BD243B which is able to drive upto 80V and if you load require more than 80V then you can use BD243C.
The maximum emitter to base voltage is 5V, maximum power dissipation is 65 Watts and minimum DC current gain is 15 to 30.
Where We Can Use it & How to Use:
BD243/A/B/C are general purpose transistors and can be used for wide variety of purposes in electronic circuits. When used as a switch the transistor is capable to drive load of up to 6A which is enough to drive variety of motors, electronic switches, relays, high power transistors etc. On the other hand it can also be used for audio amplification purposes and can be used to make high power audio amplifiers.
Applications:
Driving or Switching Loads under 6A
High Power Audio Amplifier Circuits
BMS Applications
Motor Drivers
Battery Chargers
Safe Operating Guidelines / Absolute Maximum Ratings:
Follow these guidelines to safely operate this transistor and get long life performance with this component:
Do not use the transistor to its absolute maximum ratings and always stay 20% below from its max ratings.
The maximum collector current or maximum continuous collector current of all the transistors is 6A therefore do not drive load of more than 4.8A.
The maximum collector to emitter voltage is of all the transistors is different so if you are using BD243 then do not drive load of more than 36V, if you are using BD243A then the maximum load can be under 48V, for BD243A the maximum load you can drive is 64V and if you are using BD243C then the maximum load you can drive for safety and stable performance can be 80V.
Always use a suitable heatsink with the transistor and also isolate the heatsink from rest of the circuit because the collector of the transistor is also connected with the heatsink tab.
Always store or operate the transistor at temperature above -65°C and below +150°C.
Datasheet:
To Download the datasheet just copy and paste the below link in your browser.
https://cdn.datasheetspdf.com/pdf-down/B/D/2/BD243_FairchildSemiconductor.pdf