2N5458 Transistor Pinout, Uses, Equivalent and Other Details
Today we are going to discuss about 2N5458 transistor pinout, uses, equivalent and other details about how to use it and in which applications this transistor can be used.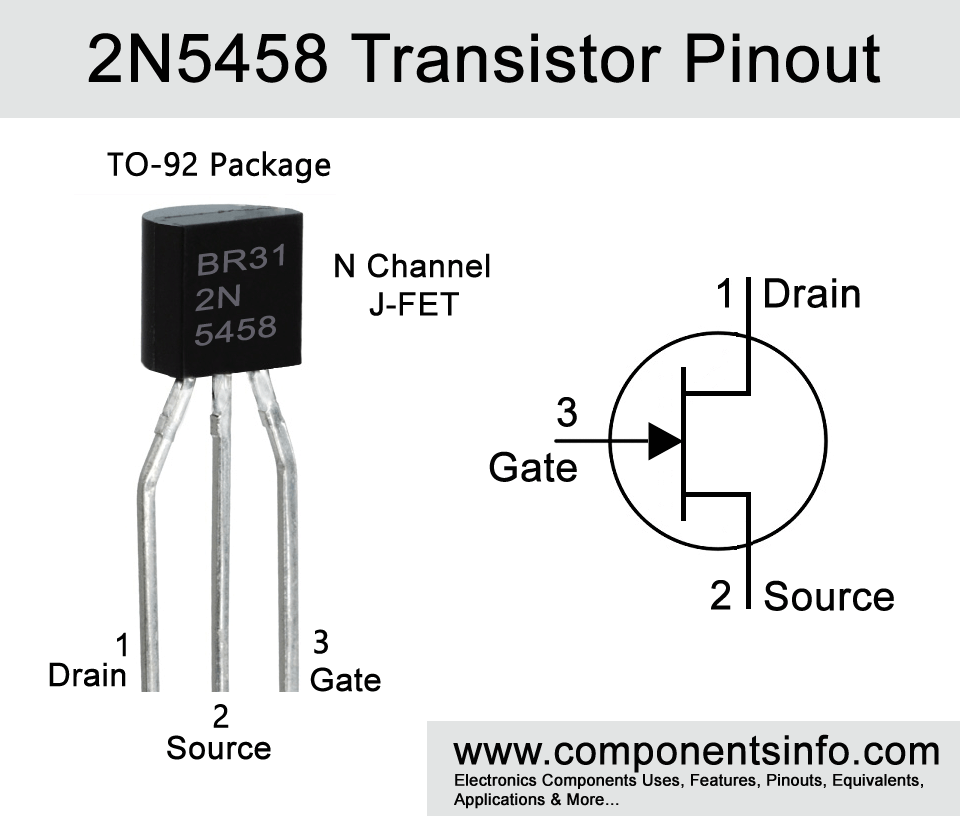 Features / Technical Specifications:
Package Type: TO-92
Transistor Type: N Channel
Maximum Voltage From Drain to Source: 25V
Maximum Drain to Gate Voltage: 25V
Maximum Reverse Gate to Source Voltage: –25
Maximum Continues Gate Current: 10mA
Minimum to Maximum Gate to Source Cutoff Voltage : –0 to –7.0
Maximum Power Dissipation can be achieved: 310mW
Max Storage & Operating temperature Should Be: -55 to +150 Centigrade
It's a Low Noise & High Gain JFET
Replacement and Equivalent:
2N5457, 2N5459, NTE312, 2N5638, 2N5640, 2SK162, 2SK518 (Pin configuration of these equivalent or substitute transistors may different from 2N5458. It is important to check pin configuration before replacing in your circuit.)
2N5458 Transistor Explained / Description:
2N5458 is a TO-92 packaged N Channel JFET that is designed for switching and amplification requirements in general purpose applications. The transistor also possess high gain and low noise feature which is very useful when amplifying a low gain signal and require high gain and low noise at the output. The drain and source of the transistor is swappable. The high input impedance feature and low noise capability also makes it ideal to use this device for amplification purposes where the input signal is very low.
Other than that when used as a switch it will also perform well in wide variety of switching applications under 10mA current.
Where We Can Use it & How to Use:
The 2N5458 JFET can be used in verity of signal amplification purposes for example it can be used in audio preamplifiers, audio amplifier stages and amplification of any small and low gain signal in electronics. On the other hand it can also be used as a switch and capable to drive max load of upto 10mA.
Applications:
Audio Preamplifier Applications
Audio Amplifier Stages
Low Level and Low Gain Signal Amplification
Sensor & Detector Circuits
How to Safely Long Run in a Circuit:
To get long term performance from 2N5458 it is suggested to not drive load of more than 10mA, the load voltage should not be more than 25V, the drain to gate voltage should also be under 25V and reverse gate to source voltage must be under -25V and also it is good to always stay atleast 20% below from its maximum ratings. The Over and under temperature is also an important factor so do not store or operate this transistor below -55 Celsius and above +150 Celsius.
Datasheet:
To Download the datasheet just copy and paste the below link in your browser.
https://cdn.datasheetspdf.com/pdf-down/2/N/5/2N5457_ONSemiconductor.pdf