2N5551 Transistor Pinout, Equivalent, Uses, Features
This article explains 2N5551 transistor pinout, equivalent, uses, features, explanation, where and how to use this transistor and what to do to make this transistor perform long term in an electronic circuit.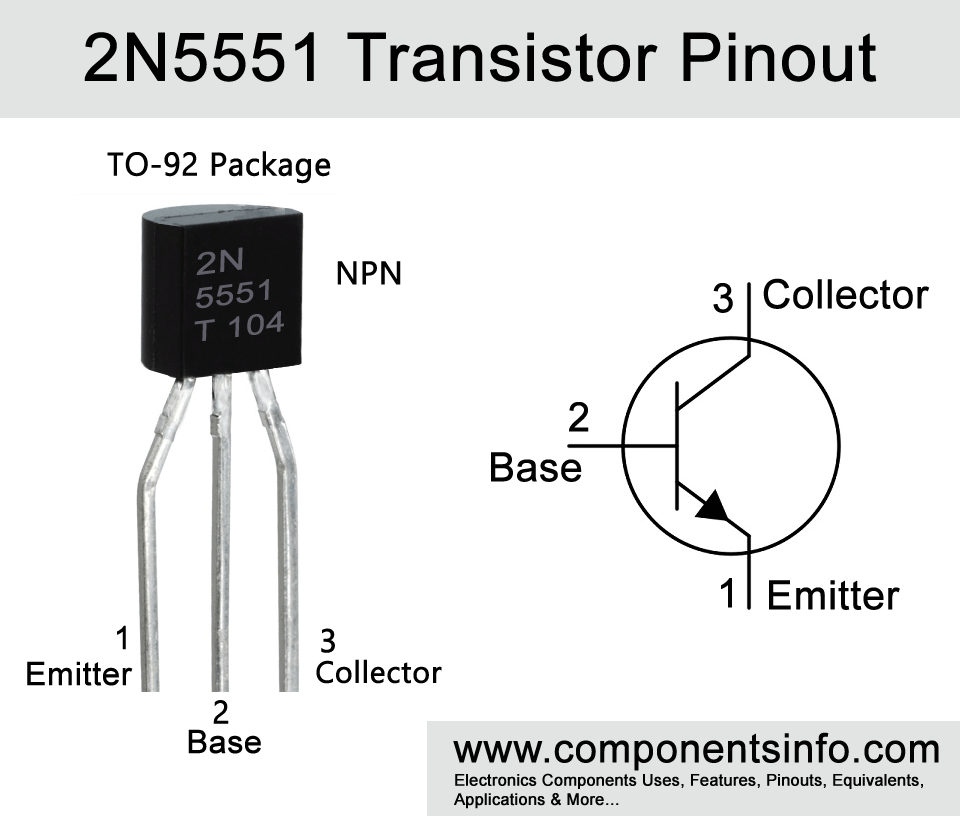 Features / technical specifications:
Package Type: TO-92
Transistor Type: NPN
Max Collector Current(IC): 6A or 600mA
Max Collector-Emitter Voltage (VCE): 160V
Max Collector-Base Voltage (VCB): 180V
Max Emitter-Base Voltage (VBE): 6V
Max Collector Dissipation (Pc): 625 mW
Max Transition Frequency (fT): 100 MHz
Minimum & Maximum DC Current Gain (hFE): 80 – 250
Max Storage & Operating temperature Should be: -55 to +150 Centigrade
PNP Complementary:
PNP Complementary of 2N5551 is 2N5401
Replacement and Equivalent:
2N5551K, NTE194, BC637, BC639, BC487, 2N5833, 2N5551G
2N5551 Transistor Explained / Description:
2N5551 is a general purpose NPN transistor built to use in high voltage circuits. The max collector to emitter voltage is 160V and collector to base voltage is 180V due to which it can be easily used in circuit using under 160 volts. The max output load this transistor can handle is 600mA and the max collector dissipation is 625mW. The transistor is built to use in general purpose applications therefore it can be used for amplification and switching.
Where We Can Use it & How to Use:
2N5551 is built to use in high voltage circuits to perform general purpose applications, it is designed mostly for audio amplification purposes therefore you can use it to amplify audio or other electronic signals. Moreover this transistor can be used in any general purpose application where one can use other general purpose transistors like BC547 or 2N3904, for example driving LEDs, driving other transistors or ICs, controlling other part of electronic circuits etc.
Applications:
Audio frequency driver stages
Low power audio amplifiers
Switch for small loads under 600mA
Amplifying low power signals
Darlington pair
How to Safely Long Run in a Circuit:
To get performance from this transistor and make it run long term in an electronic circuit it is suggested to not provide voltage above 160V to this transistor, and stay 5V to 10V below from maximum ratings to be safe. Always use a suitable base resistor to provide required base current, do not operate load above 600mA and always store or operate in temperature above -55 centigrade and below +150 centigrade.