2N5486 Transistor Pinout, Applications, Equivalent Transistors, Features, Explanation
This post contains 2N5486 transistor pinout, applications, equivalent transistors, features, explanation and details on where and how to use this JFET.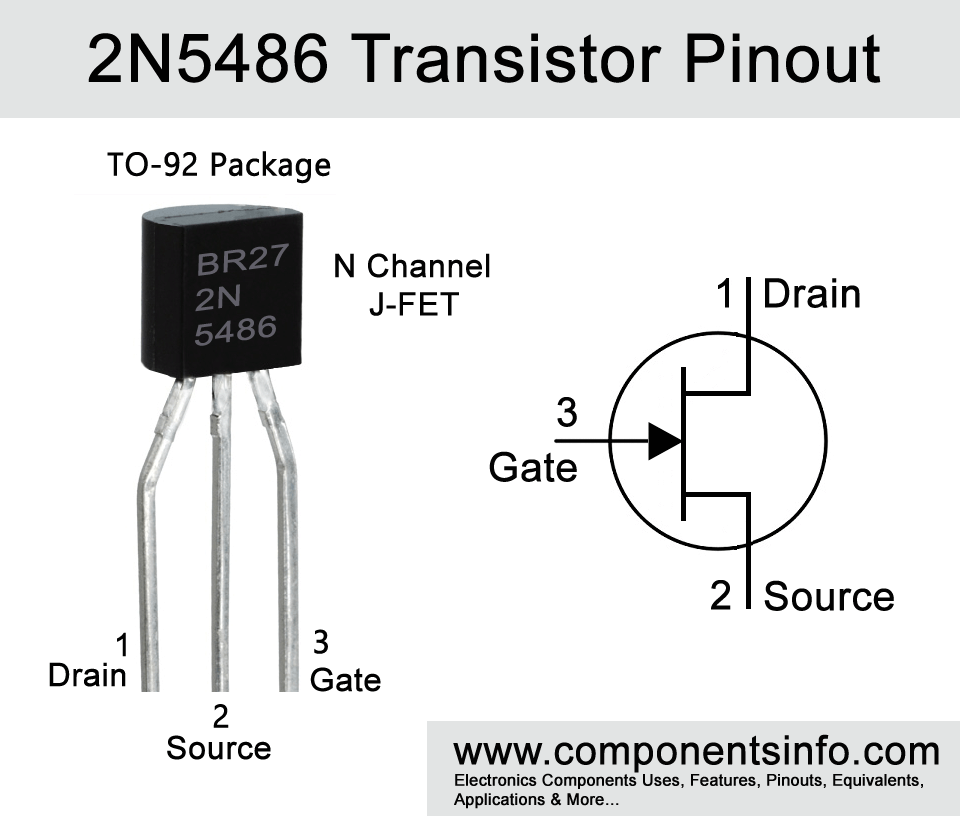 Features / Technical Specifications:
Package Type: TO-92
Transistor Type: N Channel JFET
Maximum Drain to Gate Voltage: 25V
Maximum Reverse Gate to Source Voltage: 25V
Maximum Continues Gate Current: 10mA
Minimum to Maximum Gate to Source Cutoff Voltage : –2 to –6V
Maximum Power Dissipation: 350mW
Max Storage & Operating temperature Should Be: -55 to +150 °C
Low Noise & High Gain Capabilities
Replacement and Equivalent:
2N5638, 2N5640, 2SK147, 2SK223, BF244, J106, J107, J109, MPF102.
2N5485 Transistor Explained / Description:
2N5486 is a N channel JFET transistor of 2N548x series. The other transistors of this series are 2N5484, 2N5485. 2N5486 is the third and last transistor of this series. This transistor also manufactured in same package as other transistors in this series. The packages in which these transistors are manufacture are TO-92 and SOT-23. Like other transistors in this series 2N5486 also primarily designed for VHF and UHF applications. But it can also be used for other types of applications and not limited to only VHF and UHF applications.
The transistor possesses very interesting features which makes it ideal to use in wide variety of applications. Some of the features of this transistor are as follow:
High Quality Signal Amplification With High Gain And Low Noise:
It is a high gain type transistor which amplifies the signal with maximum gains and less noise. The normal BJT or JEFT transistors that have no low noise features do amplify the signals but distort the signal with lot of noise at the output but this transistor will not only amplifies the signal but also cut a lot of noise from the signal and provide a low noise signal at the output.
High Sensitivity:
The transistor is highly sensitive to weak signals therefore it can also be used amplify very low amount of distorted signal.
High Speed Switching:
It also has high speed switching features therefore it can be used in applications where the user required high speed switching speed.
Where We Can Use it & How to Use:
2N5486 can be used in wide variety of applications such as signal amplifiers, oscillators, mixers, VHF applications, UHF applications, audio amplifications, switching and high speed switching.
Applications:
Low level signal amplification
Audio Amplifiers
Audio Preamplifiers
Sensor & Detector Circuits
VHF & UHF Amplifiers and Mixers
Safe Operating Guidelines / Absolute Maximum Ratings:
To safely operating this transistor do not use the transistor on its absolute maximum ratings and always 20% below. The maximum gate current is 10mA therefore do not drive load of more than 8mA. The maximum gate to source voltage is 25V therefore do not drive load of more than 20V and always store or operate the transistor at temperature above -55°C and below +150 °C.
Datasheet:
To Download the datasheet just copy and paste the below link in your browser.
https://cdn.datasheetspdf.com/pdf-down/2/N/5/2N5486_FairchildSemiconductor.pdf