2N5087 Transistor Pinout, Equivalent, Feature, Application & Other Info
In this topic we are going to discuss 2N5087 transistor pinout, equivalent, feature, application & other information about this high gain and low noise bipolar junction transistor.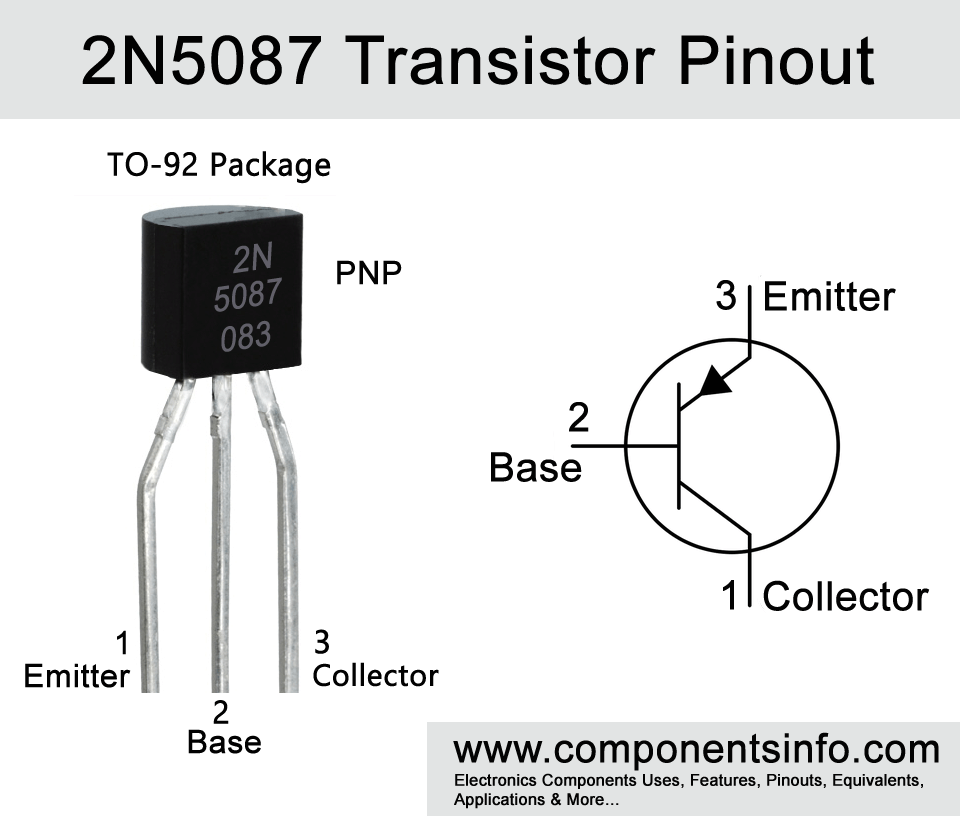 Features / Technical Specifications:
Package Type: TO-92 & SOT23
Transistor Type:  PNP
Max Collector Current(IC):  Available in 50mA & 100mA
Max Collector-Emitter Voltage (VCE):  –50V
Max Collector-Base Voltage (VCB):  –50V
Max Emitter-Base Voltage (VEBO):  –3.0V
Max Collector Dissipation (Pc): 625 miliWatt
Max Transition Frequency (fT): 40 MHz
Minimum & Maximum DC Current Gain (hFE): 250 – 800
Max Storage & Operating temperature Should Be: -55 to +150 Centigrade
NPN Complementary:
NPN Complementary of 2N5087 is 2N5088
Replacement and Equivalent:
2SA1016G, 2SA1025, 2SA1016H, 2SA1016KG, 2SA1083,  2SA1016KH, 2SA1081, 2SA1114, 2SA1082, 2SA1437.  (It is suggested to check pin configurations of these replacement transistor before replacing. )
2N5087 Transistor Explained / Description:
2N5087 is a PNP transistor manufactured in TO-92 package and also in SOT23 package by some manufacturers. The transistor is a high gain and low noise device and the max noise figure of the transistor is only 2.0dB and the max DC current gain of the transistor is upto 800 , this ensures that the transistor is capable to amplify very low gain signals to high gain with noise reductions, this feature makes this transistor ideal to use in audio preamplifier and amplifier circuits and mainly in audio circuits where input signal is low quite low. Moreover the transistor's collector current is 100mA but some manufacturers also making it in 50mA collector current, therefore it is must to confirm the output current with datasheet of the brand you are purchasing.
Where We Can Use it & How to Use:
2N5087 is a general purpose amplifier with low noise and high gain capabilities, these capabilities makes this transistor ideal to use in audio amplifiers, audio preamplifiers, small signal amplification etc. Other than that this transistor can also be used as a switch for upto 100mA loads.
Applications:
Increasing Audio Gain
Sensor Circuits
Darlington Pairs
Mic Amplifier
Audio Amplifiers and Stages
Switching loads under 50mA to100mA
How to Safely Long Run in a Circuit:
For long life performance in your circuits as we always suggest to use every components 20% below from its max ratings, the maximum collector current of the transistor is -100mA therefore do not drive load of more than -80mA (if the max collector is -50mA then the max load you can drive is -40mA. The max load voltage should be under -40V and always store or operate the transistor in temperature above -55 degree Celsius and below +150 degree Celsius.
Datasheet:
To Download the datasheet just copy and paste the below link in your browser.
https://cdn.datasheetspdf.com/MoV/web/viewer.html?file=/pdf-down/2/N/5/2N5087_FairchildSemiconductor.pdf