13009 / MJE13009 Transistor Pinout, Equivalents, Uses, Specs, Features and Other Info
13009 or MJE13009 is a  high voltage NPN power transistor designed to use in high voltage and other applications. This post describes 13009 transistor pinout, equivalents, uses, specs, features, explanation, where and how to use, and other useful information about this transistor.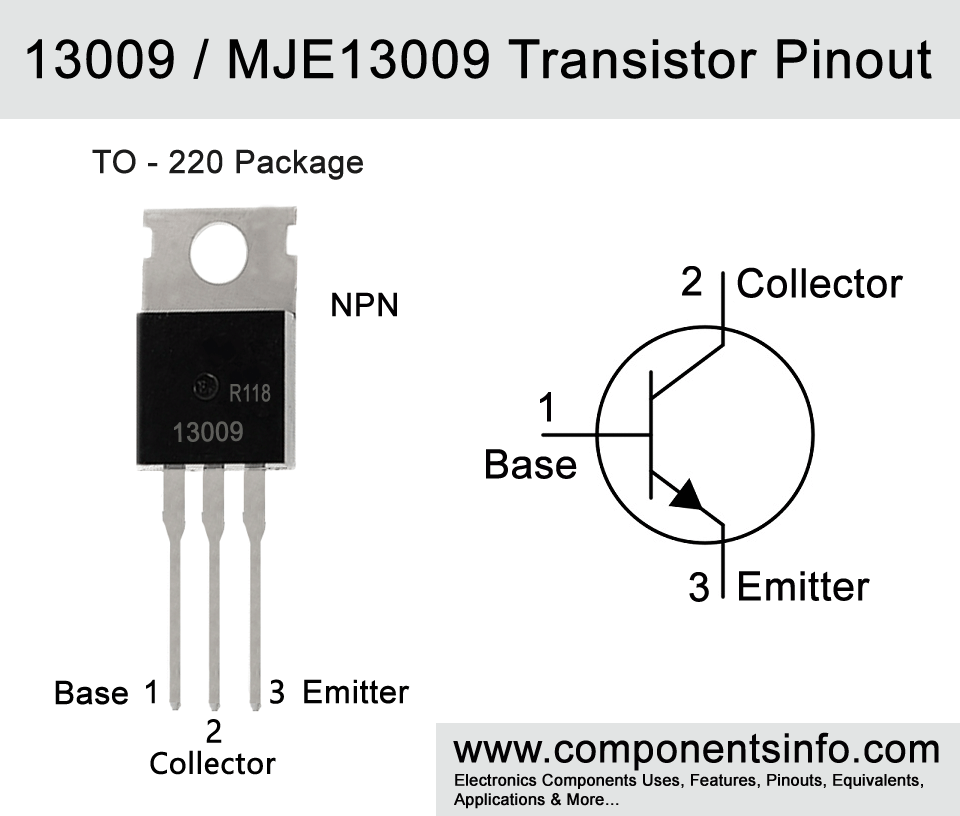 Features / Technical Specifications:
Package Type: TO-220, TO-3P, TO-247, TO-220F
Transistor Type:  NPN
Max Collector Current(IC): 12A
Max Pulsed Collector Current: 24A
Max Collector-Emitter Voltage (VCE): 400V
Max Collector-Base Voltage (VCB): 700V
Max Emitter-Base Voltage (VEBO): 9V
Max Collector Dissipation (Pc): 100 Watt
Max Transition Frequency (fT): 4 MHz
Minimum & Maximum DC Current Gain (hFE): 8– 40
Max Storage Should Be: -65°C to +150°C Centigrade
Max Junction Temperature is: 150°C
Replacement and Equivalent:
MJE13008, KSE13009, KSE13008, 2SC3306, MJE13008, 2SC3257
13009 Transistor Explained / Description:
13009 is an NPN power transistor, it is manufactured by many different manufacturers in different part numbers such as STW13009, FJP13009, etc. They are also available in the MJE series by many manufacturers. The MJE13009 specs are also the same but you will find minor differences between MJE13009 and other 13009 transistors but they can be used interchangeably. They are mostly available in the TO-220 package but some manufacturers also make it in TO-3P and TO-247 packages and some MJE13009 are also available in the TO-220F package.
The transistor has many good features which make it reliable and ideal to use in many industrial applications such as its high voltage capability, good performance in high temperatures, and very fast switching.
The primary applications for the transistor are motor controller applications, switching regulator applications, high voltage switching, solenoid driver applications, fast speed DC to DC conversion purposes, deflection applications, etc.
The specifications of the transistor are also quite interesting the maximum collector to base voltage is 700V, max collector to emitter voltage is 400V, the maximum collector current is 12A, max pulse collector current is 24A and the total device dissipation is 100 Watts.
Where We Can Use it & How to Use:
As mentioned above the primary applications of the transistor are high voltage switching, motor controller, switching regulators, high-speed switching, DC to DC conversion, solenoid driving, deflection, etc. but it can also be used in a wide variety of other applications which fall under its ratings such as UPS circuits. Moreover, it can also be used in high-power audio amplifier circuits.
Applications:
Inverter Circuits
Uninterrupted Power Supplies
Battery Charger and BMS Applications
Solar applications
Power Supplies
Motor Controllers
Audio Amplifier & Audio Amplifier Stages
How to Safely Long Run in a Circuit:
For long-term and stable performance it is suggested to always use the transistor 20% below from its absolute maximum ratings. Using a device on its absolute maximum ratings can damage the device or weakens its performance. The same applies to 13009 transistors, the maximum collector current of the transistor is 12A, therefore, do not drive load of more than 9.6A, the maximum collector to emitter voltage is 400V therefore do not drive load of more than 300 to 320V. Use a suitable heatsink with the transistor and always operate or store the transistor at temperatures above -65°C and below +150°C.
Datasheet:
To Download the datasheet just copy and paste the below link in your browser.
https://cdn.datasheetspdf.com/pdf-down/J/1/3/J13009_FairchildSemiconductor.pdf